New powwow royalty selected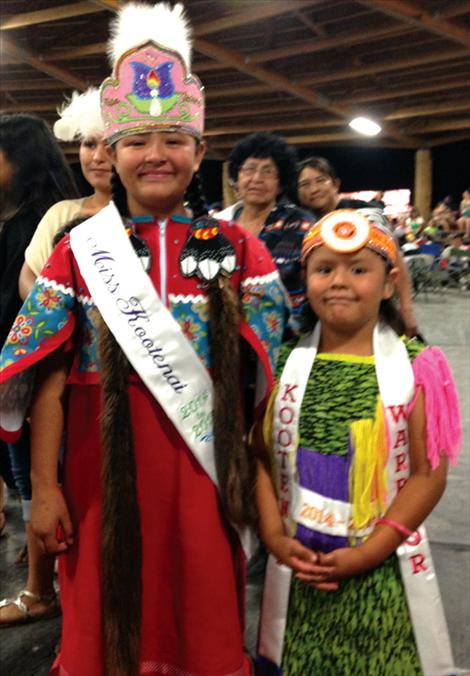 News from the Standing Arrow Powwow
ELMO — New royalty was selected this year for the Standing Arrow Powwow. They will represent the Powwow and the Kootenai people throughout the year.
Marisa Shottanana-Ponce, 10, was chosen as Miss Kootenai 2014-2015, after competing against outgoing Lil' Miss Kootenai, Shylei Tenas. Marisa showed a great knowledge of the Kootenai Culture, and was an outstanding fundraiser. She was very motivated, and follows in the footsteps of her mother, Tracy Shottanana, who represented Miss Kootenai in her early years.
Marisa is the daughter of Tracy Shottanana and Jose Ponce. She is the granddaughter of Josephone Shottanana and great granddaughter is Elizebeth Gravelle, both of the Kootenai Tribe of Idaho/Tobacco Plains. Marisa is a member of the Kootenai Tribe of Idaho, residing on the Kootenai Reservation in Bonners Ferry, Idaho.
Following in the footsteps of her great aunts, Velma Bahe and Diane David, Marisa loves to powwow. She is an avid reader and loves school as reflected by her A/B average. This fall she will be entering i 5th grade at the Bonners Ferry Valley View Elementary. She enjoys soccer, basketball, and dreams to one day play in the WNBA like her idol, Shoni Shimmel.
Marisa's kind heart, facititive nature and drive make her a great role model. She looks forward to representing her Kootenai People with pride and great respect.
Darrin Henri Hewankorn, 6, was chosen as Kootenai Warrior 2014-2015, after being the only one interested in representing. Although he is young, he has shown that he is a great leader by accepting this title with excitement and enthusiasm.
Darrin is a member of the Confederated Salish and Kootenai Tribes of the Flathead Reservation. He will start kindergarten in the fall. Darrin's parents are Terry Hewankorn and the late Laurence Kenmille. He has two sisters, Daizey and Odessa, and his brother Drake.
Some of Darrin's hobbies include swimming, riding bikes, playing video games, riding horses, attending rodeos, sledding, snowboarding, snowmobiling and just being with his siblings and cousins.
Darrin is also an active participant in his culture. He is new to the powwow trail but is willing and eager to learn. Darrin enjoys learning his language, traveling to aboriginal territories of his ancestors, attending jump dances and many other activities.