Anderson, McDaniel place top ten at State Golf Tournament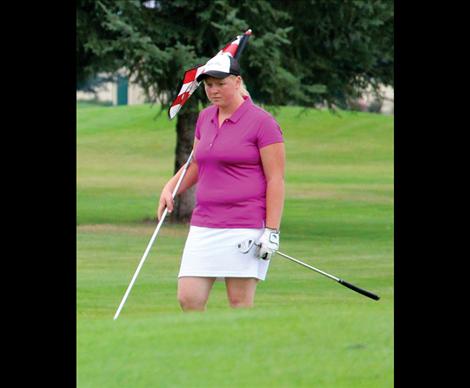 HAMILTON - The weather was perfect for Class A State competition on Saturday and two Polson golfers took advantage of the gorgeous conditions to place in top ten at the State Tournament.
After posting three State titles, the Lady Pirate club had big shoes to fill but with not enough athletes to complete a team, Lady Pirates competed on an individual basis at the State competition. Leading the Lady Pirates was senior Peyton Anderson shooting a 191 over the two-day event with a score good enough to place her sixth overall.
Heather Franck placed 19th with a two score of 211 and newcomer to the varsity team Kiyara McCue shot a 228 for 33rd.
For the Pirates it was Carson McDaniel who led the team conquering the links with an eighth place finish after a 36 hole score of 162 in his freshman year of varsity golf.
Reno Lindesmith finished in 22nd with a score of 168 and Curtis Capdeville posted a 184 for 40th.
Polson's Pirates placed sixth as a team with a score of 714.
While Polson's teams were young going into this season, they're posed to prove promise in the years to come with McDaniel and McCue showing strong scores in their inaugural varsity season and Capdeville gaining varsity experience to round out his senior year next year.
Results
Boys
Team scores – Hamilton 643; Billings Central 653; Whitefish 676; Park 706; Laurel 713; Polson 714; Fergus 714; Anaconda 727.