Indian elementary club starts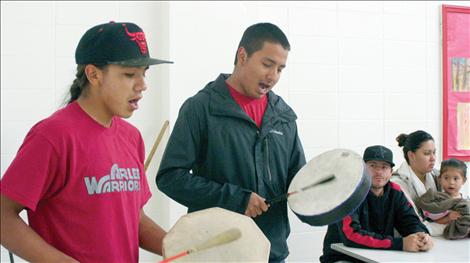 ARLEE – For years, students had to wait until they were in high school before they could be members in the Arlee Indian Club. Wendy Swab – a parent of young children — thought it would be a good idea to branch off from the program and create a club to include K-8 students. The club is in the planning stages.
"All kids will be welcome, and it's not just for Indian kids," Swab said. "We want to share the culture with all ages. I also want Native kids to be proud of their culture."
Arlee Indian Education teacher Willie Wright said the high school club is close to 40 years old. She said there hasn't ever been an elementary version of the club at the school and she doesn't think any other schools have started one.
"We do different things with culture in the schools but not in a club," she said. "It is a good thing to get children together and engaged in the traditional aspects of our culture. Starting at the lower level will help the children be more culturally aware."
Swab organized a fry bread social to get community input about the club on Tuesday. Many talked about the importance of culture. Others suggested activities for the kids like singing, drumming and stick game.
"I wanted to bring the community together and get them involved in this," Swab said. "We have so many resources here that can be shared with the kids."
Jackie McDonald made 100 pieces of fry bread for the event and Shelly Fyant provided the huckleberry butter.
"It's really good," said Aiden Swab, 6, taking a big bite of fry bread.
Zach Felsman, 18, and Kyle Felsman, 22, sang a traditional Indian song before folks lined up to fill their plates with fry bread. Kyle was a member of the Indian Club when he was in high school and Zach is still a member.
"The club teaches students that the culture is still alive," Zach said. "What we learn is not necessarily Salish. We've had presenters that weren't from this reservation, but we are on a reservation and we should be aware of the culture. The club lets people take part in that."
Funding for the club comes from a federally funded grant called Johnson O'Malley. It provides supplemental services for Native American children in school. The Indian Education Committee is a group of parents elected to disperse those funds.
"The parents determine where the money goes," said Miranda Burland from the Tribal Education Department. "What the club does is determined by a needs analysis assessment that is sent out to parents with qualifying children. The parents say they want things like drumming and singing for the children and then that is what the kids do."
If anyone has input or would like to participate in the club, contact Swab at (406) 726-3216 ext. 2203 or (406) 546-6899.