cross country
Harrop, Delaney grab All-State at State run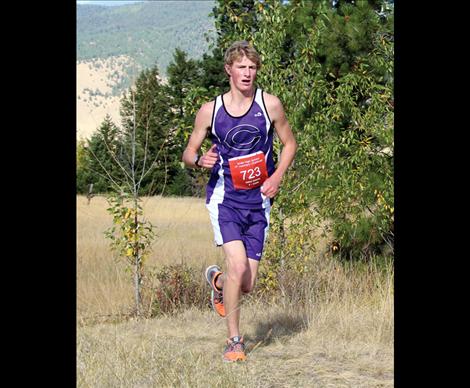 Harrop, Delaney grab All-State at State run
HELENA – It was a good day for a run as teams from AA-C gathered at the start lines, laced their sneakers, and prepared to race on the season's final course in hopes of a top ten finish in their class for the title of All-State at the State Championship in Helena on Saturday.
In the Class A division, Polson's Lady Pirates placed fourth overall as a team with a score of 149. Ryan Harrop crossed the State finish line in seventh place, leading the Lady Pirates with a time of 19:53, earning her an All-State honor in her freshman year of cross-country.
Breaking top 25 for the Lady Pirates were Izabella Seemann in 20th with a time of 20:36 and Malia Seeley clocking a time of 20:45.
The Pirates finished in 17th overall with a score of 456 with no individual athletes breaking the top 25.
Class B saw Ronan's Chiefs place 10th with a team score of 301. Jackson Duffey led the Chiefs finishing 24th with a time of 17:40. The Maidens placed 12th but did not place individuals in the top 25.
Charlo's Dalton Delaney fared the best for the Valley's class C teams picking up an eighth-place finish with a time of 17:35 and an All-State honor to finish his cross-country season out with a bang. The Vikings finished with an 11th place team score of 134.
Scarlet Becca Whitesell grabbed a top 20 for Arlee crossing in the 19 spot with a time of 22:03. The Scarlets finished 12th overall with a team score of 131.
Results
Class A
Boys
Team scores - Hamilton 50; Corvallis, 69; Belgrade, 132; Hardin, 151; Fergus, 171; Laurel, 194; Dawson County, 211; Frenchtown, 234; Beaverhead County, 252; Browning, 269; Whitefish, 278; Havre, 338; Park, 345; Custer County, 366; Billings Central, 424; Butte Central 438; Polson, 456; Columbia Falls, 462; Sidney, 469; Libby, 646
Girls
Team scores - Corvallis 65; Whitefish 94; Hamilton 130; Polson 149; Hardin 173; Belgrade 182; Fergus 183; Laurel 208; Columbia Falls 233; Custer County 243; Dawson County 297; Billings Central 311; Havre 337; Beaverhead County 361; Park 395; Browning 459; Frenchtown 508; Libby 519
Class B
Boys
Team scores - Red Lodge 74; Manhattan 86; Townsend 133; Thompson Falls 192; Colstrip 237; Lincoln County 248; Shelby 250; Harlem 287; Glasgow 289; Ronan 301; St. Labre 301; Loyola Sacred Heart 307; Joliet 369; Bigfork 408; Lodge Grass 428
Girls
Team scores – Manhattan 91; Red Lodge 131; Bigfork 134; Glasgow 182; Roundup 214; Colstrip 271; Lincoln County 272; Plains 296; Malta 299; St. Labre 301; Loyola Sacred Heart 318; Ronan 364; Huntley Project 411; Rocky Boy 450; Cut Bank 485
Class C
Boys
Team scores – Culbertson 36; Ennis 41; Plenty Coups 59; Darby 64; Manhattan Christian 74; Twin Bridges 83; Winnett 95; Belt 97; Sunburst 113; Harrison 124; Charlo 134; Brockton 146; Roberts 147; Willow Creek 159; Hays-Lodgepole 166
Girls
Team scores - West Yellowstone 38; Winnett 39; Twin bridges 39; Cascade 53; Manhattan Christian 54; Belt 67; Darby 102; Circle 108; Granite 115; Seeley Swan 122; Richey 127; Arlee 131; Great Falls Central 143; Sunburst 145; Ryegate 206