Charlo takes crown at volleyball District Tourney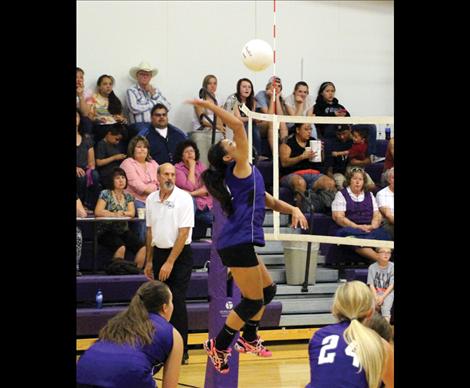 ST. REGIS – The Lady Vikings came away with the District title Saturday after a two day battle on the court against tough hitting teams including valley opponents Arlee and Two Eagle River.
Friday, opening day of District play, the Lady Vikings received a bye to skate past the first round and continued on to beat Superior 3-1. Day two brought a win against Noxon 3-1 and a battle between number one seeded Charlo and number two seed St. Regis. The Lady Vikings fell to the Lady Tigers in their first meeting on the court in the semi-final round 1-3, but came back to sweep the championship matches with a 3-0 in both match-ups to claim the District title.
Two Eagle River logged their first win of the season picking up the victory against Hot Springs 3-2 but not before a tumble against Noxon 0-3. The Lady Eagles fell to Superior Saturday in the loser out match 0-3.
The Scarlets had a tough tournament falling in both their matches, 1-3 to Superior and 1-3 to Noxon.
Charlo along with St. Regis will represent District 10-C at the Western C Divisional Tournament in Butte Nov. 6-8.
No set scores reported.