Mission, Ronan heading to Divisionals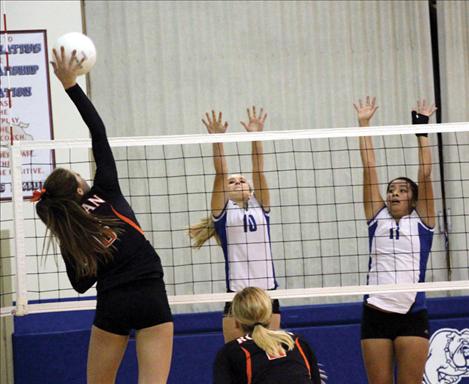 FLORENCE – At Florence Saturday, the Lady Bulldogs surprise attacked opponents to pick up wins and qualify for a spot at the Western B Divisional Volleyball Tournament next weekend. Ronan struggled to pick up a win but had an automatic bid for advancement into Divisional play.
Beginning with a play-in game against Deer Lodge, Mission fought in the five set contest with loser out on the line. After taking the first two sets with ease, the Lady Bulldogs faced tough competition when the Lady Wardens gave Mission a good run, but Mission prevailed nailing the final game 15-10 to come away with the 3-2 win and an invite into Divisional play.
"We played awesome," Mission coach Kendal Anderson said. "It's the best I've seen them play since probably the first full week of games this season."
The Lady Bulldogs would continue on to split the final two games falling to host Florence 0-3 and stealing the carpet from under the Maiden's feet in the consolation match 3-0, placing Mission in third overall and pushing Ronan into the fourth slot.
After a sweeping loss to Ronan in the week prior to the tournament, Anderson said it was exciting to come back and grab the win at the District tournament and hopes the girls will continue to grow and learn from each match while heading into Divisional action.
"We've been working on covering the court better and moving better and it really showed this week," Anderson said. "The girls are beyond thrilled. Our main goal was to just beat Deer Lodge and make it on to Divisionals - anything else was an added bonus."
The Maidens had a tough tourney, failing to pick up a set win coming home swept across the board. Ronan was 0-3 against Loyola-Sacred Heart, Florence, and county rivals – the Lady Bulldogs.
Both teams will compete at the Divisional tournament hosted by Ronan Nov. 6-8.
Results
Mission
Mission def. Deer Lodge 25-19, 25-14, 25-27, 23-25, 15-10
Florence def. Mission 25-7, 25-11, 25-10
Mission def. Ronan 25-21, 25-20, 29-27
Ronan
Loyola Sacred-Heart def. Ronan 25-22, 25-15, 25-18
Mission def. Ronan 25-21, 25-20, 29-27
Set scores not available for Florence game.