Vikings fall in first round of playoffs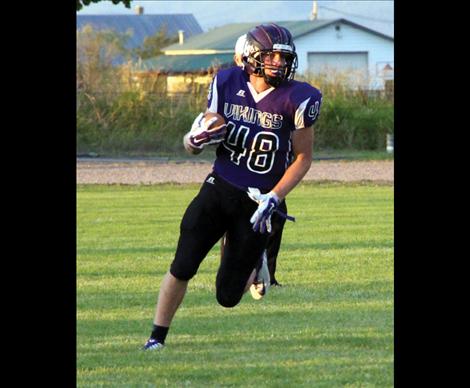 SIMMS – With a season of injury struggles the Vikings eeked by to gain a playoff spot but in small town Simms, the Vikings played their final game of the year falling to the Tigers 30-34.
After a scoreless first half on Saturday, the Vikings came back to score 30. But a last minute Tigers score sealed the deal - sending the Vikings home with a first round loss. The contest however was hard fought, particularly by Viking "Players of the Game" Jade Smith, Trent Dennison and Jesse Long.
Smith put 248 yards under his spikes with 25 carries - tromping into the end zone twice for his team. He also added defensive prowess, completing 21 tackles.
Quarterback Trent Dennison also added yardage rushing 102 yards on 16 carries chipping in air time of 40 yards and completing nine of 15 in passing.
Long produced a Viking wall knocking down 15 Tigers in tackles.
The Vikings end their season run at 4-4.
Results
Charlo 0 0 16 14 – 30
Simms 12 14 0 8 - 34