Volleyball Divisional Smackdown
Charlo fights at Divisionals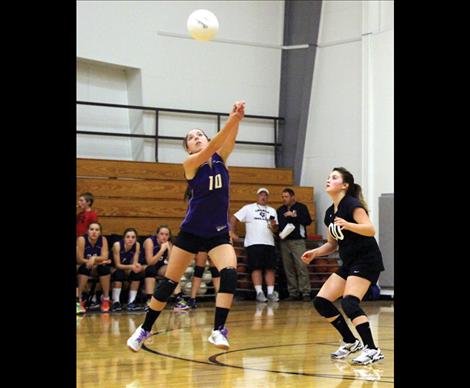 BUTTE – After claiming both a Conference and District title, the Lady Vikings ended their season in Butte on Friday with a 1-2 Divisional record.
The Divisional Tourney kicked off for the Lady Vikings Thursday with Charlo taking a first round crash against 8C's Ennis Lady Mustangs. Tough District 8C ultimately dominated the tournament, placing teams in the top four Divisional spots.
While Lady Viking Sienna Brown had 10 kills and Shayna Nagy added 15 digs, the Lady Vikings felt the bristle side of the broom, falling in a sweep under Ennis, 0-3.
In game two, the Lady Vikings forced a loser-out, 3-1 victory against Valley Christian. Brown led the Lady Vikings in both kills with 14 and digs laying out for 17. Mikaylan Roylance had 15 assists and three aces.
Facing Harrison-Willow Creek in the second round of the back door bracket, the Lady Vikings once again faced a sweep on the wrong side of 0-3, which sent Charlo home, ending the season for the Lady Vikings.
Cheyenne Nagy had a team high 15 digs for the Lady Vikings in their final match of the season.
The Lady Vikings finish out their 2014 season with a 17-7 overall record.
Results
Ennis def. Charlo 25-21, 25-12, 25-14
Charlo def. Valley Christian 25-18, 26-24, 12-25, 25-20
Harrison-Willow Creek def. Charlo 25-9, 25-16, 25-11