Extra eyes might help reduce crime in St. Ignatius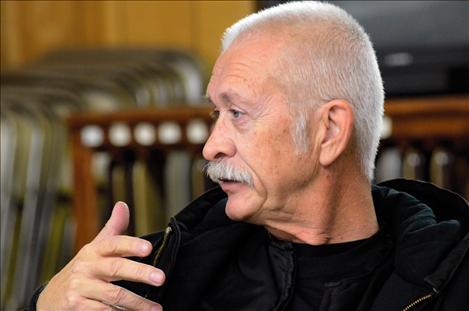 ST. IGNATIUS – If there is a dark shadowy figure outside a neighbor's house and they are on vacation, do you call the police?
"Yes," St. Ignatius Police Chief Charles Kuczynski said.
Do you call if you see someone walking down the street that doesn't look familiar? The chief said the correct answer is "no."
Kuczynski explained to a dozen local people interested in re-establishing a Neighborhood Watch exactly what they should be watching for in the community at an informational meeting in the St. Ignatius Senior Center last week. He said people should call law enforcement if they see a crime.
"If you see something, write it down," he said. "Pay attention to details. If you think you're going to remember, you're not. While you are dialing, you are writing."
Confrontation is not part of the guidelines established by the nationwide program managed in individual communities by community members.
"I do not want you chasing anybody or face-to-face confrontation," Kuczynski said. "That is what I get paid to do."
People at the meeting were concerned about retribution if they called in what they felt was a crime. The chief says he won't show up to the scene and say so-and-so called in a report.
"If I find out all I need to know on my own, I won't even have to involve the person calling it in," he said.
The chief talked about the importance of documenting valuables, and he listened to people explain issues they'd had with trespassing, but he wanted to make it clear that he is not part of the Neighborhood Watch.
"I'm just a liaison," he said. "I provide information to the group and hear concerns. This is about making people feel as though they can make a contribution in protecting the community."
Mack McConnell organized the group. He hopes the first informational meeting develops into a working Neighborhood Watch group.
"There is not a rash of crime, but it's ongoing," McConnell said.
"At the next meeting we can look at the town map and possibly divide it into sections," McConnell said of giving members specific areas to watch. "What we want to do is set up an informational network so when people see something they can report it."
McConnell wanted people at the meeting to understand that the group's purpose was to take an active role against crime by being observant.
"We are not law enforcement. No guns and no aggressive behavior," he said. "This is to get some extra eyes out there."
The police chief said he supported the community's effort to create a Neighborhood Watch.
"This is your community," Kuczynski said. "To help me be more effective, I need your help. I can't see everything, so call if you see something."
The next meeting is scheduled for 7 p.m. Dec. 18 at the St. Ignatius Senior Center.