Pizza shop gives back to community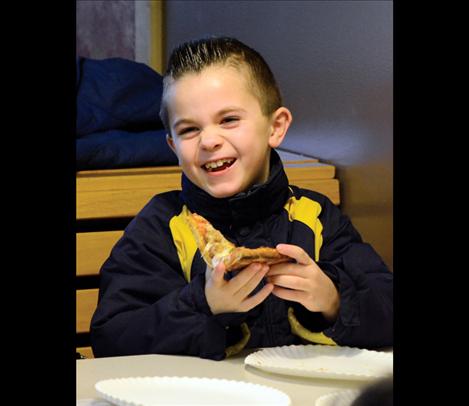 ST. IGNATIUS – Free lunch was a reality at the Cornerstone Pizza shop on Christmas Eve where slices of pizza were going fast.
"We did this as a way to wish our community a Merry Christmas and to give back to our community," said Craig Waldron, manager. "The community really supported us and it's the season for giving so we wanted to bless our community with a free lunch."
Tammie Cappel brought her family to the free pizza lunch.
"We are having a birthday party for Christ and I've been cooking for two days to get ready," she said. "It's nice to come here and have a break for lunch with free pizza."
Cornerstone Pizza started as a nonprofit business three and a half years ago.
"I was sitting in the office one snowy February and the idea for this came to me," Cornerstone Faith Center Pastor Lynn Lapka said. "The idea was that the profits we make are poured back into the community."
The profits have gone to several projects including the Mission Elementary School's playground fundraiser and to individuals in need. The shop also supports the community by creating jobs.
"This is a separate business from the church but we are closely tied," Lapka said. "Without the people of the church, this wouldn't happen. This is an arm of what the church does: to bless and be part of the community."
Delivery service and 8-inch cookies are the newest things at the shop.
"We don't do delivery like everyone else," Waldron said. "It's only on Fridays, it's free and it's volunteer."
Six teams with two people on each team have volunteered to rotate throughout each month to deliver pizzas on Fridays using their own vehicles and insurance within a 5-mile range of the pizza shop. Delivery drivers can also meet people outside of town.
"People in the community have been asking for delivery," Waldron said. "It's a huge commitment."
Stacey and David Doll volunteered to deliver pizzas as a way to get involved with the community.
"This gives us an outlet to get in touch with people," Stacey said.
The delivery service is keeping with the pizza shop's theme of pizza with a purpose, which is to give back to the community.
"We want to get out among the people and bring positive blessings and pizza," Waldron said. "This is another way to reach out to people if they need it. It's another way of giving back."