Red Lion Inn set to open in June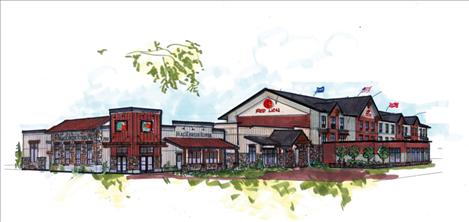 News from Red Lion Hotels Corporation
POLSON — Construction of the Red Lion Ridgewater Inn & Suites in Polson is set to be completed in June, according to Red Lion Hotels Corporation.
The company signed a franchise agreement with Montana developer Management Consultants, Inc., who broke ground on the property in November.
"We look forward to a June 2015 opening for a new-build Red Lion Inn & Suites, just as the busy summer season takes hold in this popular lakeshore community," RLHC Chief Franchise Officer Brian Quinn said.
The new hotel at 109 Ridgewater Drive will have 80 guest rooms, including 32 suites, and nearly 3,500 square feet of meeting space overlooking Flathead Lake.
Guest amenities include an indoor pool, hot tub, fitness center, business center, guest laundry facilities and complimentary Wi-Fi and breakfast.
MacKenzie River Pizza, Grill & Pub is also under construction adjacent to the property.
Red Lion Hotels Corporation is a hospitality company primarily engaged in the franchising, ownership and operation of midscale and upscale hotels. Established in 1959, the company has more than 50 hotels system wide and also owns and operates an entertainment and event ticket distribution business.
"The Red Lion name is synonymous with hospitality," said Mike Johnson, president of Management Consultants, Inc. "We are certain this new hotel in the picturesque Polson community will happily serve visitors from all over the world."