Students of all ages learn Salish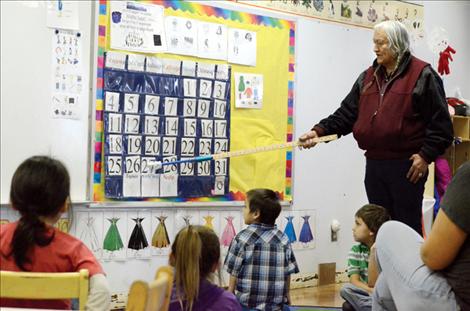 ARLEE – Learning a language can be easier as a small child and that's why staff members at the Nkwusm Salish Language School were thrilled to get a grant to expand their preschool.
"We had to turn kids away at the beginning of this year," said April Charlo, Nkwusm's executive director. "With this grant, we are recruiting kids."
The Arlee Readiness Project grant from the U.S. Department of Education is split with the Arlee School District. The grant provides funds for the school to employ a teacher with a bachelor's degree in elementary education, a proficient Salish speaker and an aid.
"It's $300,000 for each school," she said.
Preschool teacher Melanie Sandoval wants to immerse the students in the Salish language by teaching them words for everyday activities. She uses Salish words meaning "share the toys," "it's lunch time," and "don't run in the classroom" while speaking to the students, ranging in ages from 2 to 5.
"We teach them basic commands," she said. "Whatever they do, we put the language into it."
Twenty-six students from preschool to eighth grade attend the school. In the morning, they listen to elders speak the language. Elder Pat Pierre asked the students to recite the school's pledge. He translated the words into English.
"It says every day we will speak our language. We must always help one another. We must honor and protect everyone. We must do our best and never ever give up. Never give up on who you are and never put your head down. Hold your head high and be proud of who you are," Pierre said.
The students split up into different classes. Stipn Smallsalmon took the younger students to their classroom where they gathered on the rug. Smallsalmon stood in front of the group and pointed at the days of the week. The children practiced naming them in Salish. Students then went over the alphabet and colors.
"They are learning to talk Indian," Smallsalmon said.
Derrick Gibbs, 12, started school at Nkwusm when he was four. He said his favorite school memory was going on a snowboarding trip. Sxwlekwy Bell, 10, said his favorite subject was art.
"I liked making drums," he said. "I also liked naptime in preschool. They would tell us stories and play the flute."
Patience Alexander, 13, recently started seventh grade at the school.
"The first four months were hard," he said. "I had to learn a lot of Salish words. Now, I can write a paragraph, and I learned the word basketball in Salish. I wanted to learn Salish because I want to help keep the language strong."
Charlo estimates that about 30 people are left on the reservation with a proficient knowledge of the Salish language.
"We need to increase those numbers," she said. "Revitalizing the language is like trying to invent the wheel."
Teachers face the challenge of trying to develop a curriculum that teaches students the Salish language without a prior model to follow and incorporate math, science and English skills into those lessons. On top of those challenges, many teachers are still developing their own Salish language skills.
"We have a strong school with a good staff," Charlo said. "We've been experimenting with what works and what doesn't work. Language is always evolving and I think what we do here will continue to evolve."
Charlo said people have been concerned that Nkwusm isn't providing an education that helps prepare students for the modern workforce.
"I think learning two languages enhances their education," she said. "We are teaching our language, culture and traditions. We will see tremendous success come out of this school. We will see our future leaders. We will see more success stories like Ma'ii."
Ma'ii Pete, 19, attended Nkwusm from preschool to eighth grade. She returned to Nkwusm as a teacher and parent coordinator after graduating from Ronan High School.
"After high school, I tried nursing. I tried several things looking for what I wanted to do," Pete said. "Nothing seemed right, but then, I had my son. I started speaking (Salish) to him, and I realized I missed my language. I wanted to do more with it, so I decided to come back here. I really like teaching."
Pete said the transition from Nkwusm to the public school system presented a few challenges.
"The most overwhelming thing was the amount of people," she said. "At Nkwusm, it was me and a few of my cousins. In high school, I excelled in Salish class. English classes were easy for me. I had honors in English. I think if you know one language, it's easy to transition to another. I did struggle with a few classes but my teachers really supported me," she said.
Nkwusm gave her more than academic knowledge.
"I would never trade going here for anything," Pete said. "I learned about medicinal plants and my culture. I learned things that made me who I am because I went here. They gave me my identity."
Learning the language at the school isn't just for children. A private grant has made it possible for adults to make learning Salish their job. Smallsalmon works with four adults, teaching them to learn to read, write and speak the Salish language.
"We need the adults, too," Smallsalmon said. "It's just as important for the adults to learn. We are losing our language. We hope the adults will learn and become teachers."
Steve Arca plans to teach what he learns from his studies at Nkwusm to students at Salish Kootenai College. He said he studies for several hours a day.
"At first, you can't distinguish the words. We started learning just like the smaller kids: we listened. It takes time to learn. It took time and money to take the language from us, and it's going to take time and money for us to get it back."
Adult student Trina Felsman said her group sometimes talks about how strange it is that they have to learn their native language after first learning English.
"There is a lot of emotional work with this," she said. "Why we have to learn our language this way has a lot of darkness and negativity, but we have hope that our children and grandchildren will learn the language."
Smallsalmon said for years he rarely heard people speak the language.
"My mom said it was lonely to talk Indian, but the loneliness is going away," he said. "The language is starting to spread out; we are holding on to it and it's coming back."