Arlee family supported by community after fire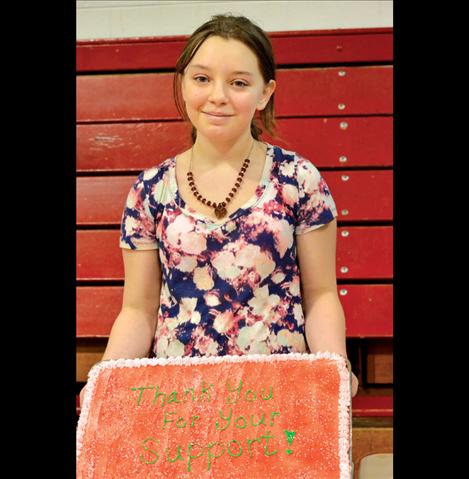 ARLEE – The Dillard family of seven still doesn't have a permanent place to call home so the community pitched in to help during a fundraiser on Saturday.
"Both Arlee and St. Ignatius communities have come together to help," local resident Connie Pierce said. "They are great people so we wanted to do what we can."
Fire consumed the family's home in late December on a freezing cold morning. Before the fire started, Val Dillard was making pancakes with the five grandchildren she officially adopted with her husband. The family escaped the smoke filled trailer house, but without an insurance policy, they haven't been able to replace their home.
Keisha Dillard, 12, is the oldest of the five children. She said the fire was awful, but she learned something.
"We are more valuable than our stuff," she said. "It can be replaced and we can't."
The kids faced more heartache a few days after the fire.
"Our dog Foxy was old and we had to have her put down," Keisha said. "We had to give another dog away because we are in town. It's my dream to have a house where we can have pets again and ride horses. Right now, I'm doing okay."
Val's adult children helped organize the fundraiser, including Amanda Dillard.
"People have donated lots and lots of clothes and things," Amanda said. "But they still don't have a home. They are living in a small two-bedroom house in town. It's temporary."
The Dillard family has a few options.
"They are looking at getting another trailer and putting it on a rented lot, or Habitat for Humanity said they qualify for help. "If my parents can get the land, Habitat for Humanity will help build a house," Amanda said.
Samara Dillard, Val's daughter-in-law, organized many of the auction items donated by area businesses and individuals.
"(Val) is a strong woman," Samara said. "She has her moments when she realizes something is gone, but she is strong, and I hope we can get them a better place to live."
An estimated $5,000 was raised at the auction, which can be added to the $6,000 collected in the Valley Bank account under Val Dillard.
"They plan to keep saving until they have enough money for a down payment for a piece of land or enough to buy a trailer," Amanda said.