boys basketball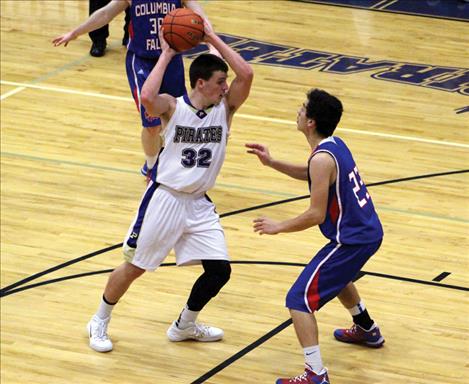 Arlee
CHARLO – The Warriors finished off their regular season with a perfect 18-0 run and 12-0 in conference, bringing Arlee a top seed placing going into the District Tournament next weekend.
Thursday at Charlo, the Vikings almost took that perfect season away in a "Battle of the Bronx" showdown in front of a packed gym full of emotions coming from both sides.
Though the Warriors came out of the first half with a hefty 20-point lead, the Vikings rallied around a big second half, yet in the end it wasn't enough to overcome the Warriors as the Vikings took home the 68-62 squeaker.
Warrior Patrick BigSam led Arlee scorers, tossing in 16 for his team. Justis Haynes and Tyler tanner also posted double-digit scores with Haynes netting 12 and Tanner with 10.
At home Saturday, the Warriors ended their regular season with a 88-33 win against Two Eagle River.
Bradley Brazill led the 11 Arlee scorers logging 14 while Tanner added 13 and Isaac Desjarlais chipped in 12.
The Warriors will kick off their district play with a first seed advantage on Thursday at the Joe McDonald Center in Pablo.
Results
Arlee 21 25 11 11 – 68
Charlo 16 10 18 18 – 62
Patrick BigSam 16, Justis Haynes 12, Tyler Tanner 10, Riley Rogers 8, Bradley Brazill 7, Isaac Desjarlais 6, Phillip Malatare 5, Chance Brazill 4.
Arlee 24 32 17 15 – 88
Two Eagle River 9 12 13 4 – 38
Bradley Brazill 14, Tyler Tanner 13, Isaac Desjarlais 12, Justis Haynes 9, Riley Rogers 9, Chance Brazill 9, Phillip Malatare 7, Patrick BigSam 7, Zach Felsman 4, Rory Birds 2, Daniel Vollin 2.
Mission
ST. IGNATIUS – The Bulldogs pulled a split in their final week of regular season play, including taking some heat from rival Ronan – a contest unfinished as the Bulldogs and Chiefs will square off Tuesday to determine who will gain a spot at the 6B District tourney starting this Friday.
Picking up a win at home on Friday was a breeze for the Bulldogs as they toppled Troy 63-56. After dominating the first half, the Bulldogs were able to survive the short-lived Trojan rally in the second, securing the victory for the Bulldogs in the non-conference bout.
Bulldog Aaron Fisher-Ahenakew tossed in a personal high 36 points to lead all scorers on the floor.
Saturday the Bulldogs headed to Ronan for some 6B action, but things got shaky for the Bulldogs as the Chiefs were able to outscore Mission in every frame, leaving the Bulldogs to go home with the 63-64 loss.
Fisher-Ahenakew once again high scored for the Bulldogs netting 14 while Nick Durglo and Will Powell added 11 apiece.
The Bulldogs will finish their regular season with a 5-12 overall record, 0-8 in conference. They'll see district play Friday only if a victory comes into play for the Bulldogs on Tuesday in Ronan.
Results
Mission 16 15 9 23 – 63
Troy 12 7 14 23 – 56
Aaron Fisher-Ahenakew 36, Nick Durglo 8, Dennis Fisher-Ahenakew 6, Will Powell 6, Robbie Erickson 3, Tate Weingart 2, Bill VonHoltum 2.
Mission 15 14 6 18 – 53
Ronan 16 17 10 21 – 64
Aaron Fisher-Ahenakew 14, Nick Durglo 11, Will Powell 11, Robbie Erickson 6, Raymond Matt 4, Dennis Fisher-Ahenakew 4, Bill VonHoltum 3.
Polson
RONAN – The Pirates finished up their last week of play on top, logging a pair of victories to bring the Polson b-ballers to 6-10 on the season.
At Ronan on Thursday, the Pirates took on old foes, the Chiefs, with a paced battle that ended with the Pirates pulling the 46-36 victory in their direction.
Pirate Tanner Wilson led both teams in scoring, netting 17 points, while Andrew Curley added 11 and Matthew Rensvold chipped in 10.
At home Saturday, the Pirates dominated the Loggers 62-17. While Pirate defense limited the Loggers to just single digit frames, Rensvold led all scorers with 20. Curley came in right behind with 17 points for his team.
The Pirates will play their final week of regular season games with contests at home, facing Frenchtown on Thursday and then hosting Whitefish on Saturday.
Results
Polson 13 6 14 13 – 46
Ronan 6 6 10 14 – 36
Tanner Wilson 17, Andrew Curley 11, Matthew Rensvold 10, Wyatt Ducharme 2, Payton Lefthand 2, Derek Peel 2, Joe Gallatin 2.
Polson 11 13 23 15 – 62
Libby 4 4 3 6 – 17
Matthew Rensvold 20, Andrew Curley 17, Grey Fitzpatrick 6, Derek Peel 5, Tanner Wilson 5, Wyatt Ducharme 4, Payton Lefthand 3, Shade Main 2.
Ronan
RONAN – The Chiefs finished their regular season of play picking up a split on the hardwood, bringing the Chiefs to a 7-11 overall season record and 3-5 in league play.
At home on Thursday the Chiefs fell to the Class A Pirates 36-46. While only scoring a pair of sixes in the first half of play, the Chiefs came out of the locker room doubling their first half score, though it wasn't enough to overcome Polson's lead.
Chief Cedric Earthboy led Ronan, scoring with 12 for his team.
On Saturday the Chiefs battled Mission in front of a loud hometown crowd, taking down the Bulldogs 64-53. Keeping just a hair ahead of the Bulldogs, the Chiefs paced no more than a four-point frame lead coming in the third quarter, but stayed ahead just enough to secure the 6B victory.
Earthboy scored 15 for the Chiefs while Colton McCrea came in right behind netting 13.
Though the Chiefs were victorious, a play-in game against the Bulldogs scheduled for Tuesday will decide who will earn the chance to play in districts, starting Friday in Hamilton.
Results
Ronan 6 6 10 14 – 36
Polson 13 6 14 13 – 46
Cedric Earthboy 12, Ty James 6, July Sorrell 5, Rhett Duffey 3, Justin Krahn 3, Colton McCrea 2, Bryce Cullen 2, Zeke Misa 2, Jeremiah North Piegan 1.
Ronan 16 17 10 21 – 64
Mission 15 14 6 18 – 53
Cedric Earthboy 15, Colton McCrea 13, Justin Krahn 9, July Sorrell 6, Rhett Duffey 5, Jayce Nenemay 5, Jeremiah North Piegan 4, Ty James 3, Bryce Cullen 2, Aaron Misa 2.
Two Eagle River
ARLEE – In their final week of regular play, the Eagles found a bit of a struggle on the court while challenging the top tier of the 14C conference ladder.
Saturday the Eagles headed to Arlee to challenge the top seeded and undefeated Warriors, a contest the Eagles just could not overcome, resulting in Two Eagle River coming home with the 38-88 loss.
Eagle Isaiah Mathias held the highest scores on both sides, netting 18 for the Eagles.
The Eagles will compete at the 14C District Tournament held at the Joe McDonald Center in Pablo with tourney tip off starting Thursday.
Results
Two Eagle River 9 12 13 4 – 38
Arlee 24 32 17 15 – 88
Isaiah Mathias 18, Eugene Parker 8, Nolan Antiste 5, Josiah Whitworth 4, Julian Cutfinger 3.