Lake Monsters qualify for State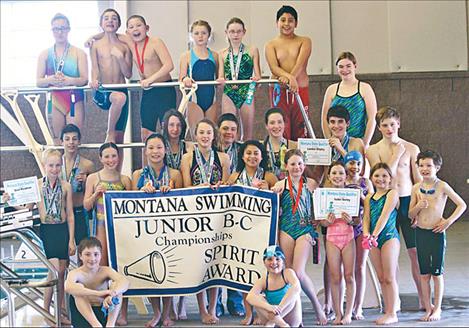 GREAT FALLS – The Lake Monsters made a splash at the Montana State B-C Short Course Championships last weekend and will send seven to the State Championship meet March 6-8.
The B-C meet gave athletes that have not qualified with a "BB" time or faster in previous meets the opportunity to post times to make the State cut. Swimmers that have already qualified competed to gain spots in extra races. Swimmers range from age 8-17 and can compete in multiple races.
According to Mission Valley Aquatics Director Ali Bronsdon the meet was a success and she is especially pleased to see the improvements the kids made.
"It was amazing," she said. "We had a great meet for our team."
Out of 106 individual swims, 97 were personal record breakers; something Bronsdon said was especially great as the pool is known as not friendly for the younger kids to swim due to wall height and flat low blocks causing difficulties for the kids to dive and to turn.
"None of it mattered," Bronsdon said. "Our kids just swam out of their minds. They did amazingly well."
Among those kids making an impression was 17 –year-old Jacob Clairmont, a junior at Polson high school.
Clairmont was one of two who gained a first time State qualification at the B-C meet and new to the Lake Monster program after having only started in December. He posted qualifying times in the 50 yard freestyle, 100 yard freestyle and the 50 yard backstroke.
"He just kind of showed up and said 'I like to swim' and we were like ok jump in and let's see what you got," Bronsdon said. "He's just a stud, like at this meet he was body lengths ahead of everybody."
Bronsdon said Clairmont makes the younger kids "a little googly eyed" as they all know him from the football and track field and can see that his newness to the sport hasn't stopped him from making an impact.
Joining Clairmont on the State roster is 8-year-old Isabel Seeley, who Bronsdon said won almost every event she has competed in. Aja Simshaw (12), Maggie Todd (12), Sean Murphree (10) and Landon Shipley (14), Sami Dolberry (8), Teague McElwee (8) and Katelyn Smith (9); and meeting Clairmont in the "first timer" club is Hannah Simpson, who posted a "BB" time at last weekend's meet.
A Lake Monster that didn't make the State cut but made an impression on Bronsdon with his great improvement was 13-year-old Gabe Mergenthaler, who dropped an average of 3.06 seconds per 25 yards off his times. Mergenthaler was only 0.03 away from qualifying for a State spot and as a 13 year old has another year to compete in his age bracket, with a promising future of qualifying next season, according to Bronsdon.
Mergenthaler was joined by Seeley, Christien Birdsbill, Charly Reynolds and Trae Wyman in the "Two Seconds Club" that honors swimmers who drop more than two seconds per 25 yards of racing.
All together the Lake Monsters dropped 689.93 seconds for an average of 6.5 seconds per event.
Gold medalist for the Lake Monsters included Clairmont in the 50 and 100 yard freestyle and the 50 and 100 yard backstroke. Clairmont also anchored the 11-21 age group 200 yard freestyle relay and the 200 yard medley relay which the Lake Monsters placed first in both.
Todd grabbed gold for three events including the 50 yard backstroke, 100 yard freestyle and the 50 yard butterfly. Todd also helped to win as part of both relay teams.
Simshaw, 12, also swam the 200 yard medley relay race and picked up a couple of individual first places in both the 100 and 200 yard breaststroke.
Seeley picked up golden hardware for the 25 yard breaststroke, 100 yard individual medley and 25 yard butterfly and Murphree added a first place win in the 200 IM event.
The Lake Monster's combined weighted point score was good for a second place finish, (weighted scoring is averaged out by team size), and they also came home with what Bronsdon said was the "coveted" Spirit Award.
The Spirit Award is given to the team showing the best sportsmanship and spirit and includes the athletes, coaches and fan support.
All in all, Bronsdon said she is excited with the results and is looking forward to State. She is hoping that seeing some of the team achieve medaled placings will motivate others to want to compete and to set goals of shaving times.
"They see these cuts as a pretty good goal," Bronsdon said, adding that no matter what level the kids are at, "there's always something they can accomplish in a meet."
The Lake Monsters Sate team will head to Butte March 6-8.
For more information on the Lake Monsters program visit www.mvaqautics.org.