Pheasants Forever sponsors 5-year habitat improvement program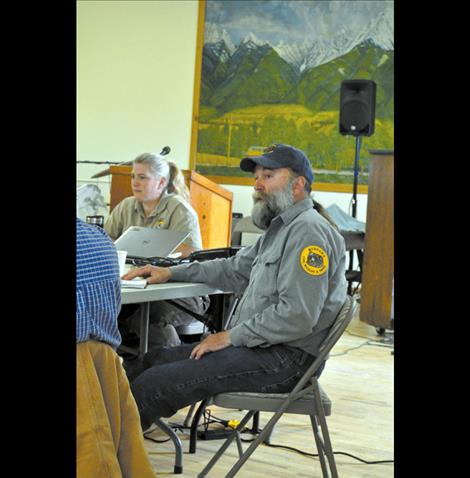 CHARLO — The public lands that support wildlife in Mission Valley are fragmented into a patchwork owned by different entities engaged in varying management strategies, but when game such as pheasant make their nests here, they live irrespective of fenced boundaries and human plans.
The Mission Valley, Five Valleys and Flathead Valley Pheasants Forever chapter were recently able to raise funds and obtain enough grants to fund a five-year $250,000 habitat improvement project. The project will include transboundary work between the U.S. Fish and Wildlife Service, which manages the National Bison Range and Waterfowl Production Areas, and Montana Fish Wildlife and Parks, which controls the Ninepipe Wildlife Management area.
The two entities will share equipment and a newly hired habitat manager – Charlie Holtz – to help improve habitat for pheasants.
At a coordinating meeting between the entities March 31, Confederated Salish and Kootenai Tribes Biologist Dale Becker said it seems that more and more farmland that provides ideal living conditions for the birds is disappearing.
"I've been doing crow counts for 20 years now," Becker said. "Same routes … I count more cats and dogs than I do pheasants. Every year I see new house starts and I remember when there was more tilled agriculture, which I believe is more conducive for pheasant. Most of the lands I go through now have been stripped down and are small cow herds."
Fish and Wildlife Service biologist Amy Lisk and Fish Wildlife and Parks Manager John Grant said they hope to coordinate together to get the most use out of Holtz so pockets of ideal pheasant-friendly ground continue to thrive in Mission Valley.
"I'm going to be boots on the ground," Holtz said.
Holtz has already made great strides in laying the ground work for getting approval to till certain patches of land, according to Lisk. Within the next month, seeds will hopefully go into the ground to get the habitat improvement underway.
"It's an exciting project," Montana Regional Pheasants Forever Representative Dan Bailey said. "By giving Charlie the next five years, we feel like we can make a real dent in the projects we have lined up."