Track and Field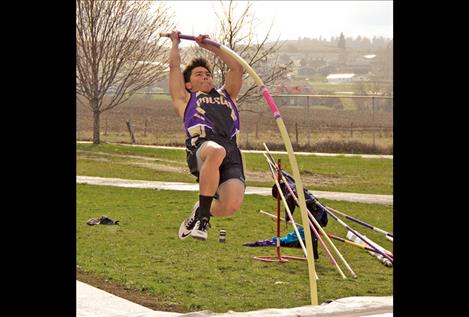 Polson
KALISPELL – Pirate Jacob Clairmont continues to shine, finding himself in the top ranks of the track and field placings.
At Kalispell Tuesday, Clairmont placed first in the 110 hurdles event posting a finish line time of 15.62 then went on to score a second place in the 300 hurdles (41.73) and in the pole vault after clearing 12-6. Clairmont finished up his Tuesday on the field side by placing third in the long jump (19-8.5).
Other Pirate placers at the Kalispell meet were Joe Gallatin, who took third in shot put after 44-8.5, and Michael Corrigan, who just missed a top three finish and took home fourth with his 141-1 discus toss.
Lady Pirate Lydia Bowman paced first in the pole vault after clearing 9-3 and Mariah Corrigan took home silver after tossing 110-2 in javelin.
Saturday, Polson competed in Missoula with the Pirate team placing 12th out of 20 with a team score of 28.
Once again Clairmont impressed after placing first in the 110 hurdles (15.67), second in pole vault (12-6), and third in the long jump, landing 20-10.
Polson will head to the road with a busy week. The first stop is in Corvallis for the Twilight Invite on Thursday, then to Libby on Saturday, and then back to Missoula on Tuesday.
Results
MCHS Invite
Boys
Team scores - Flathead 77 2; Corvallis 71.5; Whitefish 59.5; Glacier 51; CMR 50; Stevensville 49; Belgrade 43.5; Big Sky 38; Sentinel 37.5; Hamilton 35 11; Hellgate 33; Polson 28; Butte Central 19.5; Columbia Falls 19; Beaverhead 17; Thompson Falls 15; Loyola 5; Plains 5; Ronan 4; Florence-Carlton 3.5; Frenchtown 2
Girls
Team scores - Big Sky, 133; Glacier 79.5; Sentinel 77; Plains 72.5; Columbia Falls 38; Flathead 32; Corvallis 32; Hamilton 30; Beaverhead 29; CMR 29; Thompson Falls 27; Hellgate 25; Belgrade 24; Whitefish 14; Butte Central 9; Ronan 5
Team scores not kept for the Kalispell meet.