Heat sets records, drives folks to water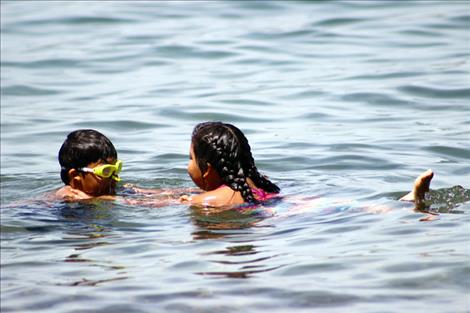 LAKE COUNTY — The National Weather Service's heat advisory issued for Saturday and Sunday warned those living in Western Montana to be prepared for some of the hottest weather ever recorded in the month of June, and they were right.
Across the state on Sunday, Helena set an all-time record high temperature for June at 103 degrees. The old record of 102 was set on June 21, 1900. June records were broken in Missoula (102 degrees on Sunday, 101 on Saturday) and Kalispell (102), breaking previous records set in 2007.
"Typically the warmest time of year is the latter part of July, then early August, so basically the really warm weather arrived a month early," said Travis Booth, meteorologist at NOAA Missoula Weather office.
The NOAA weather station on Jette Hill recorded a high of 102 Sunday afternoon; Ronan Airport's weather station saw a high of 99 degrees at 4:15 p.m.; last year's high for the same day was 66 degrees, although the average over the past seven years is about 83 degrees for June 28.
Historic records for Lake County are not available through Missoula's NOAA office.
"There's nothing to compare in a historical sense, but with the fact that Missoula and Kalispell both had the highest recorded temperatures for month of June, you might be able to assume (the same)," he said.
Heat-related events kept law enforcement and Lake County dispatch busy throughout the day. At least one person called to complain about an abundance of cars blocking a fishing access site as people flocked to Flathead Lake and Flathead River to cool off. The Lake County Search and Rescue boat was on the lake Sunday, helping a few disabled boats back to the docks. Late in the afternoon Polson Ambulance was called out to West Shore State Park for a male with heat stroke. The Lake County Sheriff's Department was called out when a 19-year-old female fell out of her tube while floating on Swan River and got separated from her group, but she was fine when help arrived.
"We were fortunate," he said, adding that he hopes they'll be as fortunate during the coming Fourth of July weekend. Extra patrol will be on duty, and the Sheriff's boats will be on the lake making sure people are following safety rules, Bell said.
"I did find out that people do get grumpier when it gets that hot," Bell said. "They just can't help it."
Highs in the 90s are forecasted for this week, roughly 10-15 degrees above average for this time of year, according to the NOAA.
The warming trend began early this year. Snowpack across Montana started melting two to four weeks ahead of schedule with snowmelt entering rivers as early as mid-March.
On top of that, the year showed well-below-normal peak accumulations of snow.
Statewide snowpack as of June 1 was 42 percent of normal and 28 percent of last year at this time. Locally, the Flathead River Basin is 43 percent of normal and 27 of last year's June 1 reading, according to Montana's Natural Resources and Conservation Services department.