Irrigation project short on water, implements shut off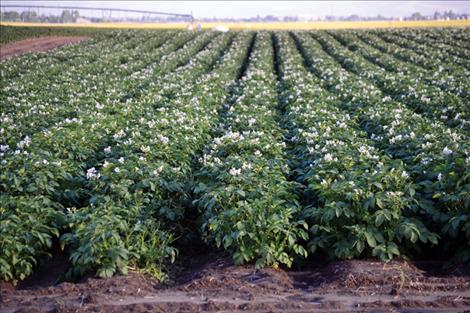 ST. IGNATIUS – The Flathead Indian Irrigation Project began implementing water shut offs last week and conditions are only expected to get worse in the coming months, according to a report issued by Bureau of Indian Affairs Project Manager Pete Plant.
"FIIP expects the lack of precipitation, extreme heat conditions, and high irrigation demands to continue throughout the remaining irrigation season," Plant wrote in a July 1 water outlook report for irrigators. "Additionally, FIIP is experiencing high conveyance and distribution losses due to evaporation and extreme dry conditions. Consequently, certain water management actions must be taken to ensure that all water users share in the shortage. "
Water shutoffs were implemented July 2 for users who utilize water from Pablo Reservoir, which serves around 38,000 assessed acres. The reservoir is approaching critical dry levels, Plant said in the report. Irrigation is shut off for 5-10 days, so the Flathead pumps could send water for storage in the reservoir. Future shutoffs could be imminent depending on conditions.
"Once releases are resumed, deliveries from Pablo reservoir will be under a strict rationing and rotation schedule that will be based solely on what the Flathead River Pumps can provide," Plant wrote. "We expect water users to work cooperatively with the irrigation system operators during this shortage. Additional shutdown periods and lengths will be dependent upon storage and the operation of the Flathead River Pumps."
Flathead Joint Board of Control irrigation Commissioner Shane Orien said the impacts of the shut-offs are significant and could harm the farming community.
"We all are shut off right now," he said of his Polson neighbors.
Without water, there is little farmers can do to preserve their crops.
"You watch them burn up," Orien said. "In this heat, a plant is going to dry up pretty fast."
Orien said irrigators were ill-informed about exactly when the shut-off was going to take place.
"We had no planning," Orien said. "There was no notice. With proper notice, a person, instead of running 12 hour sets could have gone with eight hour sets and gotten more water on the ground."
Orien said irrigators hope the shut off will be short-lived, but even a 10-day hiatus could come with serious consequences.
"Due to the weather we are having, it has a pretty big impact," Orien said. "It takes 11 days to get across the field with a pivot. Even 10 days from now if we start watering, for part of our fields it could be 10 days after that before they see water."
Orien said he is unhappy because enforcement of water rotation has been inequitable amongst his neighbors and that a third pump that pulls water from the Flathead River into Pablo Reservoir laid unfixed until recently.
"That was a huge problem," Orien said. "Had that third pump been brought online, we might not be in this situation."
All other parts of the irrigation project are being impacted by the drought to some degree.
In the typically dry Camas region, a .70 acre feet quota set early in the season is expected to be met. Storage is at 77 percent of capacity and 127 percent of average.
In the Jocko Valley, storage is at 43 percent capacity and 78 percent of average, with 5,015 acre-feet usable.
"However, due to the lack of precipitation and extreme heat the spring runoff was significantly less than average," Plant notes in his report. "The runoff peaked early in June and has now subsided well below delivery needs. This has forced FIIP to begin releasing water from storage on June 25. This reliance on stored water started approximately one full month earlier than normal."
A .5 acre-feet quota has been set in the Jocko Valley to ensure equitable distribution.
In Mission Valley, rainfall for April through June was at 30 percent of normal and recorded precipitation at alpine snow sites was 25 percent of average. Current storage by the project in the valley is at 48 percent of capacity and 49 percent of average.
"The lack of precipitation and high temperatures resulted in a runoff that was significantly less than average, very dry soil conditions, and a very high irrigation demand," Plant wrote in the report. "Demand for irrigation deliveries began early and has remained high throughout the season. This demand combined with less than average runoff has resulted in lower than average storage for this time."
Project operators plan to deal with the water shortage by implementing a ration or rotation schedule for the entire Mission Valley for the remainder of the season. Operators will enforce the .75 acre feet quota established at the beginning of the season.
Plant says irrigators can do the following things to help project operators during the drought:
- Work cooperatively with neighbors and the Irrigation System Operator to assist in implementing any water scheduling including a ration and/or rotation schedule. In order to effectively manage their service area, Irrigation System Operators need your cooperation.
- Call in all water delivery orders including ons, offs, and changes.
- Use water conservatively.
- Correct all water losses and inefficiencies.