Charlo-Moiese home to new fire truck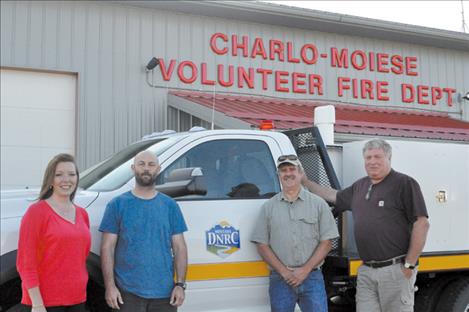 CHARLO — As extreme dry conditions continue, Lake County residents can take some solace in the fact that local emergency responders now have a larger ar-senal of tools to pull from.
Charlo-Moiese Volunteer Fire Department received the keys to a new Type 6 engine capable of fighting wildfires as part of a state program that helps provide fire protection to rural communities.
Dave Poukish, of the Montana Department of Natural Resources and Conservation, said the new engine is part of a co-op program that provides more than 900 engines, equipment and training to volunteer fire departments located in unforested grassland areas vulnerable to wildfire. Lake County has two of the engines in Chief Cliff, one in Polson and one in Charlo-Moiese. They can be deployed to major fire events to help other agencies if need be.
Though the program has been ongoing for more than 40 years, increased funding commitment from legislators in the past decade has greatly increased the quality of engines delivered to rural departments.
"You will see a brand-spanking new engine," Poukish said. "It used to be an older engine."
Poukish said arming the volunteer departments with ways to battle wildfires is a critical part of the multi-level fire defense in place in Lake County that combines forces of volunteers, state, and tribal agencies.
"I can't speak highly enough of these volunteer firefighters," Poukish said. "They are the last of the true minutemen of our country."
Mark Young, fire chief for the Charlo-Moiese department, said he is glad the department will have access to the engine.
"For us, it's a huge benefit, to the county as well," Young said.
Lake County Emergency Management Coordinator Steve Stanley, who works closely with the Department of Natural Resources and Conservation, said he was grateful for the engine.
Lake County Commissioner Ann Brower agreed.
"It's great," she said.