Pioneer Days rolls into town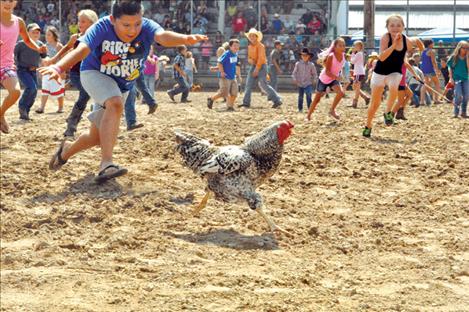 RONAN – It has been more than a century since the first pioneers rolled into Ronan in 1910, but its citizens will pay homage to their ancestors with a weekend of wholesome fun that beckons back to farming culture as Pioneer Days is held this weekend.
The celebration has been going on for close to 40 years, according to Mayor Kim Aipperspach, after a preceding festival called Days of '49 came to an end.
"It is great," Aipperspach said. "It celebrates more than 100 years of town history."
Everything western and family-oriented will be on display as the quilt show and softball tournament kicks off on Thursday night.
Then things pick up on Friday as kiddos flock to Spring Creek in Ronan to pull trout from the stream. Later Pistol Creek Rodeo rolls into town with stock ready to ruffle the chaps of cowboys and cowgirls. Folks can head down to the street dance afterwards or hit the sheets so they rise in plenty of time for the adorableness of the Kiddie Slicker Rodeo the next day.
"It's the event that gets you to town on Saturday," organizer Justine Welker said. "It's a fun family friendly event. We try to include kids of all ages. We give kids an opportunity to do things that maybe they don't always get the chance to do like sheep riding, chasing chickens, or catching a greased pig."
The $2 rodeo puts tiny cowgirls and cowboys in the ring where they are tasked with catching chickens they can take home, pulling dollar bills from the ears of calves, and putting a pair of bloomers on a calf.
Parents are also involved in the fun.
"I think my favorite event is the Kids Scramble," Welker said. "That's where we pull all the moms and the dads in and they have to find their kid when they all have the same shirt on. To me that is the most fun."
Welker said between 200 and 300 youth participate each year. Kids must have a signed waiver to participate so parents should show up for sign-up at 11 a.m. to ensure a spot.
Also taking place on Saturday are the VFW Pancake Breakfast, 3-on-3 basketball and softball tournaments, and another street dance and rodeo.
A car show will also be held in front of Glacier Bank, brining entries from across the valley.
"It is great getting to visit with all the people and talking about the old cars and the stories behind them," organizer Amy Sevier said.
Sunday is the grand finale, as the weekend winds down starting with the volleyball tournament.
Organizer Kaylee Cheff said the event is a favorite, with families and friends coming to play. Each team must have at least two women on it, Cheff noted.
At 12:30 p.m. everyone in town has a chance to strut their stuff in the town's annual parade. Felicite McDonald will be grand marshal this year because she is "a matriarch of the valley," according to Aipperpsach.
"The parade is standing room only," organizer Michelle Marengo said.
It is also a great time to cool off before the rodeo starts, as the fire department usually sprays the street with water. At 3 p.m. the last rodeo session begins, complete with some brave souls who are willing to try their hand at riding a wild bison.
There are typically four to six slots available, organizer Kerry Yeager said. There are few repeat offenders for the event, as the bravery to get on the bison is short-lived.
"It's usually a one-time deal," Yeager said. "These are the folks who think they are crazy enough to ride a wild buffalo."
Yeager said the buffalo riding is the spectator event everyone wants to see on Sunday.
"You don't see this at many rodeos," she said.