Local meth message top vote getter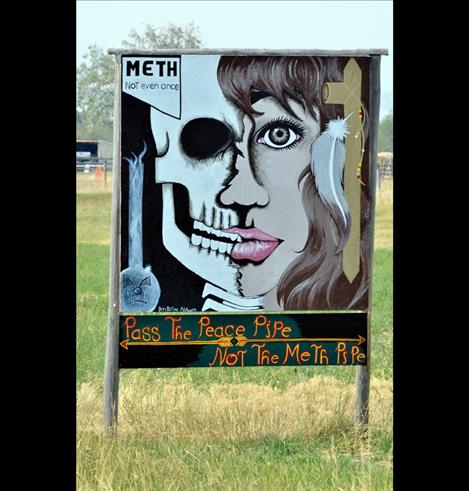 ST. IGNATIUS – Briar Ahlborn's painting with an anti-methamphetamine message held the highest number of votes last week in a contest spread across Montana that ends on Sept. 16.
"It was sweet; I was 100 votes ahead," she said. "I thought it would be smooth sailing if it kept going at that pace."
But the outcome changed Friday night when another project pulled ahead.
"They went up by 300 votes in an hour," she said. "But I could still win. It keeps changing."
The Paint the State contest was created by the Montana Meth Project to help teens share anti-meth messages. The artwork of every contestant is put on the organization's website so people can vote in the People's Choice category of the contest.
"A lot of people don't know that you can vote once every day," she said.
Briar has taken the lead several times.
"It's been very stressful," she said. "This means a lot to me, and it's not just about winning the money. I worked hard on this."
She worked on her billboard style painting for two months. The painting, located west of U.S. Highway 93 at mile marker 33 just north of St. Ignatius, is a portrait of a Native American woman. On one side of her face, she has long flowing hair accented by a feather and healthy skin. The other side shows the effects of meth.
"It's a skeleton," she said. "It represents death."
The message across the bottom of the painting reads "Pass the Peace Pipe, Not the Meth Pipe," which is the theme of her painting.
"I wanted to bring the reservation into it," she said of the message.
Voting is done through Facebook. Go to Montana Meth Project and click on the contest tab and then click on vote. Paint the State coordinators announce the winner on Sept. 18.