Mackay sentencing set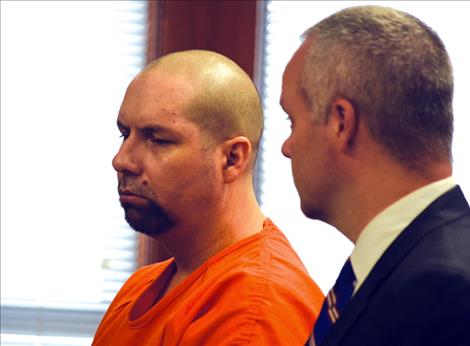 POLSON — Desmond Alan Mackay, 36, appeared in District Court Judge Deborah Kim Christopher's court on Sept. 17 and pleaded guilty to mitigated deliberate homicide in the death of John Barrows. There will be no trial, and sentencing was set for Oct. 29. The maximum sentence would be 40 years and the minimum two years in prison.
Mackay told an officer at the crime scene on March 5, 2014, that he didn't mean to hit Barrows, his father-in-law, with the framing hammer; he meant to hit his brother-in-law.
At the Sept. 17 hearing, Mackay's attorney J. Thomas Bartleson asked Mackay if he had been the victim of physical and emotional abuse and bullying from his brother-in-law.
"You just snapped?" Bartleson asked.
"Yes," Mackay replied.
"The door opened, and you struck John Barrows?" Bartleson asked.
In tears, Mackay said, "Yes."
Lake County Attorney Steve Eschenbacher asked, " Did you feel you were under severe emotional stress and duress?"
Mackay answered, "Yes."
Eschenbacher asked Mackay if he was pleading guilty because he was worried about no attorney for his trial since Bartleson has a trial in Billings at the same time.
Mackay answered, "No."
Prosecutors and defense attorneys agreed to reduce the charge to mitigated deliberate homicide, but Judge Christopher denied the plea agreement in a July 18 hearing. Mackay's public defenders asked the Montana Supreme Court for a change of judge in the case, but the Court denied that request on Aug. 7.
Following the high court's ruling and before the Sept. 17 plea in court, Eschenbacher changed Mackay's charge to mitigated deliberate homicide.