Volleyball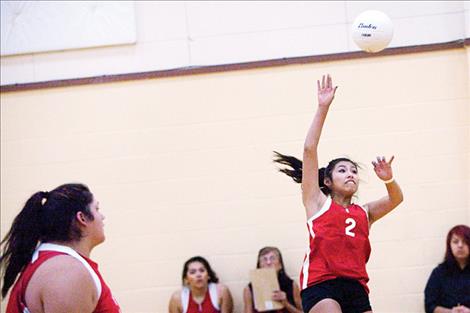 Charlo
All in all, it was a good week for Charlo volleyball. The Lady Vikings took down the Tigers in three sets Sept. 22 in St. Regis. They followed up by winning their first four games during pool play in the Arlee Invitational Spike It volleyball tournament Sept. 26. They also won their bracket – advancing the team to tournament play.
The Lady Vikings were given a bye for their first tournament game. They then played Superior, winning in two. Arlee beat Seeley so Charlo then played Arlee – winning in two again. The Lady Vikings met Plains in the championship game and fell to the Lady Trotters 13-15, 14-16.
Players Makaylan Roylance and Ashley Tryon were both out all day with injuries.
Charlo def. St. Regis, 25-19, 26-24, 25-14
Kills – (Kaitlin Cox and Cheyenne Nagy 10 ea., Teara Truman 7, Ashley Tryon 6). Blocks – (Tryon 3). Digs – (Truman 7, Nagy, Cox, Jaycee Anderson and Allie Delayne 6 ea.). Assists – (Makaylan Roylance 17, Brooklyn Foust 11). Aces – (Cox 3, Nagy, Anderson and Roylance 2 ea., Truman 1).
Arlee Spike It Tourney Pool play
Valley Christian (Kills - Kaitlin Cox. Digs, JC Anderson 8)
St. Regis
Two Eagle
Victor 12-9, 12-10 (Teara Truman led in Digs 8, and Kills 4)
Tournament play
Charlo def. Superior 15-3, 15-11 (Cheyenne Nagy, Digs 4 and kills 6)
Charlo def. Arlee 15-6, 15-6 (Cheyenne Nagy 4 Digs, Brooklyn Foust 3 digs)
Plains def. Charlo 15-13, 16-14. (Brooke Doty 9 Digs, Cheyenne Nagy 6 kills)
Two Eagle River
While Two Eagle River volleyball played with heart at the Arlee Spike It tourney the team wasn't able to put up any wins on their season. According to Coach Chrissie Ewing her girls played well as a team but were just getting warmed up as play ended in the 12-15 point matches.
St. Regis def. Two Eagle 12-9, second set score unavailable
Charlo def. Two Eagle 12-5, 12-11
Victor def. Two Eagle 12-6, 12-9
Valley Christian def. Two Eagle 12-11, 12-7