Cross Country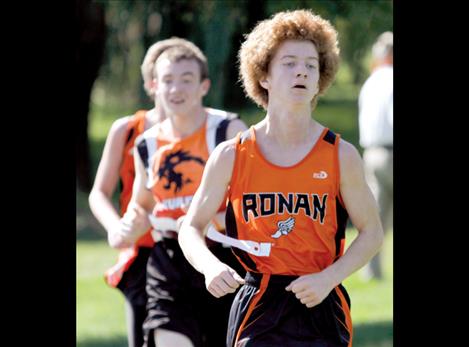 Ronan
Ronan High School's cross-country teams traveled to Thompson Falls Thursday, Oct. 1 for the Thompson Falls Invitation meet and then to Hamilton on Saturday, Oct. 3 for the Hamilton Invite.
On Thursday, the Ronan boys placed fourth behind Timberlake High School from Idaho, Frenchtown, and Thompson Falls in a field of 11 Class A, B, and C teams in attendance.
Although the girls' team had five runners, they were unable to get a score because one of the runners in on a 90-day eligibility wait resulting in the Maidens being able to only score as a JV team.
Both teams competed very well, with several runners posting their best times of the season, according to Coach Noelle Decker.
Decker said Hunter Peterson ran a phenomenal race on Thursday, running nearly 1 minute faster (18:25) than his previous best time and coming in as Ronan's fifth runner.
"He is just such a mentally tough and coachable kid," Decker said. "It was sure fun to watch him race so competitively."
Leading the Chiefs was Jackson Duffey, placing fifth in a field of 150 runners, posting a time of 17:08.
For the Maidens, Ashley McCready lead the team with a time of 21:10, placing 16th overall in a field of nearly 100 runners. She was followed by teammates Penni Weyant, Tashyna Matt, Korrie Frisk, and Kaitlyn Sassaman.
"The girls are working hard and striving to improve each week," Decker said.
On Saturday, the Chiefs placed their top four runners in fifth, seventh, 10th and 16th place to take second with 66 points, behind host team Hamilton, with 44 points.
"Times were down a bit from Thursday, but we were pleased with how the team competed in placing second," Decker said.
The girls race followed right after the boys. Times were slower than Thursday, but they competed well.
Although the Ronan cross-country teams ran four meets in the past eight days, Decker believes the schedule has helped them prepare mentally for conference championships and state competition coming up in the next few weeks.
"With such young kids on both girls and boys team, it is important they learn how to run competitively at meets, and the only way to do that is simply race," Decker said.
The Chiefs and Maidens will travel to Whitefish on Saturday for their last meet before they compete in the conference championships.
Polson
All 22 Polson High School cross-country team runners recorded personal best times for the year at the Thompson Falls Invitational Thursday, Oct. 1.
Malia Seeley led the way for Polson with her first sub-20 clocking and Ryan Harrop and Molly Sitter joined her in the top-10.
The girls' team finished second to Idaho's Timberlake out of eight teams competing. The boys team finished fifth out of 11 schools and were led by Zach Evertz in his best-ever time of 17:17. Freshman Quin Stewart and junior Matt Sitter also follow Zach under 18 minutes for the first time this year.
"I loved the way both our girls and boys really went for it on this fast course. The fast times showed that their fitness is really starting to improve after weeks of hard training," Coach Matt Seeley said.
Just two days later the team competed at the Hamilton Invitational.
While the team was pretty fatigued, Seeley said they rallied for some solid performances in Hamilton. The highlight was the girls team victory, led over the line this time by freshman Molly Sitter in fourth place. Josey Motichka was seventh for the Pirates, but managed to record her best time of the year.
The boys' team finished third with the top seven runners all crossing the line within a 71 second span.
"The girls are starting to set themselves up as real contenders for a top three finish at state and the boys have been improving every week and really pushing each other throughout the race," Seeley said.
The Polson cross-country teams will race on the track in their Night Lights time trial after the football game this Friday and then host the Western A conference championship in Polson on Oct. 17.
Mission
Mission High School took a dozen runners to the Thompson Falls Invitational meet where 10 earned personal best times.
Tate Weingart led the Bulldogs' team with a 13th overall placing and a time of 17:34. Wacey McClure (21:00), Korbyn Pierre (21:49) and Warren Castor (22:29) all set personal best records, with Castor beating his previous best by 2 minutes.
Shaniya Decker led the Lady Bulldogs with a time of 24:24, also a personal best. Mission Middle School students also showed great promise for the school's future varsity with runners three placing in the top-10.
"I'm extremely proud of all my athletes and the improvements they are making," Coach Chris Eichert said.