Outpouring of support offered to day care provider after attack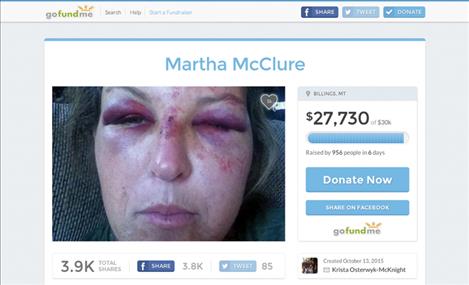 RONAN – An attack at Martha's Mini Daycare left Martha McClure seriously injured on Oct. 7.
Lake County Sheriff Don Bell said McClure was working at a daycare she owns in her Ronan home with a small staff when Francis Joseph Jackson, 31, showed up. Bell explained that it was reported that Jackson wanted to take his three biological children that are all under the age of four, although Tribal Child Protective Services has custody of the children.
An affidavit by Deputy Lake County Attorney James Lapotka stated that Jackson was inside the daycare when he became angry and said he could take his kids whenever he wanted, and McClure could smell alcohol coming from him.
McClure was able to remove Jackson from the daycare and lock the door, the affidavit states, but Jackson began throwing yard toys that included a tricycle at the window in an apparent attempt to gain access to the daycare. She went outside armed with a snow shovel.
According to the report, McClure lost the snow shovel after trying to avoid being hit by Jackson. The two "grappled in the yard" when another person got involved.
"Several witnesses said that Jackson's girlfriend (Tashiana Schlensker) hit Martha with a shovel," Sheriff Bell said. The hit from the snow shovel landed on Martha's face, according to the court document.
Jackson then allegedly hit Martha in the face, causing her to fall to the ground, according to the report. After Martha was assaulted, it was reported that the couple ran to their vehicle and drove away. Police quickly began looking for them.
Former Confederated Salish and Kootenai Tribal Officer Arlen Auld helped find Jackson. Auld now works for the Kalispell Tribe of Indians' Public Safety Department located in Usk, Washington.
Bell continued to explain that Auld was given a tip that Jackson was in Usk. Jackson was soon arrested. On Friday, Oct. 16, at 4 p.m., Jackson was transferred from Washington to Missoula.
"We had two detention officers pick him up and bring him to our facility in Polson," Bell said.
Photos of Tashiana, the female suspect, circulated across news and social media for over a week after a $100,000 warrant was issued for her arrest. According to court documents, she is being charged with felony assault with a weapon and the misdemeanor of criminal contempt. She eventually walked into the Lake County Court House on Friday, Oct. 16.
"She turned herself in," Bell said.
Jackson is being charged with felony aggravated burglary. Bell explained that burglary is not always about theft.
"If someone enters an occupied structure and commits any crime, it's burglary," he said. "Aggravated burglary means someone got hurt."
Bell also said that both suspects could be charged with assault with a weapon and custodial interference.
People from all over wanted to help when they heard about what happened. No one could take away the bruises or heal the broken bones, but they could dig into their pockets and help financially.
Krista Osterwyk-McKnight made it easy for people to donate when she set up a GoFundMe account on the Internet to benefit McClure. On the site, Krista explains that she is McClure's long time friend. She babysat McClure's four boys when they were young.
Within six days, the site raised $27,730 as 956 people from all over donated amounts of $5 to $100. People left messages on the site calling McClure a hero.
Jamie Sedlmayer left a message on the site.
"Martha, the wounds and bruises you have now are marks of the warrior you are," she said. "You are a credit to your profession and to the human race. Many people would turn to self-preservation mode; you extended your mamma bear mode to those kids and that's wonderful."
Krista posted on the GoFundMe site that Martha was at home healing. She said her vision was returning but she was having problems with depth perception. She wrote, "Martha had surgery on her eye Monday, Oct. 12, and has a long road of healing ahead of her."
Krista added that most of the funds from the site are going towards Martha's medical expenses with additional funds being used for counseling, lost wages and employee help. Another fundraising account has been set up for Martha at Valley Bank.