Cross-country results, Lake County Schools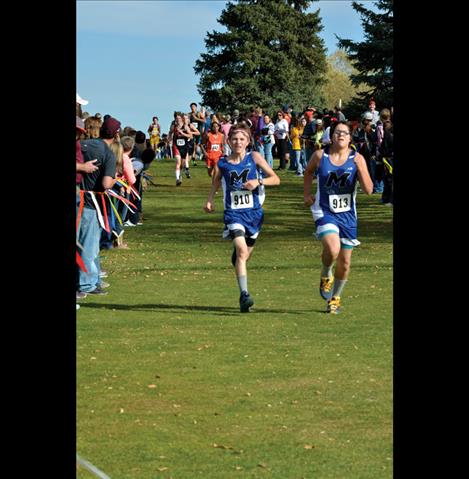 Mission
The Bulldogs finished 21st in the middle of the pack at the Class B state run.
Tate Weingart clocked the fastest run for Mission at 17:28:80, landing in 32nd overall.
Other top finishers included Wacey McClure (20:27:68), Korbyn Pierce (20:36:13) and Warren Castor (20:37:12).
Lady Bulldog Shaniya Decker came in first for Mission with a 25:21.50 run. Tori Peterson bested last year's time by 7 seconds with her 27:00.97 race.
Polson
GREAT FALLS — The 2015 cross-country season ended well for the Polson Pirates at the state meet in Great Falls.
"This meet always packs the most pressure and excitement for the kids so it was great to see them race hard and finish strong," Coach Matt Seeley said.
Seeley was especially impressed by the performances from Thunder Morales, Warren Wood, Tessa Nunlist, and Natalee Wheeler — the four varsity seniors in their last race.
"(They) haven't been our fastest runners this year, but they have been the heart of the team with consistent leadership and motivation," he said. "All four were incredibly focused on Saturday and ran races in which they can take pride."
Quin Stewart led the boys in 45th place (17:14) and was the fastest freshman boy in Class A. Molly Sitter just missed All State in 16th, but was also the fastest freshman in Class A.
"Having both of the fastest freshman is really a positive sign for the future of this team," Seeley said.
Ryan Harrop ran her best race of the year to improve one spot from last year and finish 6th (All State).
"Ryan is proving that she is at her best in the big meets at the end of the year," Seeley said.
Malia Seeley stayed with Ryan for much of the race as they worked together to move up from 40th place at the 1-mile mark, and held on to finish 10th (All State) and 15 places higher than in 2014.
The girls team just missed the third place trophy by four points but will be very motivated to come back and claim a spot on the team podium next fall, according to Seeley. Even without their injured leader Zach Evertz, the boys team finished 15th and two spots better than last year.
Arlee
Warrior Greg Whitesell finished 37th, running the course in 18:41:01. On his heels were Isaac Dejarlais (20:00;83) and freshman Skyler Titsworth (20:06:44).
Coming in head-to-head were Scarlets Natalie Yokum (22:14:38) and Shawntaya Nelson (22:14:58) to place 26th and 27th overall.
Becca Whitesell followed close behind, finishing in a respectable 31st overall with her 22:45:73 run.
Charlo
Lady Viking Jaden Coston came screaming into 14th place overall at 20:47:87, earning the top spot for the Charlo girls.
On her heels were Allison Delaney (24:01:50) and Telesa Truman (30:06:61).
Charlo's Wills DeGrandpre was the Viking's first runner at 34th place overall with a time of 18:24:36, followed by Devon Siech (19:25:37) and freshman Connor Koenig (19:58:62.)
Two Eagle River
Two Eagle River saw Zach Mathias run the course in 22:10:85 while Issaiah Mathias strode to a 25:14:43 time.