Highway crash takes child's life, injures others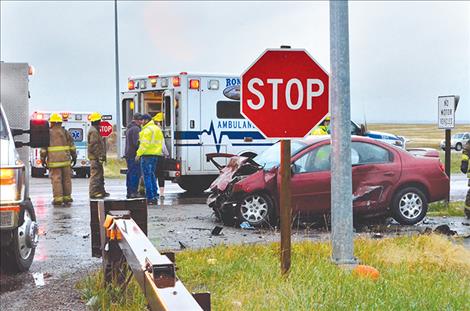 PABLO – Emergency crews responded to a tragic wreck on U.S. Highway 93 south of Pablo on Monday, Nov. 9, that took the life of a 3-year-old child.
A 2011 Chevy Impala stopped at the stop sign where Old Highway 93 crosses before attempting to travel west across the highway over the southbound lanes on the four-lane section of the highway, according to Highway Patrol Trooper Terry Rosenbaum.
The Impala was driven by a 62-year-old woman. She didn't make it across the highway. She pulled out in front of a 2005 Dodge Neon.
The southbound Neon was driven by a 23-year-old woman, and her 3-year-old daughter was belted into a booster seat in the back seat of the car. The girl's 25-year-old father was in the passenger seat.
The driver of the Neon was unable to avoid the Impala and hit the passenger side of the car. The front end of the Neon was crushed, and it stopped in the walking path just south of the intersection. The Impala continued about ten feet into the grass west of the highway.
"According to the (62-year-old driver), she didn't see the car at all," said Trooper Rosenbaum.
Ambulances from Ronan and Polson responded to the scene with the Montana Highway Patrol, Tribal Police, the Lake County Sheriff's Department and the Ronan Fire Department.
According to Trooper Rosenbaum, the 62-year-old woman was taken to Providence St. Joseph Medical Center with a broken hip. The 23-year-old was taken to St. Joseph. Her ankle was broken and she needed surgery. The 25-year-old father was taken to St. Luke Community Hospital for injuries that were not life-threatening along with the 3-year-old child. The child died an hour and a half after reaching the hospital.
Rosenbaum doesn't believe that the weather was a factor at this time. The road was wet and a light rain continued after the accident. It was dark enough to require headlights.
He also said speed, alcohol or drugs are not believed to be involved, although the investigation is ongoing to rule out those factors. The names of those involved in the accident are not being released at this time.
To ease the family's burden, a Go Fund Me site has been set up at www.gofundme.com/py9kj2zw