Community supports small businesses for holiday season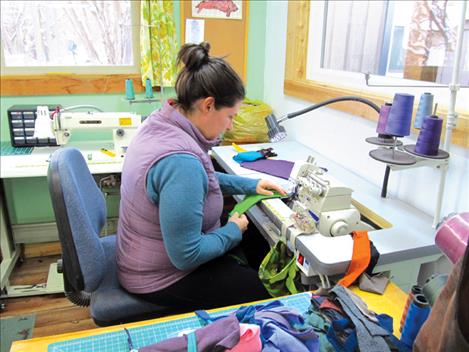 Shay Farmer for the Valley Journal
Small Business Saturday, a national advertising campaign that supports all small businesses in response to Black Friday, had 23 Polson businesses consciously take part this year, their second year doing so.
Mission Valley businesses saw mixed results to the Shop Small campaign.
All In Stitches, a traditional brick and mortar store that sells fabric and craft items in Polson, did well on Shop Small Saturday. The day started out slowly and by noon, it seemed as if Black Friday had the better day for sales. Barbara Smith, a sales associate who worked both days, originally said the people who wanted the deals came Friday and that they were busier that day. However, Saturday ultimately proved the better sales day.
"I didn't even get lunch and we stayed open a half an hour late," Smith said. "People began trickling in later in the afternoon and it just didn't stop. Sales far surpassed Friday."
Flathead Lake Cheese, who sells hand-crafted cheeses, has a storefront in Polson, but also sells their product online. They have been holding a Small Business Saturday open house for about four years.
"The weather was so cold and icky, so it was really slow," co-owner Wendi Arnold said. "We took a video of our dancing cheese person all alone on the highway."
Since it was so cold she thought success might have been different for other stores that were closer together, like on Main Street. Yet business this time of year for the cheese factory is always busy, and online sales seemed to be on par.
Recreate Design, an adult and children's clothing company that uses upcycled materials, sells consignment to various stores in Missoula, Bozeman, and Helena. All those stores participated in the Shop Small Saturday campaign in their respective communities, but since the business does not have a storefront in St. Ignatius, the reverberations from Shop Small Saturday were slower to be felt.
The business sources many of its materials from local thrift stores throughout the Mission Valley, like the Ranch House Emporium and Twice But Nice in Ronan and the Folk Shop in St. Ignatius.
"This is the busiest time of year," owner Carol Lynn Lapotka said, but she will not know the impact of Shop Small Saturday for the business until at least next week.
Small Business Saturday was created by the American Express corporation in 2010. By 2013 more than 1,450 communities had signed up to participate each year. Locally owned businesses and city chambers who choose to take part have access to free marketing materials such as digital logos and banners that drive customers to their stores. This year, "The Muppets" starred in national television spots. Many local businesses directly and indirectly benefit from the ad campaign, which is largely driven by social media, regardless if they chose to participate.
The campaign does not differentiate between businesses who have opted in or out, so while some Ronan and St. Ignatius business communities did not directly participate in the event, business owners indirectly benefited from the national advertising.
According to the Post-Small Business Saturday Consumer Insights Survey from the National Federation of Independent Business and American Express, consumers spent roughly $16.2 billion on Small Business Saturday this year, up 14 percent from the $14.3 billion that was spent last year.