Students experience boxing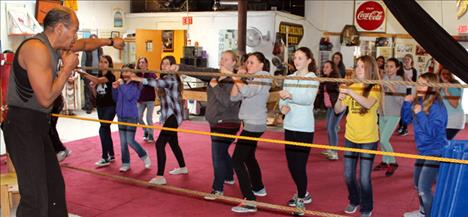 News from Montana Kids Co-op
POLSON – Retired professional boxer Ken Camel instructed about two-dozen people to step forward and thrust out a left jab. He and his pupils at the Montana Kids Co-Op did so in unison.
Camel teaches boxing regularly at Co-op's Hub youth center but there were two unusual things about his pupils on Dec. 15: They all came from Polson Middle school and they were all girls.
Far from being dragged into the boxing gym, most of these girls wanted to learn some boxing fundamentals.
"I like to introduce the girls to a wide variety of physical activities and to let them know about the resources that are in our community," said Jordan Ives, Polson Middle School physical education teacher. "I got the idea from my students last year."
So Ives asked her students to fill out a survey to see what they were interested in and built her P.E. program around their responses.
"Several students listed boxing as an interest so I decided to look into taking them to a facility that teaches boxing," she said.
When she discovered the Co-op taught boxing, she scheduled all of her classes to take a bus down to the nearby Hub and learn a little "sweat science."
"Taking the girls to the Co-op was a perfect fit because it teaches boxing and is a great resource to the kids in our community," she said.
Some classes also got to study some Native American Dance and Aerial Silks performance.
Josie, one of Ives' students, said she "... liked that we were involved in the activities, instead of just talking about them," and enjoyed learning how to box.
"The girls seemed to enjoy their time at the Co-op," Ives said. "Many of them were hoping that we could have more time so that we could get more instruction and use the equipment."
The Montana Co-op and Kids Co-op is located in downtown Polson on the corner of Fourth Avenue and Main Street.
Many youth empowering activities are provided in an effort to curb the escalation of drugs and alcohol.
"By getting the kids hooked on good things, like exercise and career development, it benefits us all, including parents, schools, and community," said Co-op President Jason Moore.
The co-op website address is www.MontanaCoop.com.
The website includes a calendar of all activities including boxing, dancing, aerial arts, robotics, beekeeping, baby café, music recording and lessons, local food ordering, project management, multi-media class, drama class, and a new Friday night music and game night every week.
"Our motto at The HUB is 'Together We Thrive,'" Moore said. "This means we're here to support each person in reaching their highest potential, and we do that by providing support programs for health, fitness, and learning how to get along and stay connected."
Contact Moore at jason@montanacoop.com or 406-285-1149.