Malatare tears up court, drives winning Warriors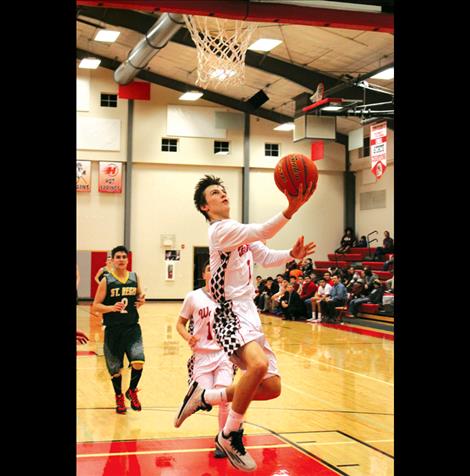 ARLEE — With a current season record of 12-1, the Arlee Warriors are a top team in their division. Averaging nine steals and 12 assists, Sophomore Philip Malatare has played an important role in the success of this year's basketball team, according to Head Coach Zanen Pitts.
"He is the main point guard," Pitts said. "Philip controls the tempo on the court with his quickness and natural athleticism."
On Thursday, Jan. 28, Malatare contributed 12 points to the Warriors 83-23 win over St. Regis. Being one of the younger players on the team and in control of running the Warriors offensive game, Malatare is aware that his job for the team is vital.
"It was a big step to fill coming in as a sophomore and playing point guard," Malatare said. "I know I have to work on some things, but I feel comfortable in this position."
Other key players in their home win included Tyler Tanner scoring 16 points, Justis Haynes with 13 points, and Patrick Bigsam adding 11. Pitts is pleased that "everyone on the team is contributing" and added that their success on the court is attributed to "the boys ability to get up and down the court fast," Pitts said. "Our quickness and speed benefit us."
Pitts noted that the team boasts a lot of guards that can handle the ball.
"We are also more committed than previous years," Malatare added.
Having only lost one game this season, Pitts is happy with the wins.
However Pitts knows there are still things the Warriors need to improve before the divisional tournament.
"We need to work on staying motivated," Pitts said. "We play mind games with ourselves and I would like to see us get rid of that before the end of the season."
With only four games left until tournament time, Malatare would also like the Warriors' offense to peak at the right moment.
"We are working on our plays and rotations, Malatare said. "We want to have those perfected just in time for divisionals."
The Arlee Warriors head to Darby on Thursday, Feb. 4 for a 5:30 p.m. tip-off. Following Thursday's game, Arlee hosts Noxon on Saturday, Feb. 6 for a 6 p.m. game.
Jan. 28
St. Regis 23, Arlee 83
St. Regis44213-23
Arlee31261412-83
Arlee – Points: Tyler Tanner 16, Justis Haynes 13, Philip Malatare 12, Patrick Bigsam 11, Colt Brazill 8, Isaac Desjarlais 6, Rory Bird 6, Ivory Brien 4, Brad Brazill 4, and Alex Moran 3.