Alliance sought to combat drug issue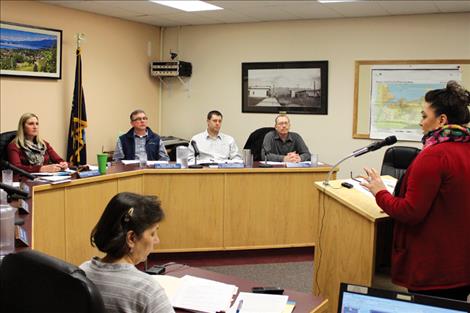 POLSON — A call for support of a school program that brings awareness of the drug/substance abuse problem and its affect on children was brought before the Polson City Commission on Monday, Feb. 1.
Melanie Smith of Tribal Social Services asked for an alliance between the City and the Tribes in support of the Core Drug Endangered Children Training Program also known as 'Handle With Care' that has been implemented in Polson Schools.
"Polson Schools Handle With Care program is a simple approach … it is a program that is able to help kids if there is domestic abuse, suicide, drug related issues, or anything along those lines going on at home," Smith said. "We expect that child to go to school to learn and flourish. Handle With Care helps with that and will tell the counselor or teacher to 'handle that child with care.'"
Mayor Heather Knutson agreed that there needs to be an improved approach to the drug problem and its affect on families in the Polson community.
"Personally for me this is an incredible issue in our community." Knutson said. "We need to make improvements in these children's lives so that they can become active adults in society and our community."
Smith asked the commissioners for help in "developing an alliance" between the tribes and the city.
"How do we break this cycle?" Smith asked. "We have to be able to collaborate this problem together, both the tribe and city, otherwise we will not be able to get anywhere."
Polson is the first school district to implement the Handle With Care program.
In other business, Kevin Johnson, DOWL engineer, reviewed the history of the new wastewater facility project. He gave commissioners an update on the structural foundation, listing important dates and stages that have enabled them to reach this stage in the project that began in January 2013 and is currently in its final design.
Johnson is excited for the new equipment and reiterated the importance of the public being careful about what they flush down their toilets and how it creates problems for the wastewater treatment plant.
"Somehow people get rags and diapers down their toilets," Johnson said.
The next Polson City Commission meeting is Wednesday, Feb. 17 at 7 p.m. at City Hall.