Pirates lose title in overtime thriller yet advance to State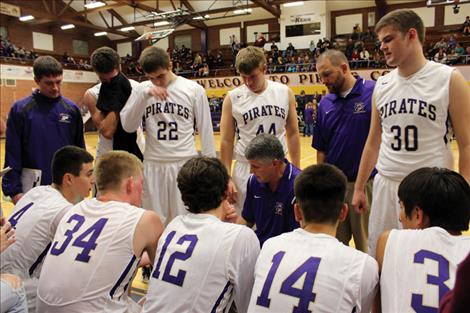 BUTTE – The Polson Pirates secured their spot in the State A boys' basketball tournament after beating Hamilton 57-47 in the Friday, Feb. 26, semifinal game. The following night the Pirates had the opportunity to take on season rival, Dillon, in a Western A Divisional championship game.
Dillon took the first quarter by outscoring the Pirates 20-10, however Polson came back in the second and tied the game 24-24, setting themselves up for a competitive second half, which was just that.
The third quarter was led by Dillon, outscoring Polson by four points to give them a 40-36 lead going into the final quarter. Dillon had the chance to capitalize the fourth quarter, but missed two important free throws that would have given them a 4-point lead. With just seconds on the clock, it was Polson Pirates' Julian Jones who kept the game alive by making a layup right before the buzzer went off to send the game into overtime.
In overtime, both teams were neck and neck until Dillon scored two more buckets to give them an edge past Polson by 4 points ending the game 71-67. Julian Jones led Polson with 26 points and Mathew Rensvold added 20.
Polson will head to Missoula on Thursday, March 3, for the beginning of the State A Tournament.
Lady Pirates
The Polson Lady Pirates had a successful start to their Western A Divisional tournament beating Stevensville on Wednesday, Feb. 24. Nichole Lake led the team with 19 points, which helped the Lady Pirates surpass their opponent 42-31 in the first round of the tournament. The following night the Lady Pirates took on Butte Central for a chance to get into the semifinal game. Lauren Lefthand and Marlee Congdon led the Pirates, both scoring 6 points. Butte Central was just too much for Polson and took the game with a 58-24. This loss forced the Lady Pirates into a loser out game against Hamilton on Friday, Feb. 26.
The Lady Pirates were only down by one point going into second quarter, but Hamilton scored a whopping 23 points to give them a 13-point lead and didn't look back. Hamilton ended the Lady Pirates' season with the 62-35 win.
BOYS RESULTS
Feb. 24
Polson 55, Stevensville 35
Polson 1582012-55
Stevensville69812-35
Feb. 26
Polson 57, Hamilton 47
Polson 15131217-57
Hamilton1410149-47
Feb. 27
Dillon 71, Polson 67 - OT
Dillon 204161516-71
Polson1014121912-67
GIRLS RESULTS
Feb. 24
Polson 42, Stevensville 31
Polson159126-42
Stevensville 54139-31
Feb. 25
Butte Central 58, Polson 24
Butte Central11161615-58
Polson41244-24
Feb. 26
Polson 35, Hamilton 62
Polson 910511-35
Hamilton10231118-62