Maidens take Divisional title, get ticket to State B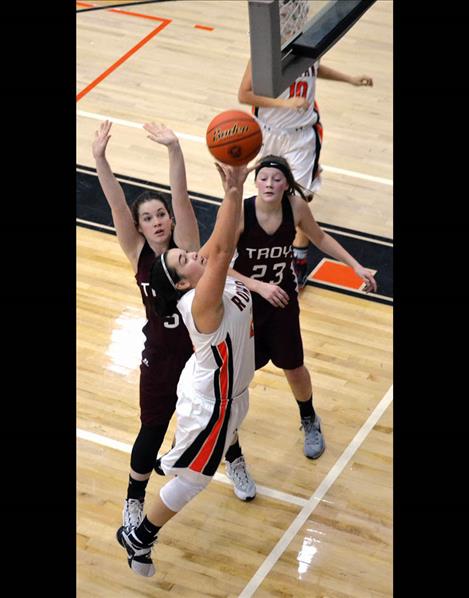 KALISPELL – The Ronan Maidens are hoping to repeat history 24 years after the 1992 girls basketball team won the school's first state title, and they started by capturing the Western B Divisional title Saturday, Feb. 27.
In a fourth quarter push, the Maidens clinched the championship game against Loyola Sacred Heart. The game was tied 38-38 at the beginning of the final quarter, however the Maidens outscored their opponent 16-9 in the fourth to secure the 54-47 victory. The win gave the Maidens a chance to continue their success at the State B Tournament.
Lee Camel led the team with 28 points while Alicia Camel and Micalann McCrea combined for 21.
In the semifinal game against Libby the previous night, Lee Camel hit four 3-pointers and ended the game with 24 points. McCrea and Alicia Camel added 30 points together to help push Ronan past Libby 61-44 and get their team to the championship game.
The Maidens will head to Butte for the State B Tournament which will start Thursday, March 10.
Feb. 25
Ronan 51, Eureka 43
Ronan6201213-51
Eureka691216-43
Ronan – Points: Micalann McCrea 15, Jordyn Clairmont 12, Alicia Camel 8, Jaylen Askan 6, Lee Camel 4, and Gabriella Wirz 4. Assists: McCrea 2, Siliye Pete 1, Askan 1, and Lee Camel 1.
Feb. 26
Libby 44, Ronan 61
Libby1011158-44
Ronan13151518-61
Ronan – Points: Lee Camel 24, McCrea 17, A. Camel 13, Clairmont 3, Pete 2, and Louetta Camel 2. 3-pointers: Lee Camel 4 and A. Camel 1. Assists: Lee Camel 3, A. Camel 3, G. Wirz 3, Louetta Camel 2, Clairmont 1, and McCrea 1.
Feb. 27
Loyola 47, Ronan 54
Loyola82199-47
Ronan17101116-54
Ronan – Points: Lee Camel 28, McCrea 15, A. Camel 6, and Clairmont 5. 3-pointers: Lee Camel 2. Assists: Lee Camel 4, McCrea 2, A. Camel 2, Clairmont 1, and Pete 1.