Resort tax proposal draws split reactions from business community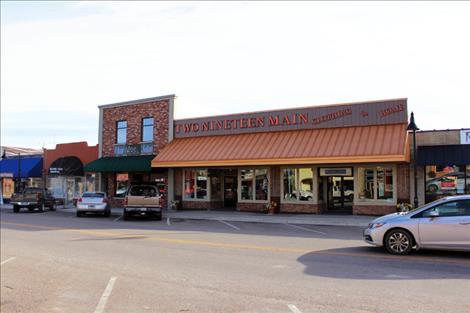 POLSON — The City of Polson Economic Development Council, an advisory board to the City Commission, is "exploring funding options to help with needs expressed by the community." One of their options is to propose a 3 percent resort tax for the community during the busiest tourist months of April 1 to Sept. 30, which would generate money to repair local infrastructure without putting all the burden on local citizens.
At a Monday, Feb. 22, PEDC meeting at Polson City Hall, local merchants gathered to express their views about how the resort tax would affect their business if passed. Two Nineteen Main Owner Tali Duford-Barron and Jackie M's Footwear Owner Jackie Cripe are worried that this could be the "tipping point" for businesses who are already "struggling to keep their heads above water."
"If business owners lose 10 percent of their business because of people not shopping due to the tax … we won't have the retail that we have now in Polson," Cripe said. "Some will have to close their doors."
Duford-Barron agrees and is also concerned over how this tax will affect the future of downtown Polson.
"This is a long term thing. If the tax is passed, businesses will have to shut down and then employees will lose their jobs … it's a trickled effect in the community," Duford-Baron said. "We can't afford to lose customers — that's the bottom line."
A report from the University of Montana Institute for Tourism and Recreation Research reported that nonresident travelers spending was $32,567,000 for Lake County in 2014. Owner of Vine and Tap and member of the PEDC Gerry Browning believes that by having a small resort tax, Polson can tap into tourists.
"The roads are in rough shape and there is no money … what better way to get new money into this city than by our tourists who would also enjoy new roads," Browning said. "Once we start to generate funds to do the repairs, we can have nice streets, which I believe will bring more people to this community to generate more money … not turn them away."
Browning broke down how the tax would work in her business and for customers paying.
"In my business everything will be taxed, so for example a $4 beer would change to $4.12 with the resort tax," Browning said. "If you spend $100, your bill would come out to be $103 … as a business owner raising prices is not fun, however I think the larger picture is to look at our community and the benefits this tax will have on it."
According to the PEDC, the proposed spending of the collected tax revenues would be as follows:
— 80 percent to street reconstruction and preservation including sidewalk, curb, gutter, and storm drainage
— 15 percent to property tax relief in the form of a rebate on property tax bills for Polson city residents
— 3 percent to the City to offset administrative costs of the tax
— 2 percent to efforts to promote Polson, possibly through a Convention and Visitors Bureau.
City Commissioner and PEDC representative Jill Southerland is "sympathetic to merchants," however she believes the resort tax "is a logical thing to look at for Polson and the community."
"The burden does fall on the business owners because they are selling the products," Southerland said. "I just believe that we need to think about how little a 3 percent tax really is; compared to other places, this is quite small."
For Cripe, it's a concern that community members will go elsewhere to shop for less expensive goods.
"Our local retail businesses will no longer have an even playing field with our competitors in Missoula and Kalispell," Cripe said.
Duford-Barron added that the tax would be detrimental to loyal customers.
"If it was a statewide tax, we would deal with it … but we are a small community," Duford-Barron said. "Sometimes you can drive up and down Main Street and there is not a car, and to tax the few people that might come into our business … it's very scary."
Other Montana cities that have a resort tax include:
— Big Sky, $3,524,021 annual collections
— St. Regis, $180,000 annual collections
— Craig, $81,426 annual collections
— Gardiner, $700,000 annual collections
— Cooke City, $138,854 annual collections
— Red Lodge, $713,562 annual collections
— Virginia City, $65,000 annual collections
— West Yellowstone, $2,746,685 annual collections
— Whitefish, $2,000,000 annual collections
"We have been giving presentations to the community … and we want to have more, so that Polson knows exactly how this resort tax would work," Southerland said. "It is a tough subject, but if people know the right information, then they can make an opinion off of that."
As the PEDC continues the process of sharing the resort tax information to the public, they appreciate feedback.
The next PEDC meeting will be on Monday, March 14 at 6 p.m. in the Polson City Hall. They also will be presenting to the Pachyderm Club on Friday, March 25.