Team championship, spirit, community participation mark state swim meet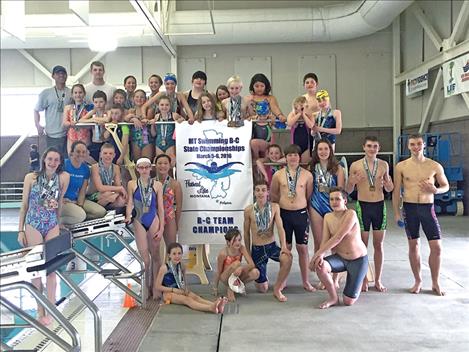 News from Mission Valley Aquatics
POLSON — On March 5 and 6, Mission Valley Aquatics and the Lake Monsters Swim Team hosted the Montana Swimming Junior B-C State Championship. To call the weekend a success would be a drastic understatement.
The B-C Championship meet is designed as a qualifying meet for swimmers who aspire to compete in the Montana Swimming State Championship. Any swimmer in the state who has not achieved a state "cut" in the previous 12 months is invited to swim in the B-C Championship. Swimmers from all points on the compass descended upon Polson to compete for individual age group event titles, the combined team scoring championship and the team Spirit Award. When the waves had settled and the tabulations were complete, the Lake Monsters were undisputed winners in every category.
As the host team, The Lake Monsters did in fact have the most swimmers in the meet, representing 30 out of 150 athletes from 13 teams. However, to keep things fair for smaller teams, the total raw scores are scaled based on the number of swimmers each team brings. In this way, a team with just a few excellent swimmers can compete for the championship. Still, once the actual scores were calculated using a standardized formula for team size, the Lake Monsters dominated the competition, scoring 106 points per swimmer on the team.
On an individual level, Lake Monster swimmers were dominant as well. Of the 122 individual age group events in the meet, a Lake Monster swimmer or relay team took gold in 65. That is correct, more than 50 percent of the races were won by Lake Monster swimmers, including every relay event.
Individual B-C State Champions include Amelia Stene, Jack Edwards, Riley Edwards, Mason Sloan, Molly Sitter, Gabe Mergenthaler, Nayeli Windauer, Landon Shipley, Aja Simshaw, Malia Seeley, Gabe Shipley, Nick Windauer, Hannah Simpson, Tiana Crist, Isaac Stene, Skylar Probert and Dixie Montgomery.
Besides individual and relay championships, the Lake Monsters also doubled their number of swimmers now qualified to compete at the Montana Swimming State Meet. This year's newest qualifiers include Dixie Montgomery (25 freestyle), Skylar Probert (50 backstroke), Isabel Seeley (50 back), Aja Simshaw (50 free), Jack Edwards (50 free, 25 back, 50 back) Gabe Shipley (50, 100 and 200 breaststroke) and Riley Edwards (50 and 100 free, 50 back, 100 breast, 100 individual medley). Previous qualifiers added additional events to their competition menu, including Landon Shipley (200 IM), Tiana Crist (200 breaststroke) Gabe Mergenthaler (50 back, 200 IM) Hannah Simpson (500 free, 200 IM) and Amelia Stene (50 free, 50 back, 25 back). At the next state meet, the Lake Monsters may be represented in more than 60 events. Amazing.
After the individual accolades and team championship scores were decided, there was one more coveted award to be determined. The Spirit Award is a measure of team cheering, team unity, esprit de corp, overall competitive drive and sportsmanship. All meet officials and coaches voted to determine the winner. Once again, it wasn't even close. The Lake Monsters received triple the number of votes as the next closest team, and for the second year in a row were recognized as the most spirited team at the B-C state meet.
There is one final highlight to mention. A well-run swim meet requires a tremendous number of volunteers. Typically, the host team will fill one-half, or perhaps two-thirds of the required positions before asking for visiting teams to contribute volunteers as timers, etc. Drawing from Lake Monster swim team parents, the local masters swim group, the triathlon and biking community, Mission Valley Aquatic Center patrons, board members, teachers and grandparents, Polson was able to fill 100 percent of the volunteer positions needed to run the meet. The participants, parents and coaches from other teams, as well as the meet officials and coaches, were absolutely impressed with the community involvement on display — something they had not seen before. The Lake Monsters wish to extend a special thank you to all the volunteers who combined for over 450 hours of volunteer service.
If you are interested in joining The Lake Monsters Swim Club, or being involved with in the many program offerings at Mission Valley Aquatics, stop by or call 406-883-4567. Also, check out Mission Valley Aquatics online at www.mvaquatics.org, or search Facebook for Mission Valley Aquatics.