Bank donates $25,000 toward soccer field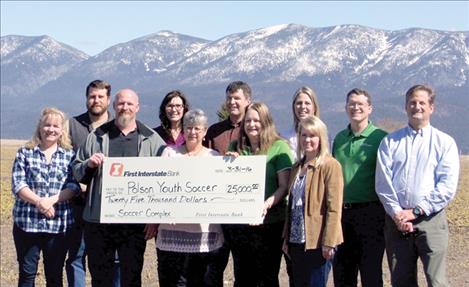 News from Polson Youth Soccer Association
POLSON — Polson Youth Soccer Association is thrilled to announce that First Interstate Bank is sponsoring one of the four regulation-sized fields at the brand new soccer complex north of Mission Valley Aquatics. The central/east soccer field will be named the "First Interstate Bank" field in recognition of the $25,000 donation given by the Polson Branch of First Interstate Bank and the First Interstate BancSystem Foundation.
"We have wanted to be a field sponsor for the past year, but $25,000 was more than the Polson Branch could donate. Towards the end of 2015, we worked with the First Interstate BancSystem Foundation on creative ways to make a big impact in this community and help our soccer fields become a reality," said Shad Hupka, branch manager of Polson First Interstate Bank and instrumental player in procuring the sponsorship. "Helping our communities and giving back has always been a central theme of First Interstate Bank and the employees that work here. These soccer fields will create a huge benefit to our youth, their families, and the many wonderful businesses in the Mission Valley."
The First Interstate BancSystem Foundation was started 25 years ago and has given back more than $20 million in the areas they serve. When asked how decisions to sponsor certain projects are made by the Foundation, Hupka said, "Although not every request can be filled, we do our best to help as many local non-profits as possible that we believe will have the greatest impact in our communities."
The Foundation has supported countless non-profits, including area schools and hospitals, Boys and Girls Club, Flathead Lake International Cinemafest, Mission Valley Live, and the list goes on.
Hupka, who is a volunteer coach for PYSA and has two children involved in the program, is acutely aware of the benefits of having a community soccer complex.
"I have seen firsthand the positive economic impacts these events can have on a community. Restaurants, hotels/motels, convenience stores, and many retails stores will see the benefits when Polson starts to host these soccer tournaments," he said. "I am positive that other communities around Polson will also see additional benefits from players, families, fans, etc., so this will be a great impact to the entire Mission Valley."
With the help of First Interstate Bank's generous donation, PYSA is well on its way to completion of the soccer complex, and has raised approximately 75 percent of the necessary funds.
Much of the infrastructure, including grading and installing irrigation, was done last year. Fields are currently being sprayed and hydro seeded by Alpine Landscape and Design.
PYSA encourages everyone to drive up to the fields and watch them "green up" this spring and summer.
Construction of the concession stand/restroom/information center is scheduled to begin in the next few months.
Although PYSA is close to its financial goal, raising the remaining funds to complete the project is critical, and time is of the essence. As an established 501c3 organization, PYSA welcomes financial or in-kind donations. Please contact Sarah Beck Smith at 406-261-0641 if you are interesting in helping them complete this meaningful project.
PYSA thanks First Interstate Bank not only for its generous support of the soccer complex, but for giving back and being involved in the community. PYSA is honored to carry forth the mission of the First Interstate BancSystem Foundation.