Walking to celebrate life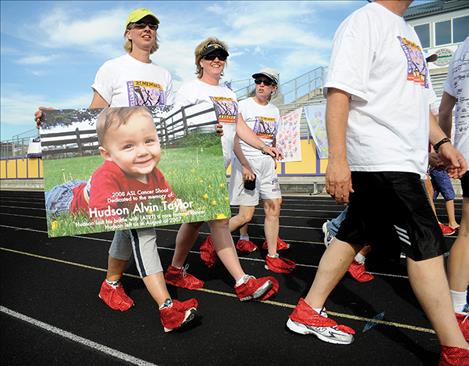 POLSON — The American Cancer Society is working to help save lives by finding cures and fighting back against cancer. Not only are they doing research to treat diseases, the American Cancer Society is supporting patients by providing transportation to and from treatments and arranging lodging for caregivers. On Friday, July 8, people can gather in Polson to assist in their goal of saving lives, raising money and honoring cancer survivors at the annual Relay For Life.
"It is a family-friendly event that is a great way to help someone in need by raising money," Lake County Relay for Life Coordinator Joyce Kackmann said. "We encourage as many people to show up and come join the fun by supporting cancer survivors and remembering loved ones that were lost by this disease."
First they honor the survivors, who will be wearing purple, by celebrating their lives during an opening lap around the track, Kackmann said.
At 5:30 p.m. the relay kicks off on the Polson High School track with a Survivor Reception and Chili War, a taste-testing variety of homemade recipes to satisfy hungry participants. Survivors will gather for photos at 6:45 p.m., before opening ceremonies take place at 7 p.m. with the Survivor Lap. The parade of teams follows at 7:30 p.m.
Participants will be able to join in on the walk after the first two laps are walked by survivors and caregivers. At 8 p.m. voting for the best cake will take place. Following the voting, bakers from across the Flathead Valley will auction off their cakes to help raise money for the cause.
At 10:30 p.m. the Luminaria Ceremony will take place where family and friends can remember the ones who have lost their battle by placing a glowing candle in a decorated bag and placing it around the track. At 1 a.m., there will be closing ceremonies, raffle drawings and the final lap.
"All of what is taking place that night goes along with the motto of fighting back and continuing the journey of finding a cure," Lake County Relay for Life Sponsor Chair Karen Dellwo said. "It is a celebration of life."
Dellwo said the relay is a bit shorter this year in hopes of getting a higher turnout.
"We normally go until 6 a.m.," Dellwo said. "This year we will be only going 'til 1 a.m. because we think that will give people more of an incentive to show-up and support the cause."
This year's relay includes 12 teams and 84 participants who have already raised money. The money will go into the nationwide American Cancer Society that is filtered back to Montana. In 2014, that funding helped 2,388 patients receive transportation, 1,486 nights of free or reduced lodging for caregivers, and 113 women help manage appearance-related side effects.
With the help of community members, the American Cancer Society is trying to raise those numbers. People can sign up for the relay at the event and are encouraged to bring family and friends.
"I really enjoy the Luminaria Ceremony," Dellwo said. "It is just a beautiful tribute to peoples' lives."
If a person is unable to attend the Relay For Life but would still like to contribute, got to LakeCountyRelay.org.