Library program rewards readers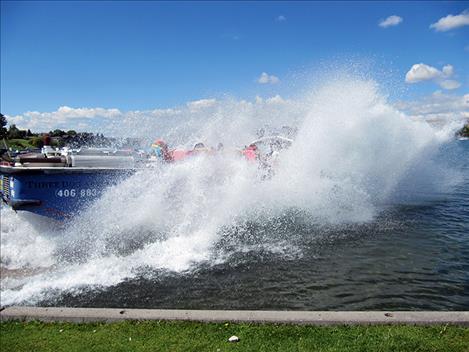 News from North Lake County Public Library
POLSON – Riverside Park came alive Thursday morning as the crew of the Happy Hippo took 161 children and adults for free rides and shipboard water fights on Flathead Lake as a reward for completing North Lake County Public Library District's annual Family Summer Reading Program.
The morning began at the library with an ice cream social and prize drawing. Families poured in through the library doors and lined up to collect their reading certificates, prizes, ice cream and tickets to board the Happy Hippo. Library staff and volunteers sprinted to keep pace.
"Ginger ale is not my friend," announced one boy as he picked up a fistful of napkins. Despite a few minor mishaps, however, the day went off without a hitch.
After the prize winners had all been announced, the event moved down to the park.
"This will be the best party in Montana today," said Bob Ricketts, Happy Hippo operator and owner of Three Dog Down. He wasn't wrong: out of the 1,174 readers who registered for the program, 455 turned in their finished reading logs by the Aug. 6 deadline, representing 14,560 hours of reading. This figure doesn't include those dedicated readers who didn't quite make it to the 32 hour mark, of which there were many.
Parents, caregivers and kids waited on the dock to ride — and be drenched by — the Happy Hippo's signature entry splash.
"It was huge for the boys to have the Hippo ride as a carrot at the end of the reading program," Deanna McElwee said.
"(The ride) was a motivator for us to continue reading, compared to past years. I just love the reading incentives, and it was a fun family event for all of us."
Like many families in Polson, the McElwees take part in the program every year.
2016 marked a jump in terms of overall program participation, in no small part because of the library's partnership with Three Dog Down.
"This year we got 160-odd kids," Ricketts said, "but who knows? Maybe next year we'll double that."
With the success of these new summer activities, including Monday Makerspace, the library hopes to continue improving upon this family favorite program. And it looks like next year will offer plenty of opportunities to do so: the 2017 theme is "Build a Better World."
Teague, age 9, summed his experience up this way: "It was awesome. I got soaked and I got to do the chicken dance."