Firefighters, EMTs to be honored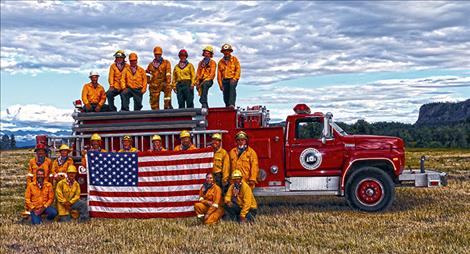 News from Dayton Daze
DAYTON — This year marks the silver anniversary of Dayton Daze, the Chief Cliff Volunteer Fire Department's annual fundraiser, which happens to fall on the same weekend as the 15th anniversary of 9/11. Given the fact that 2016 is also an election year, we decided to celebrate hard working firefighters and EMTs with the theme "Firefighters—the Heart of Patrio- tism." And this year, we're raising money to buy a much-needed rescue vehicle, which will be on site.
Events kick off at 9 a.m. with the first annual Dayton Daze Flea Market. People with items to sell or donate are welcome to participate. The Dayton Church will have their Bazaar and Bake Sale in the morning, and the Mission Mountain Winery will be having free wine tasting from 10 a.m. to 5 p.m. A tour bus will shuttle history lovers from the park to the old Proctor (Dayton) Store and Church starting at 10 a.m., with stops at the Winery and Dayton Yacht Club, as needed.
Activities will kick into high gear at 1 p.m. when the A.L.E.R.T. helicopter makes an appearance (barring unforeseen emergencies), followed by firefighter com- petitions, free blood-pressure screenings, kids' games, face-painting, yummy conces- sions, cotton candy, free hot dogs, live mu- sic by Larry Myer, an exhibition by Scott Sciaretta and his drug dog Max, and a pa- rade to beat all parades at 3 p.m. (line-up at 2 p.m.) with prizes for best entries and best costumes. The activities wrap up with our 50/50 and raffle and prize drawing. This year we're giving away a 30.06 Mossberg Patriot, with scope, sling and case (or $500 cash), a $150 gift card for Super 1 Foods, and a mountain of other prizes donated by Murdoch's, Cabelas, the Rocky Mountain Elk Foundation, and a ton of other local businesses. Then, after things wrap up at the park, there's food and music to enjoy at the Idle Spur.
Dayton Daze is the costume event of the season, so don some red, white, and blue, or wear some hearts, or dress like a firefighter — anything that shows your patriotism — and come join us for a day full of fun and celebration to honor first responders.
If you have questions, call Zoe at 406- 849-5917 or check us out on Facebook (Dayton Daze).