Polson golfers advance to state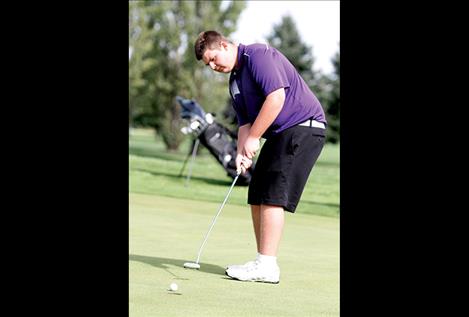 HAMLITON — The Polson boys golf team placed second at the Western A divisional tournament on Saturday, earning the right to advance to state tournament on Thursday and Friday.
With a team score of 326, the Pirates missed the win by just 7 points behind Hamilton at 319, but towered over third-place Butte Central's 369 points.
Individually, Pirate Carson McDaniel's 78 tied for third place with Zel Frost of Stevensville. Hamilton's Max Toenjes shot 73 for the win and his teammate Ky Burch took second with 77.
Polson golfer Matt Hobbs shot an 81 for sixth place and Noah McDonald ended in a three-way tie for seventh at 83.
Trey Kelley's 84 tied for 10th place and Colin Kenney tied for 15th after shooting a 92. Forty-three golfers competed from nine schools.
The girls took third place at divisionals with 458, behind second-place Dillon at 432 and Divisional champions Whitefish with 409, qualifying the Lady Pirates to continue to State as a team.
Lady Pirate Cali Cannon shot a 102 to earn seventh place individually, followed by Kiyara McCue in a tie for eighth place with Hamilton's Melissa Kimp at 105. Amanda Farley ended the day 116 and Esme Yarbrough finished with 135.
"All five boys qualified in the top 15 and three of the four girls made it inside the top 15 as well," Coach Brett Owen said. "We were very excited to have our entire boys team make the top 15 and shoot one of our better team rounds for the season. We were also very happy to have the girls qualify as a team."