Lady Pirates reset with win, focus on future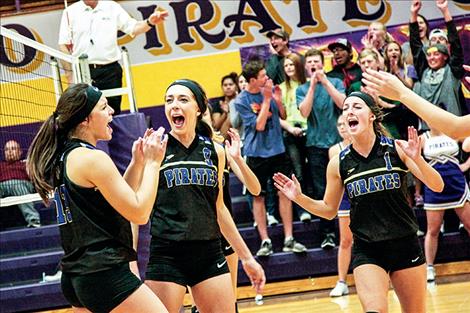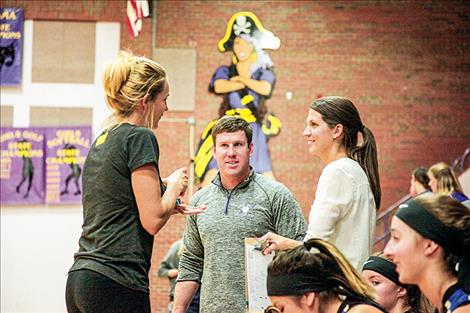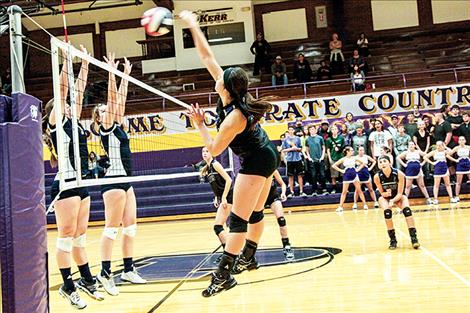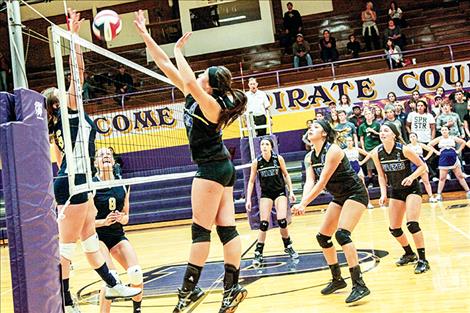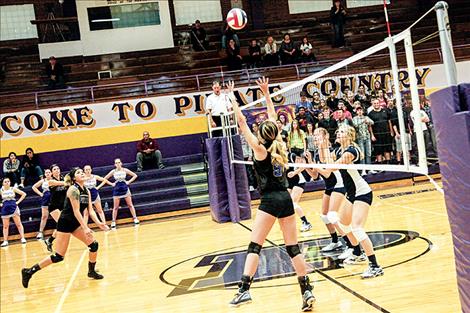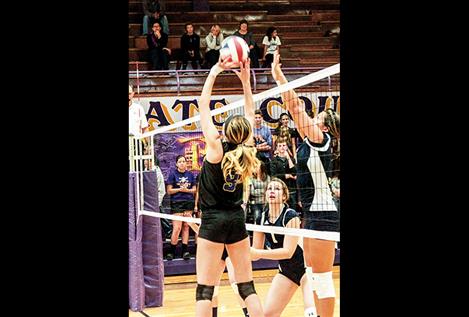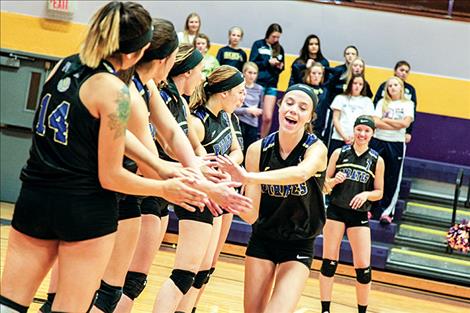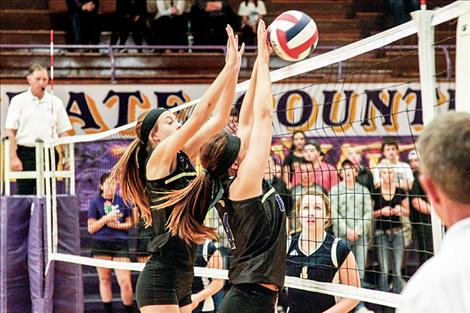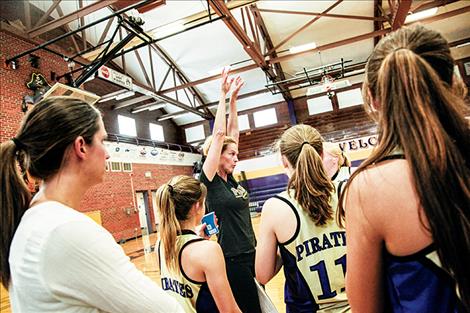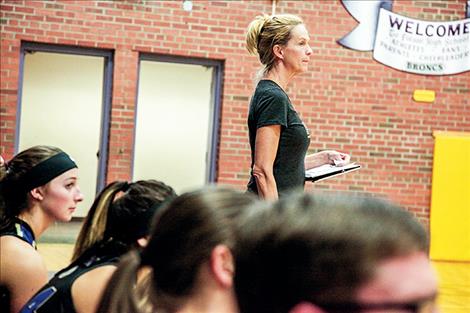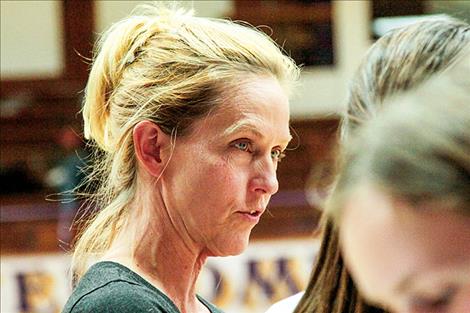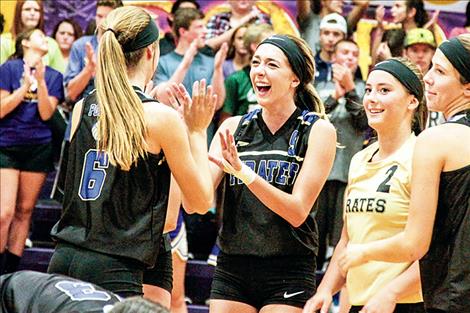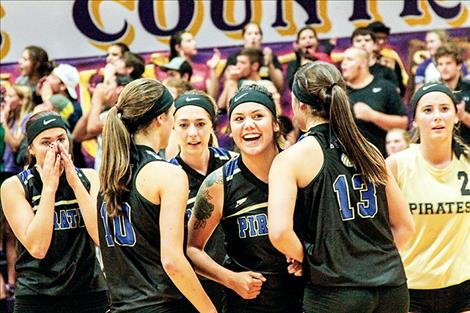 ‹
›
The Lady Pirates volleyball squad hasn't notched as many wins as they'd hoped for so far, but the team is healthy and Coach Patricia Luetzen is seeing marked improvements in tough situations.
Polson took a split as they hosted a double-header against two Southwestern A teams on Saturday.
In the morning, Polson battled through three close games before losing the match to the Hamilton Broncs in the fourth set.
Haley Fyant and Hanna Fryberger led with 13 and 12 of Polson's 34 kills, Kyler Lundeen had 19 digs and Lauren Lefthand leapt for a pair of blocks. Fryberger earned four aces while Kaelyn Smith and Paige Noyes smacked three aces each against the Broncs, who are currently last place in their conference.
"The loss to Hamilton should not have happened, but that loss and the one against Stevensville earlier in the season are reflections of our inconsistency in performance," Coach Luetzen said. "So, that's what we need to address during the second half of the season."
Polson pulled out a marathon win against Dillon in the afternoon, going all five games to secure the 3-2 victory.
"This was our first five-set match this year, and it was a competitive stamina builder," Luetzen said. "It's fun to step back and just watch who wants to own that experience.
All of the girls stepped it up. I know five-set matches make some people uncomfortable, but they can be more useful than a week of practice."
Fyant notched 20 kills and 10 digs in the marathon contest, and Fryberger contributed 12 kills, 11 digs and led the team with eight aces.
Luetzen said she's pleased with the aggressive serving, and will be working on team and individual blocking in the next few weeks.
"We have six solid servers and more as we finalize rotations and head into the second half of the season," she said.
Libero junior Kyler Lundeen has also shown marked improvement in the last three matches, according to Luetzen.
"I could tell the exact moment when she realized her range of coverage was limitless when she beat a ball to the floor, making a great play on the ball in the Whitefish match," Luetzen said. "Since then she's caught on fire with this ability. This is a moment all coaches want for all players."
The Lady Pirates (1-2 conference, 2-4 overall) currently sit third in Northwestern A and host Butte Central on Saturday for homecoming week.
"Saturday is another important match," Luetzen said. "It will be a measurement of whether we have a realistic opportunity to be a state tournament team this year."
Results Hamilton def. Polson 3-1 25-21, 25-22, 22-25, 25-9
Kills – Polson 34 (Haley Fyant 13, Hannah Fryberger 12, Lauren Lefthand 9) Hamilton 38 (Halkey Hudgins 9, Kacia Guisinger 9).
Digs – Polson 43 (Kyler Lundeen 19, Haley Fyant 9) Hamilton 66 (Tristy Searle 11, Caitlin Dillon 11). Blocks – Polson 4 (Lauren Lefthand 2) Hamilton 7 (Kacia Guisinger 4, Caitlin Dillon 3).
Aces – Polson 13 (Hannah Fryberger 4, Kaelyn Smith 3, Paige Noyes 3) Hamilton 6 (Kacia Guisinger 6).
Polson def. Dillon 3-2 17-25, 25-20, 11-25, 25-20,17-15
Kills – Polson 43 (Haley Fyant 20, Hannah Fryberger 12, Lauren Lefthand 9)
Dillon 36 (Kylie Christiansen 14, Brynley Fitzgerald 10, Nicole Stewart 6).
Digs – Polson 75 (Kyler Lundeen 40, Hannah Fryberger 11 Haley Fyant 10) Dillon 79 (Kylie Christiansen 25, Bailey Berriochoa 19, Maggie Magee 13).
Aces – Polson 20 (Hannah Fryberger 8, Kyler Lundeen 4, Paige Noyes 3) Dillon 36 (Kylie Christiansen 14, Brynley Fitzgerald 10, Nicole Stewart 6)
Assists – Polson 43 (Kaelyn Smith 22, Laurel Bitterman 14, Paige Noyes 7) Dillon 33 (Bailey Berriochoa 27).
Blocks – Polson 7 (Lauren Lefthand 3, Kaelyn Smith 2) Dillon 6 (Nicole Hritsco 3, Bailey Berriochoa 2).