Runners pack Mountain West Classic crowded course
800 feet above 'see ' level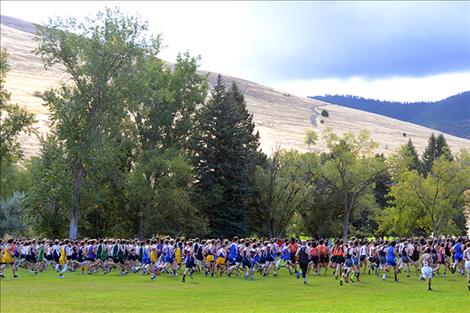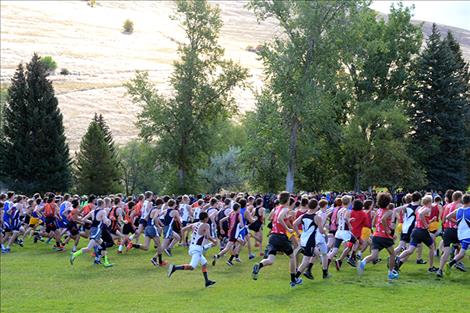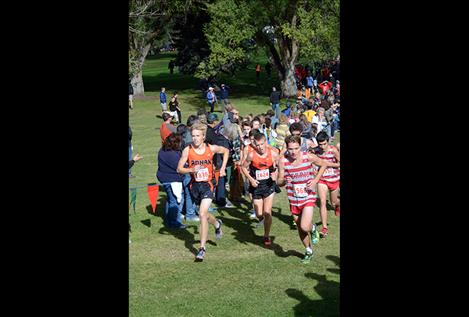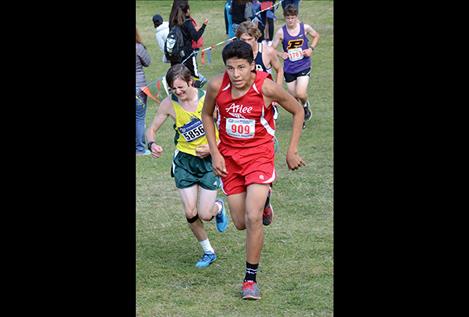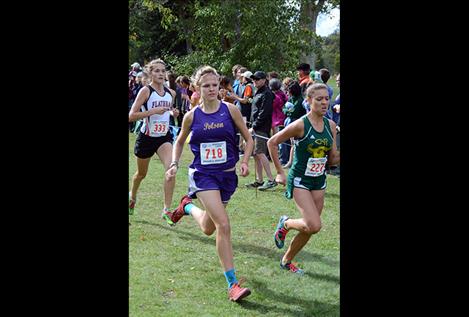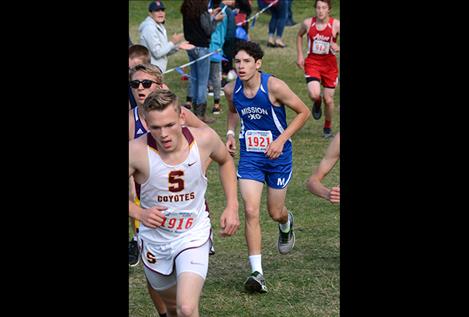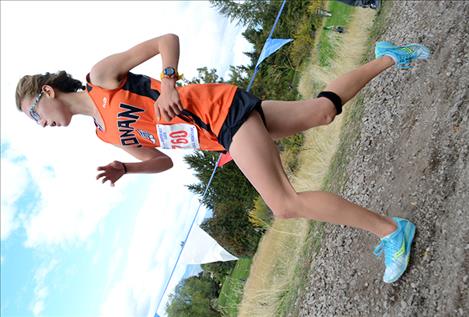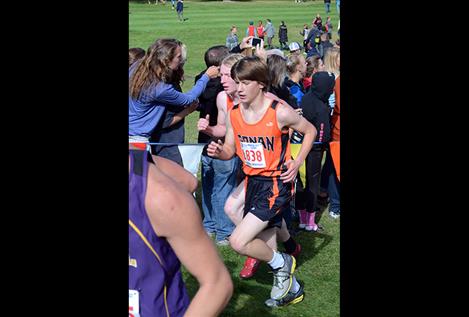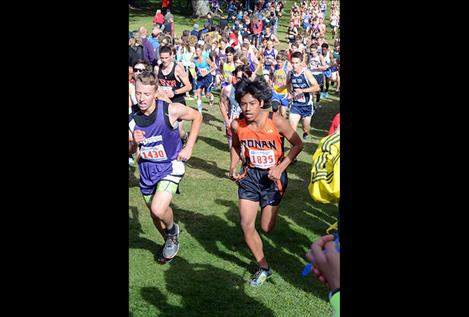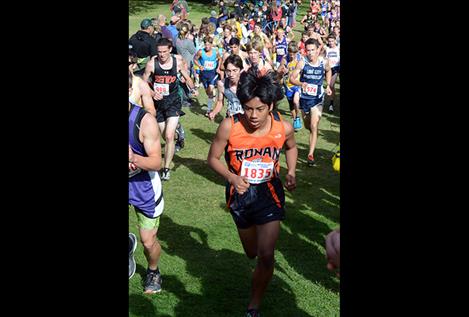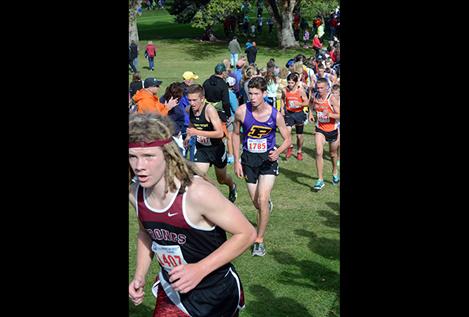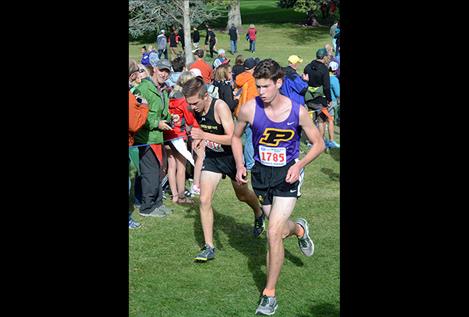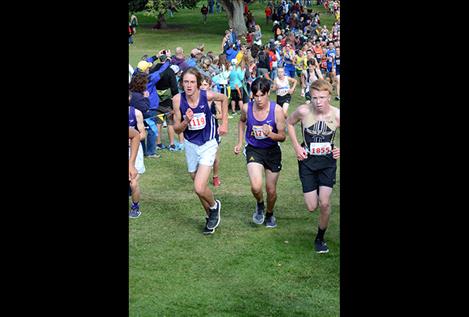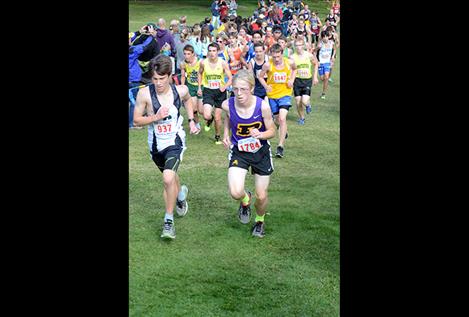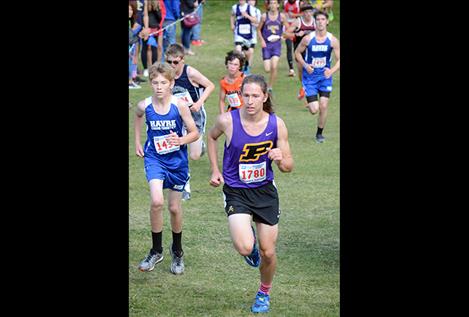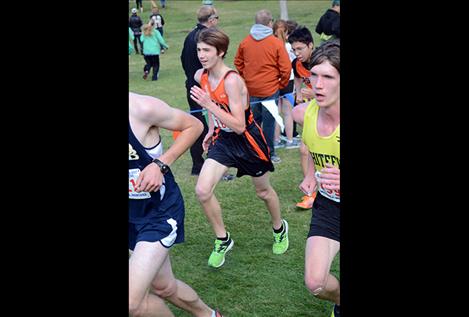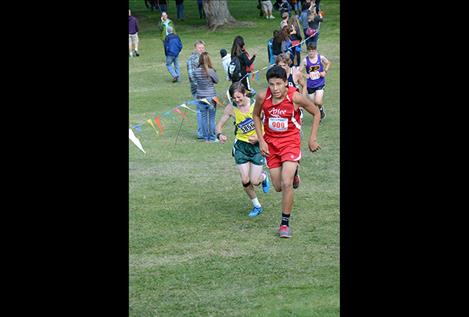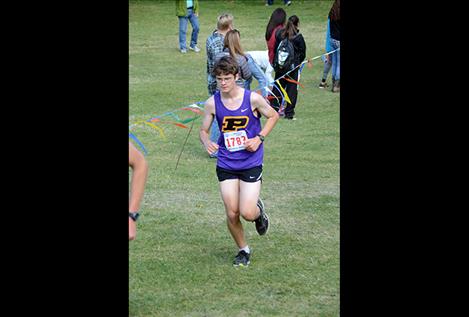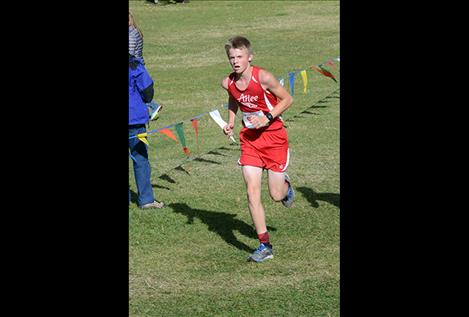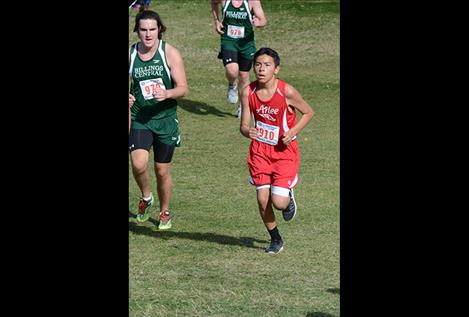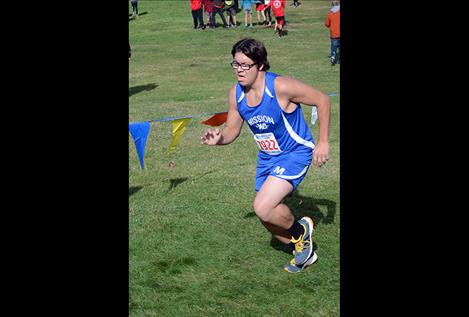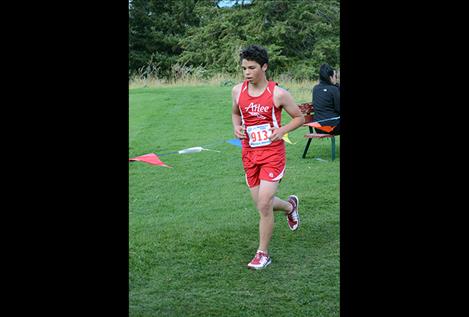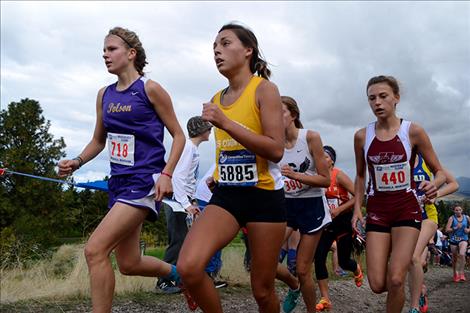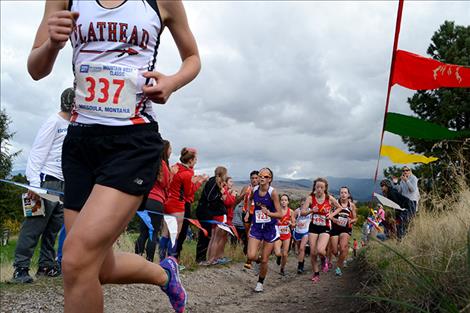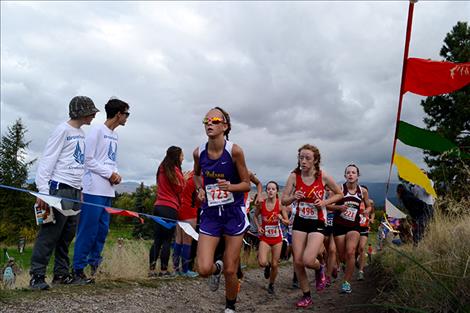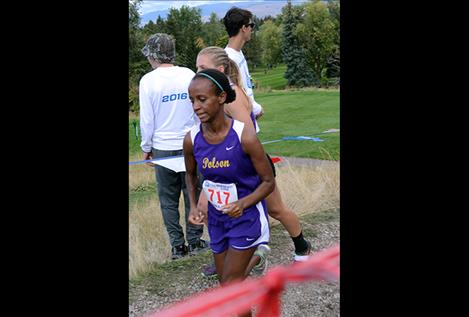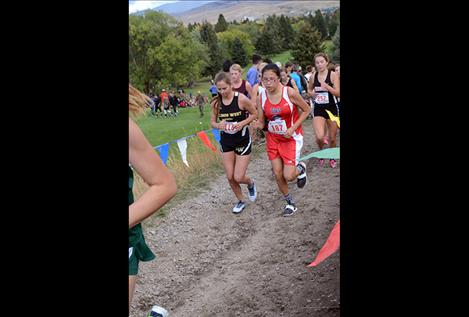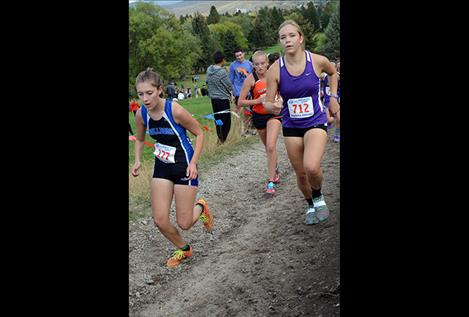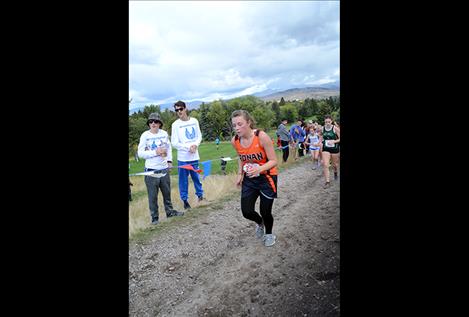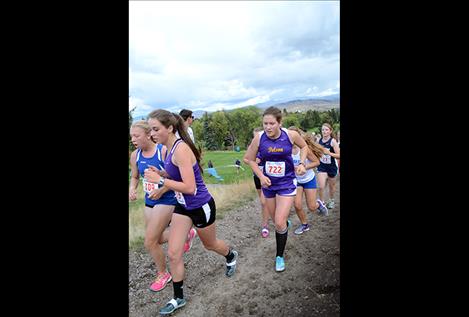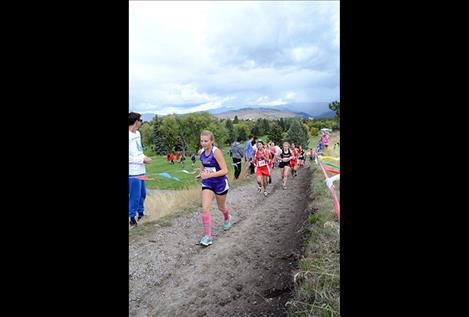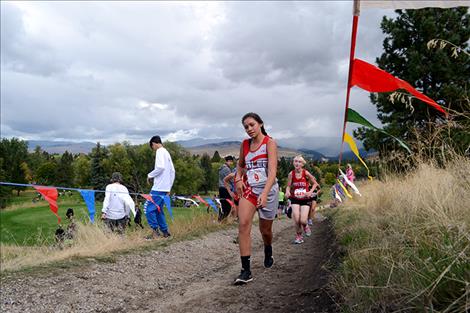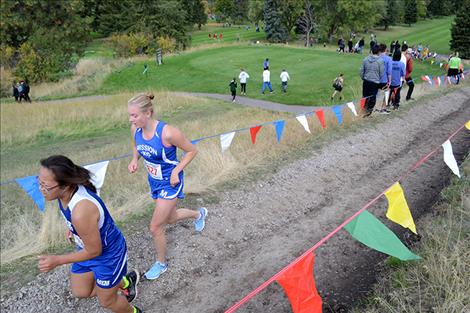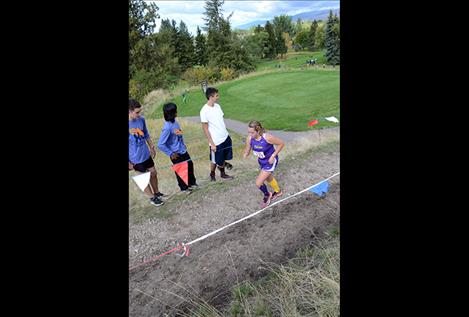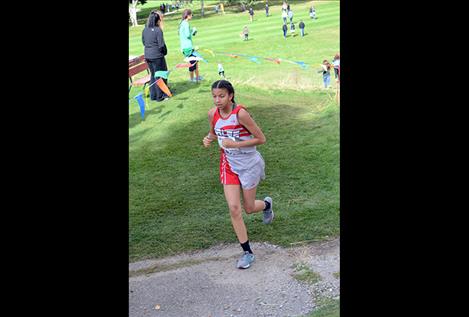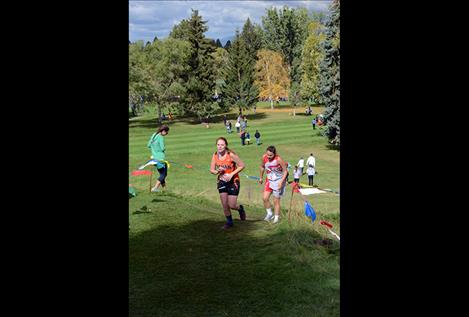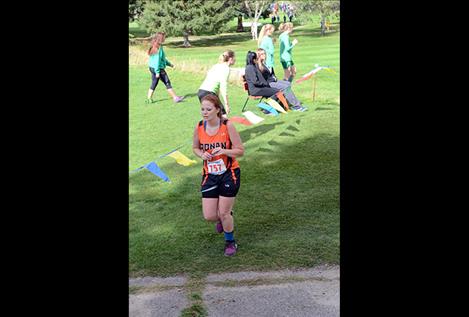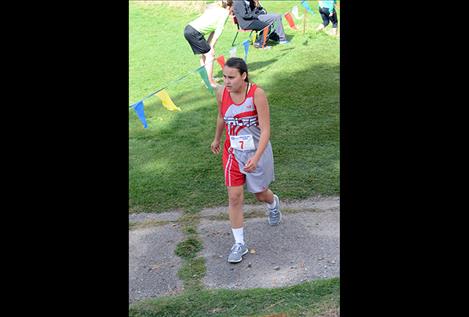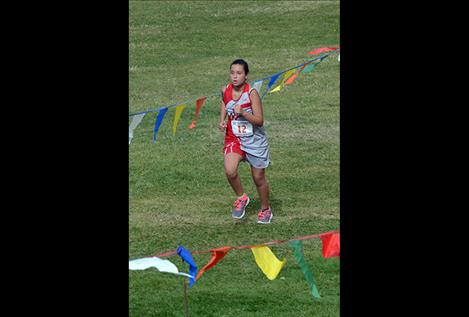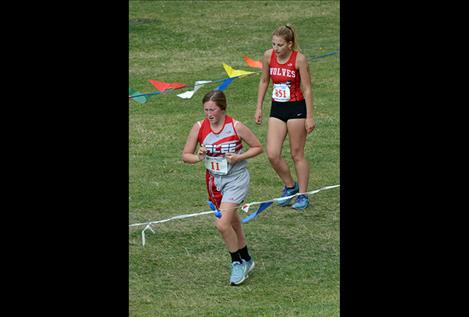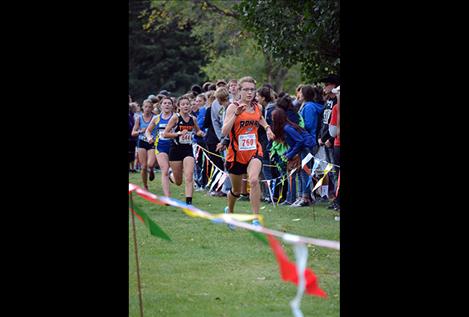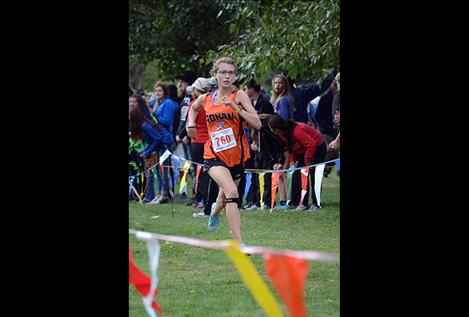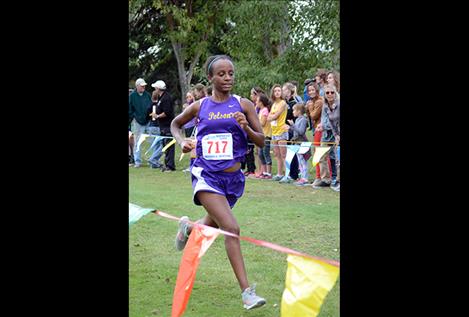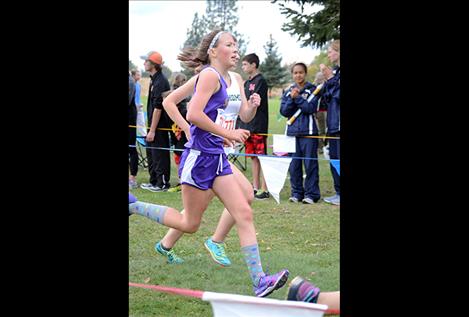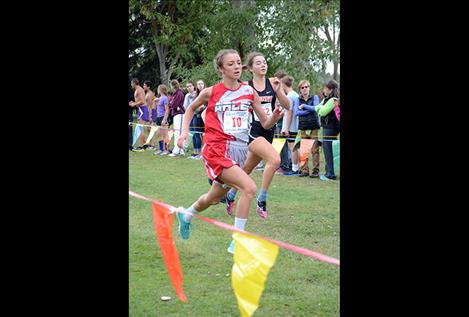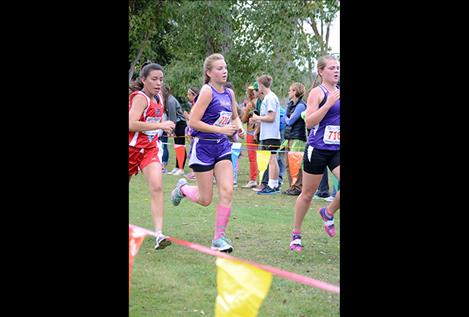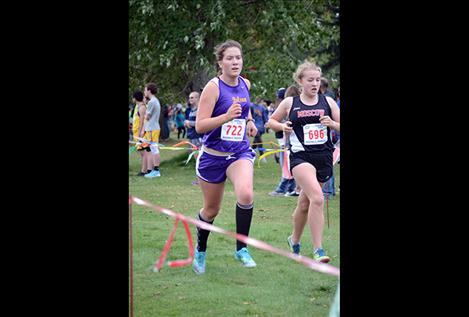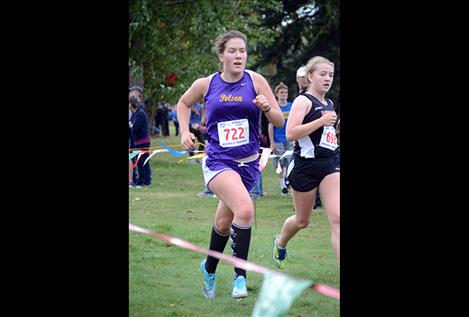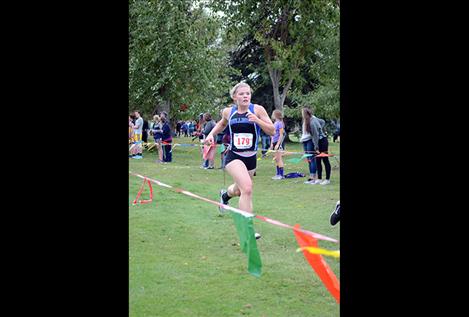 ‹
›
MISSOULA — The Mountain West Classic in Missoula attracted more than 2,500 middle school and high school runners from 68 schools across Montana, Wyoming and Washington to compete on the 3-mile course.
In a field of 410 varsity boys, Chase Equall of Bozeman sprinted the hilly course at the University of Montana golf course at a 4:59 pace, finishing first overall at 14:58.95. Billings Senior sophomore Tiahna Vladic crossed the line at 17:04.63 for the overall girls' varsity win.
Six Lake County schools participated.
Arlee
Arlee brought nine Scarlets and seven Warriors to Saturday's crowded course, with most of their runners setting personal bests.
"This was clearly our best meet of the year," Coach Brett Sproull said. "Nearly all of our runners had their best races of the year – many of them by more than a minute. Even the few that didn't set personal records were only a few seconds off of their marks."
Shawntaya Nelson led the way for the girls, dipping below 22 minutes for the first time this season. On the boys' side, Ivory Brien continued to push toward his goal of cracking the 20-minute mark.
The most improved runners of the day were Melaia Matt, who shortened her race time by 2 minutes and 55 seconds, and Francois Pepion, who improved by 3 minutes.
"The team has been working extra hard in practice throughout the last couple of weeks without complaint. To see their records fall like they did today was evidence to their hard work and dedication to this point in the season," Sproull said.
Arlee time/pace results
Girls Shawntaya Nelson 21:57 7:19
Tashyna Matt 25:10 8:23
Summer DarcAngelo 27:06 9:02
Malachi DeRoche 28:18 9:26
Melaia Matt 29:57 9:59
Frankie Wright 30:24 10:08
Mary Sampson 31:00 10:20
Alice North 31:16 10:25
Ashley Potts 36:06 12:02
Boys
Ivory Brien 20:13 6:44
Jason Miller 20:50 6:57
Madiah Morin 20:53 6:58
James Crazyboy 21:36 7:12
Brendan Ryan 24:01 8:00
Francois Pepion 24:24 8:08
Gage Sanchez 26:30 8:50
Charlo
Charlo sent four boys and four girls who competed in the junior varsity races.
Sophomore Wills DeGranpre finished first for the Vikings at 18:35 and 95th overall out of a field of 573 runners, followed by Connor Koenig at 19:10. Devon Siech (19:26) and Nate Delaney (23:19) finished out the boys' team.
On the girls' side, Jaden Coston crossed the line first for the Lady Vikings, clocking 21:39 and finishing 50th out of 482 girls.
Other Charlo runners included Adriana Johnson (23:28), Tyrah Hammond (24:07) and Jennabelle Gardner (28:14).
Mission
Coach Chris Eichert is very happy with the progress each athlete has made so far in the season, and was proud of her team's effort Saturday in Missoula.
After five meets, coach Eichert has seen vast improvement in varsity boys Troy Matt and Wacey McClure.
"They are also in football, so they have a dedication to work out on their own," Eichert said.
Matt finished first for the Bulldogs and in the middle of the huge pack at 18:22.93. McClure ran 20:49.59. The third Bulldog on the boys' varsity, Korbyn Pierce, ran 21:10.20.
For the girls, freshman Karolyna Buck, sophomore Yvonne Baty and junior Elsa Kylen are consistently improving and work so hard at every practice, Eichert noted. Buck finished at 23:22.55, Baty at 24:50:88 and Kylen, a Swedish exchange student, crossed the line just ahead of Baty at 24:48:45.
"I ran very well, despite my shin splints," Kylen said as she sat icing her legs after the race.
Eichert also noted the consistency in the middle school runners.
"My goal each meet is for each athlete to PR and just to feel good about the race, Eichert said. "I believe my team gives me their best effort in every race. I am very proud to be their coach."
The Bulldogs travel to Thompson Falls on Thursday and Hamilton on Saturday.
Polson
On the hilly terrain at the University of Montana golf course, a full dozen of Polson's runners managed to record their season's best time.
"I was very impressed with how everyone competed under the pressure of such huge fields of talented runners," Coach Matt Seeley said. "Even our freshmen seem to know how to step up to a big meet and the hard training is starting to pay off."
For the girls, the team finished 24th but third out of Montana Class A schools, only behind Hardin and Whitefish.
"This looks good for a podium finish at state, but our ultimate goal of a title will require more hard work and significant improvement over the next four weeks," Seeley said.
Beatrix Frissell ran a masterfully-paced race (19:07.22), according to Seeley, to out-duel nearly all of her Class A rivals, including the defending champion.
"But then we discovered an unexpected challenge from Belgrade's Pippi Eitel who crossed the line 40 seconds ahead. We can consider that just another source of renewed motivation as Bea continues her phenomenal debut cross-country season," Seeley said.
Frissell finished 47th overall in a field of 359 varsity girls. Molly Sitter also ran very well, Seeley said, but just missed the coveted sub-20 goal and crossed the line ninth among Montana Class A. Naima Crowl had another PR and was the 16th finisher for that group.
"At this point, our top three girls can match anyone in the state," Seeley said.
On the boys' side, Quin Stewart had another strong race to lead the team in 182nd place and Jonah Ducharme and Matt Sitter followed closely behind with season best times, just outside of the sub-18-minute goal. Makauly Morrison was close behind with a lifetime best that slashed more than 3 minutes from his time last year.
"These guys are really pushing themselves in practice and it is starting to pay off," Seeley said.
Polson will be racing in Thompson Falls Thursday afternoon, with a team dinner on Wednesday and lots of homecoming festivities planned for Friday.
Ronan
Ronan Chief Jackson Duffey finished the 3-mile run in a respectable 49th place Saturday with a time of 16:23, yet he said it was his slowest time of the year. Although he trains on hills all year, the steep course on the UM golf course was tougher than he expected.
"I need to get my body ready, and be more prepared," he said.
Teammates James Normandeau and Kiry Detwiler clocked in times of 17:47 and 17:51 respectively, rounding out the top-three positions for Ronan.
"We were missing Nate Dennis and Daniel Koehler due to injuries but normally round out our top five runners," Coach Noelle Decker- Winebrenner said. Freshman Caden Rhine was the fourth runner at the meet, clocking in a time of 19:34 and sophomore teammate Michael Koehler was close behind at 19:52.
With so many boys running this year, the Chiefs are able to field a complete junior varsity boys team; runners compete for a varsity spot each week, according to Decker-Winebrenner.
"We are pretty solid in positions 1-4, but (are) looking for three more consistent and strong runners to solidify the team as we are less than four weeks from the State Meet in Kalispell," she said. 'We have several kids that are capable of doing so, but it is sometimes such a mental obstacle getting them to realize their full potential and run outside their 'comfort zone.'"
On the girls' side of things, Ashley McCready beat her previous best time by more than a minute with a 19:54 finish.
"She had been consistent the past three meets running right at 21 minutes flat and couldn't seem to break that barrier," Decker-Winebrenner said. "On Saturday her goal was to get under that 21-minute mark and she blew that out of the water. She continues to impress me each week with how well she runs."
Teammate Penni Weyant also clocked a personal best, running 22:50.
"Both girls are so coachable and such hard workers; you tell them what they need to do and you can consider it done," Decker-Winebrenner said. Korrie Frisk rounded out the girls team with a time of 27 minutes. Julia Makovich did not run due to illness. Ronan runs in Thompson Falls on Thursday, which will offer a preview of the course for Class 7B/7C Conference Championships in mid-October. On Saturday the team heads to Hamilton.
Two Eagle River
Although the Eagles had less than the five-finisher requirement to count as an official team, their two varsity runners completed the course.
Cordell Schaak ran 22:52.15 with a 7:37-per-mile pace, and Tristan George finished at 26:13.53 with an 8.44 pace.