Pirate golfers earn silver at state, girls take 6th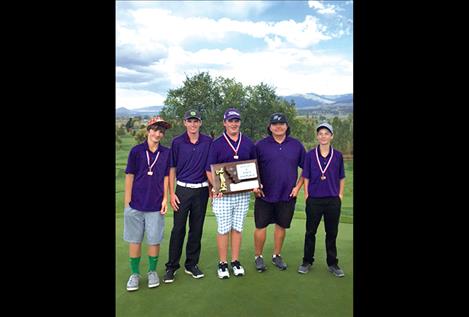 HAMILTON — The Polson boys' team put together a "very impressive two days of golf," assistant coach Brett Owen said, finishing in second place just behind host Hamilton at the Class A State Golf Tournament Friday and Saturday.
With a team total of 651, the Pirates were only 14 strokes above the Broncs' 637 and rose above Laurel's third place finish of 656.
"Hamilton played great on the first day and I knew it would be tough to catch them," Owen said. "We really were looking to stay in that top-two going into day two of competition."
The next day the Pirates stepped up and posted a 322, the best team score on the second round.
Individually, Polson's Carson McDaniel shot 79 on day one and 78 the next day, ending in a tie for third with Paul O'Neil of Laurel.
State champ Max Toenjes of Hamilton shot 69 and 75 and second- place finisher Clancy Liam of Billings went 73 on both days.
Top-10 Pirate finisher Matt Hobbs tied for ninth place (81, 80) and Trey Kelley (81, 81) ended in a three-way tie for 11th, earning an allstate placing for all three golfers.
"Noah McDonald and Colin Kenney also contributed one score to the team total each day that kept us in the top two as a team. It was a great all around effort by the whole boys team," Owen said.
Owen said the girls' team also competed very well throughout the weekend. The Lady Pirates shot a team score of 858 for sixth place.
"Each girl posted some of their best individual scores from the season over the course of the two days," Owen said. "It was a pretty good weekend."
Lady Pirate Kiyara Mc- Cue's 95 and 94 earned an all-state placing at 13th. Cali Cannon (100, 106) tied for 24th, Amanda Farley closed at 38th and Esme Yarbrough tied for 48th place.
Sidney High School took first place at 740, Whitefish second with 761, and Fergus third at 788. Individual state winner Breilyn Riggin of Glendive shot an 83 each day.
The Lady Pirates boast state championships three years in a row from 2011- 2013. Individual Polson state champs include: Jeff Dooley (2000) Kyle Duckworth (2002) and Jen Orchard (2004).