Teams tackle homecoming foes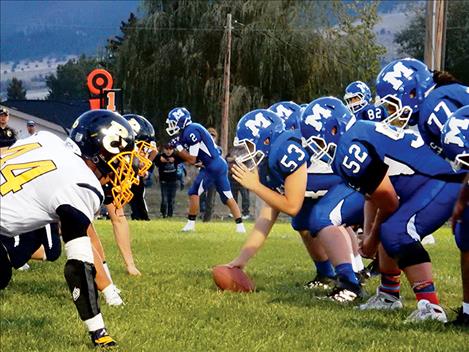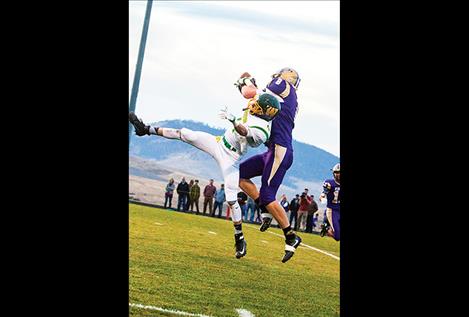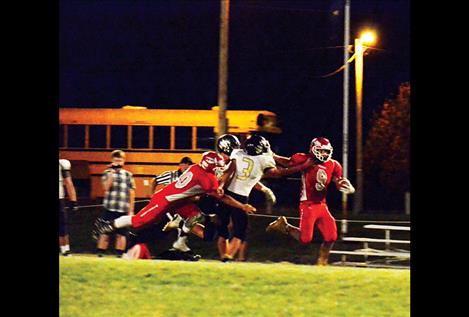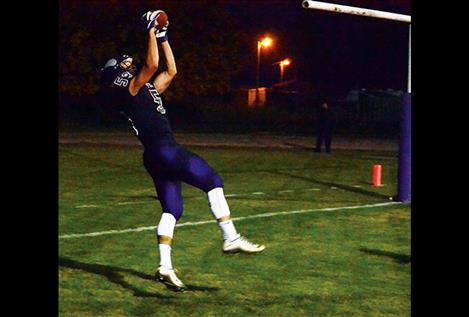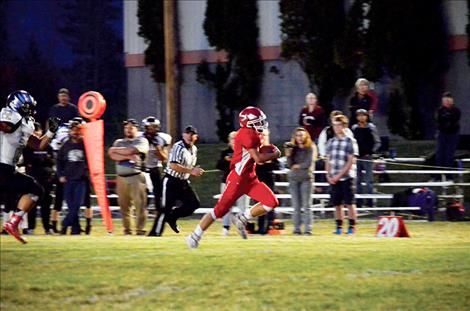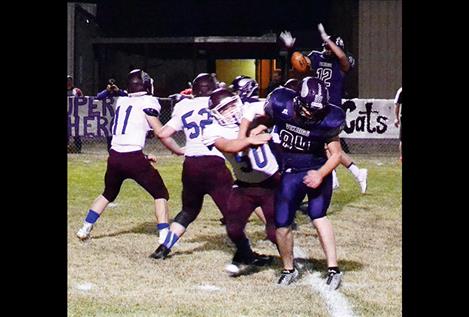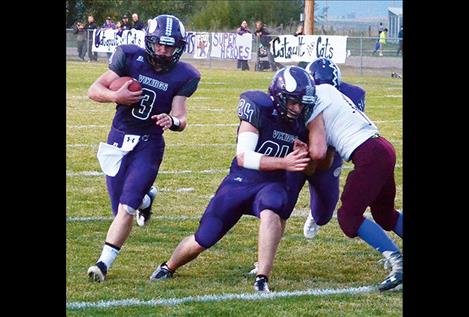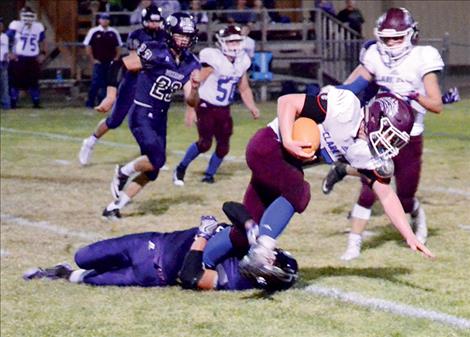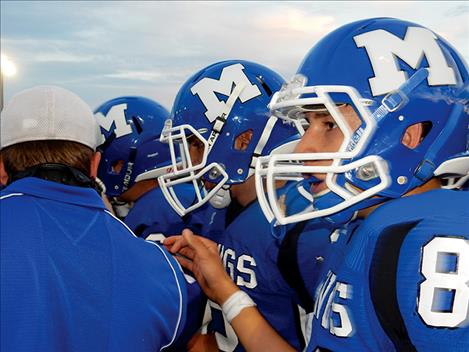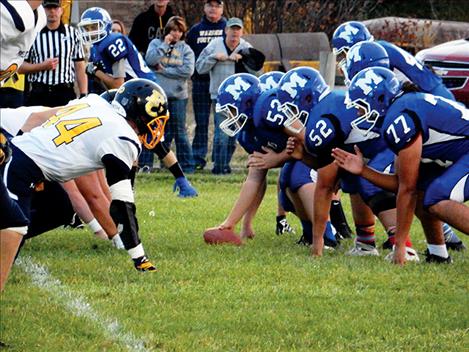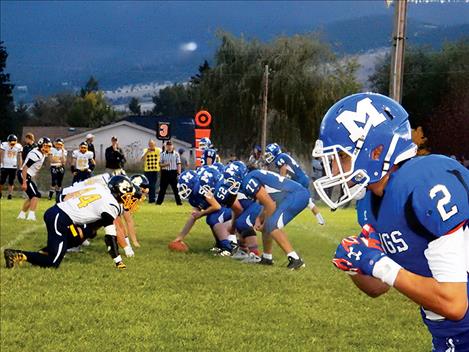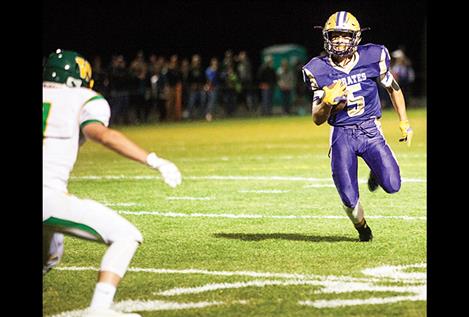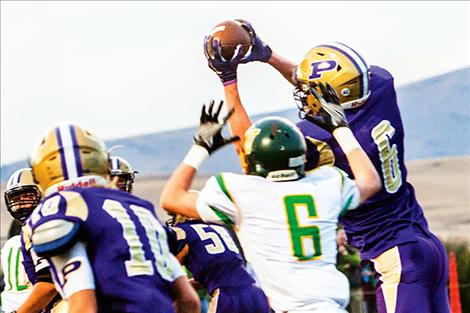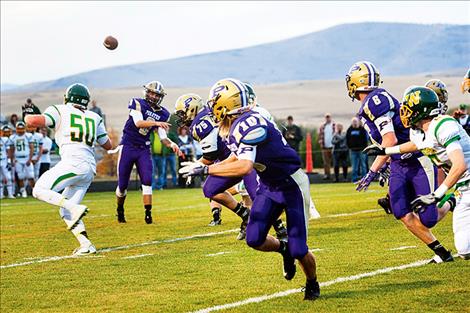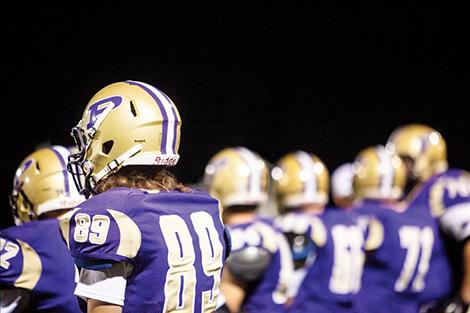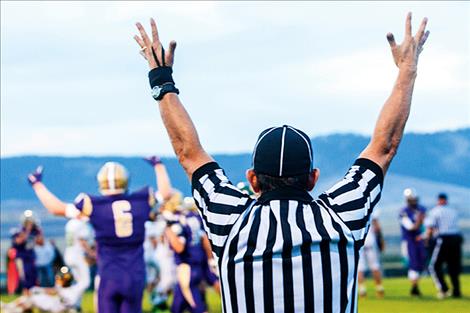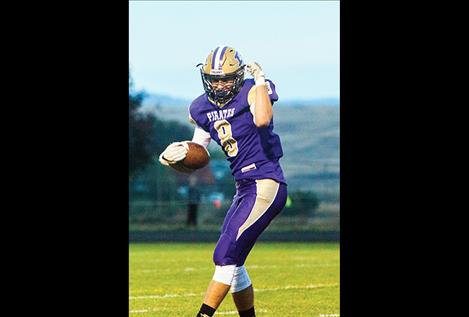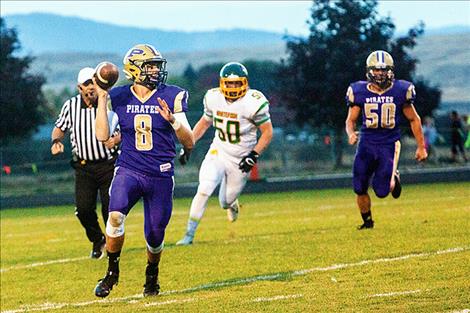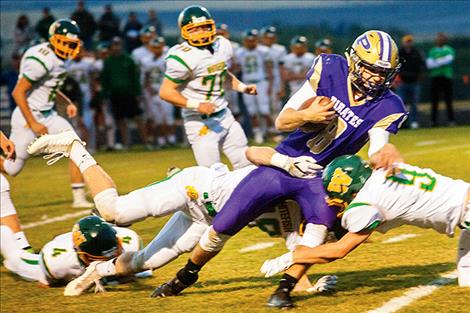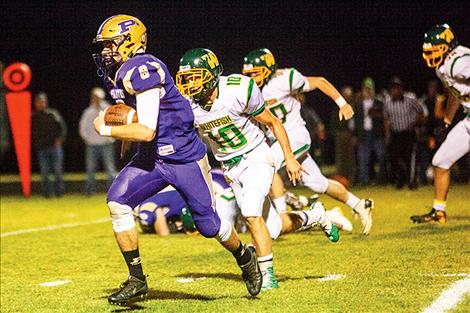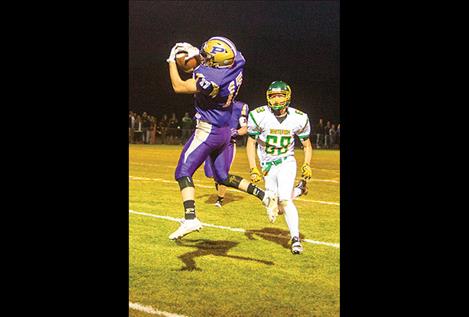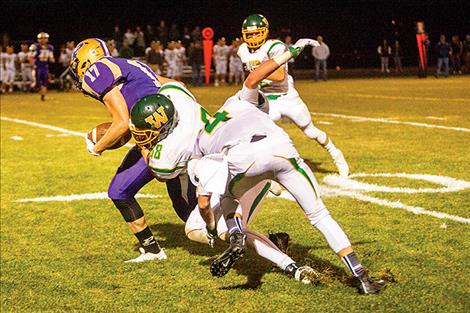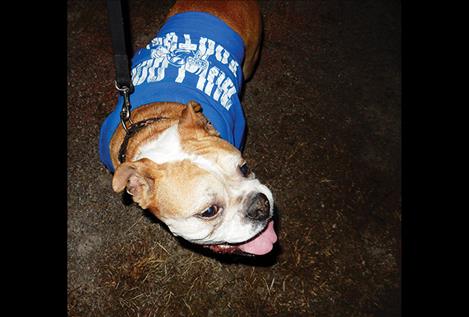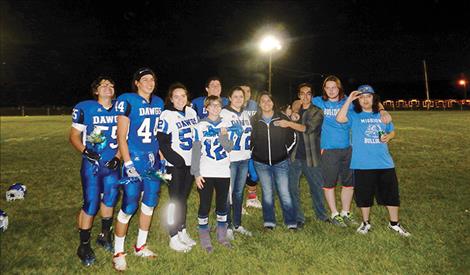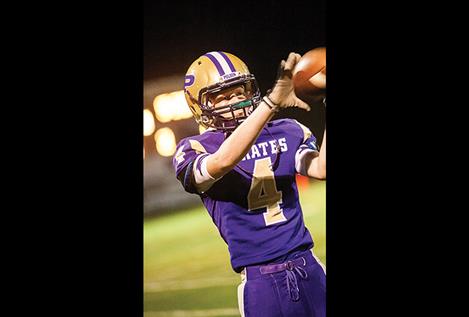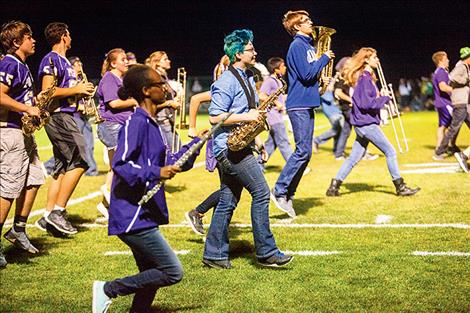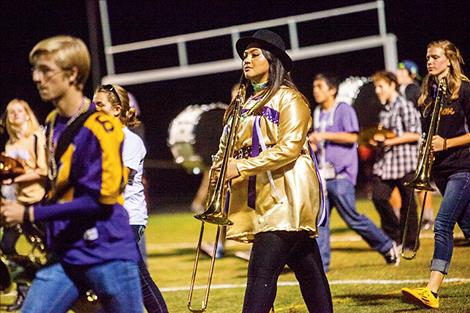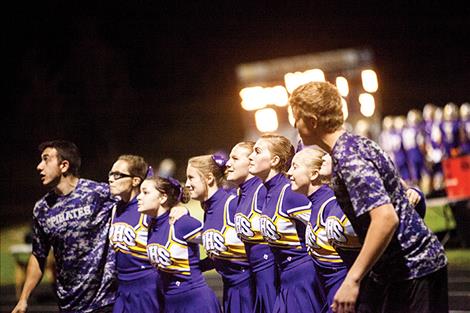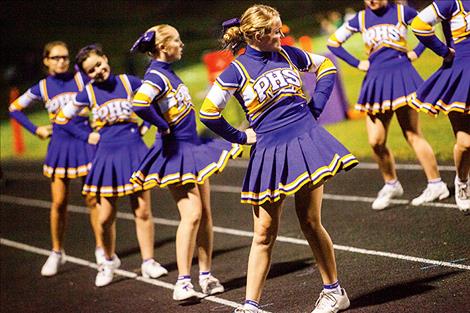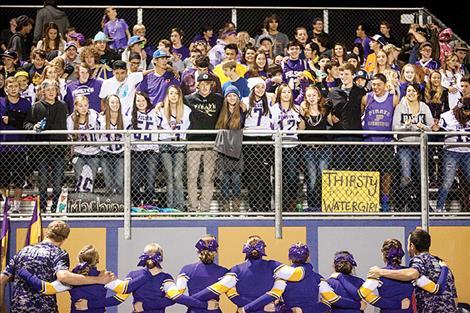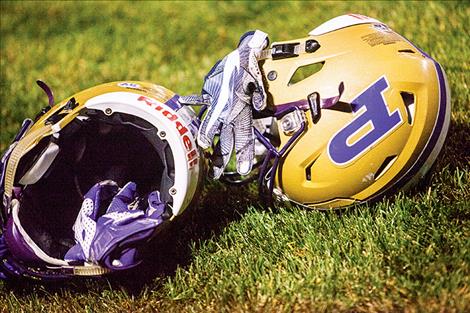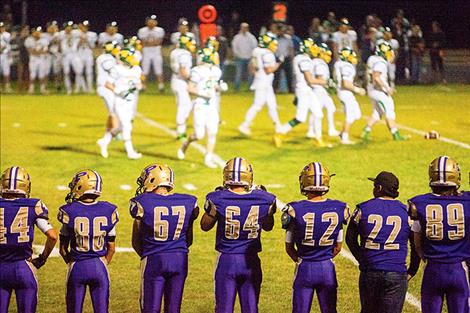 ‹
›
Arlee
ARLEE – The Arlee Warriors defeated the Seeley- Swan Black Hawks 76- 20 during Friday's homecoming game. Arlee put the first two touchdowns on the board, 14-0. Seeley-Swan picked up their game in the second quarter with a 20-point burst, but Arlee still led at halftime, 42- 20. The Warriors kept the momentum going, scoring 34 more points after the break, but the Black Hawks couldn't answer.
The Warriors currently rank 10th in the state for Class C. They won all but one of their games this year, 5-1. The next match up is on Friday, Oct. 7, at Twin Bridges.
Results
Arlee 76, Seeley-Swan 20
Arlee 14 28 26 8 - 76
Seeley 0 20 0 0 - 20
Charlo
CHARLO — The Vikings carved out a huge homecoming win over the Clark Fork co-op team comprising Alberton and Superior.
Until Friday, Clark Fork had been averaging 40 points per game, but Charlo's defense put the kabash on that, holding the Mountain Cats to 12 points.
Meanwhile, the Vikings racked up nine touchdowns for 66 points.
"(Our team) came out focused and ready to play this homecoming football game against Clark Fork," Coach Mike Krahn said.
Quarterback Landers Smith ran for four touchdowns, including a 75-yard sprint in the third quarter. Smith completed four touchdown passes, one each to Jared Doty, Zane Hafliger, Trent Dennison and Brady Fryberger. Tyson Petticrew replaced Smith late in the first quarter as the QB was sidelined for concussion protocol, and completed a 19-yard pass to Doty. After passing multiple tests, Smith was able to play the remainder of the game.
Results
Clark Fork 12, Charlo 66
Clark Fork 6 6 0 0 - 12
Charlo 32 14 12 8 - 66
Mission
THOMPSON FALLS — The Bulldogs varsity and junior varsity cross-country team sprinted to 10 personal bests at the Thompson Falls Invitational on Thursday.
Troy Matt placed 16th in the varsity boys' race with a PR of 18:08.
"(It was an) excellent day for our cross-country team in Thompson Falls," Coach Chris Eichert said. "Each meet my kids are improving and doing their very best. I am extremely proud of all my athletes."
Matt bested his Thursday time on Saturday in Hamilton for a new PR of 17:55, and Wacey McClure clocked 21:15.
Karolyna Buck placed 13th for the girls' varsity with a time of 22.45, with Yvonne Baty on her heels, dashing her old time at 24:01 and placing 17th overall.
All the middle school runners ran their fastest times at Hamilton.
"I am amazed every time I see my middle school and high school (students) run and how much effort these kids give at every single meet," Eichert said. "They are an extremely competitive group of kids and also very, very supportive of each other. They all congratulate each other after every race and it is awesome to see."
Polson
POLSON — In a grand homecoming show, the Pirates sent the Whitefish Bulldogs whimpering home after a 38-0 Polson shutout and a scoreless second half.
Polson scored all five touchdowns on runs, although the game was won on a balanced attack.
On the ground, fullback Colton Cote had 19 rushes for 132 yards and two TDs. Runningback Koby Garcia carried the pigskin nine times for 88 yards and one touchdown.
In the passing game, wide receiver Walter Woods had two catches for 42 yards while Cadis Chowning had caught three passes for 29 yards. Quarterback Tanner Wilson was 7-9 for 108 yards.
The Pirates scored on four of five 2-point-after attempts, with a completed pass from Wilson to Matthew Rensvold and runs from Wilson and Kyle Druyveststein.
Defensively, Rensvold and defensive end Hayden Smith each recorded four tackles and Koby Garcia and Tanner Wilson each had an interception.
Polson is currently 4-1 overall, 2-0 in conference. Up next, the Pirates face Butte Central Friday in Butte.
Results
Polson 38, Whitefish 0 Whitefish 0 0 0 0 - 0
Polson 24 14 0 0 - 38
Ronan
FLORENCE — Ronan tallied 439 yards of offense as they easily handled the Florence Falcons, 33-14 on Friday. The Chiefs stuck first on as quarterback Kasey Mock completed a 26- yard pass from to Happy Cheff. David Silgen scored in the second on a 68-yard pass from Mock, and Cheff scored again in the third on a 20-yard pass.
The ground game added points in the fourth as Mock ran 76 yards for the score, then iced the cake with a short TD run before the close.
Kicker Jesper Elger remained consistent, nailing three of four point-after attempts, but Florence blocked one.
The Chiefs hit the road to Missoula Friday to play the Loyola Rams at 7 p.m.
Results
Ronan 33, Florence 14