Swept Away
Fearless men and their flying machines compete in unique race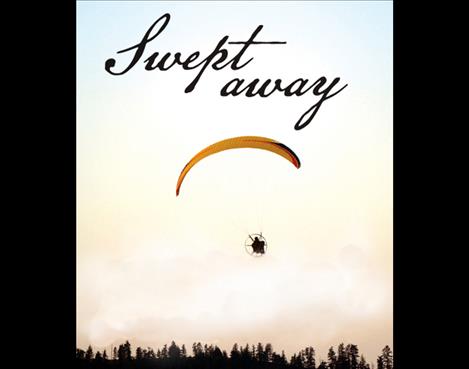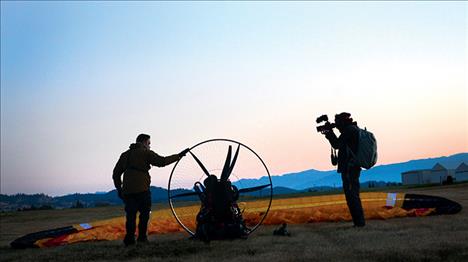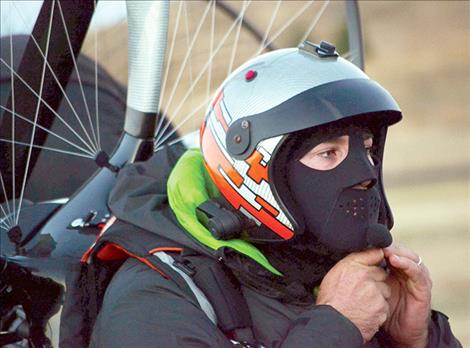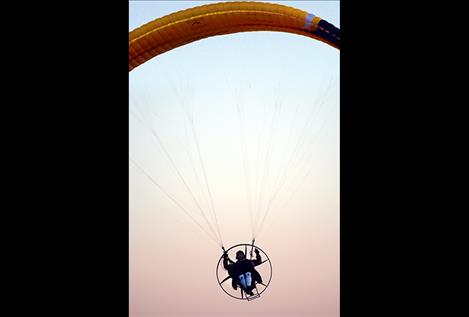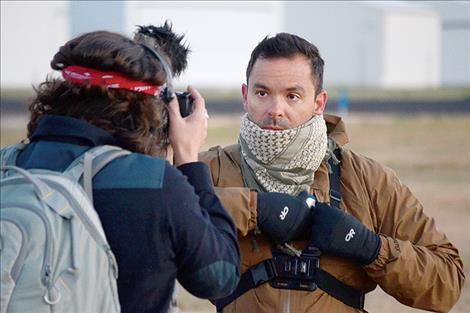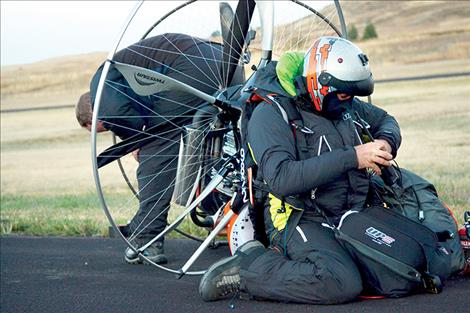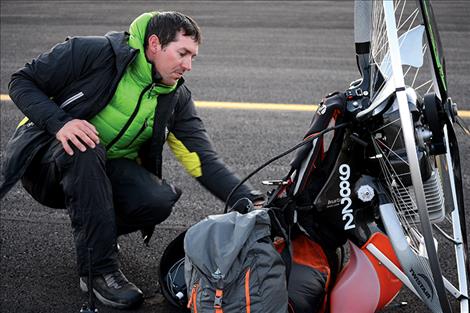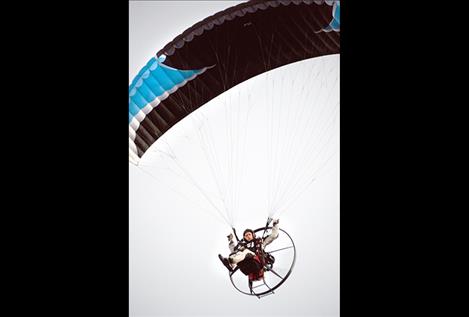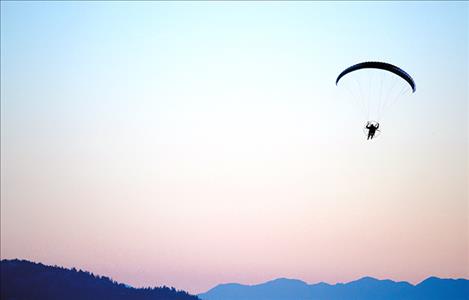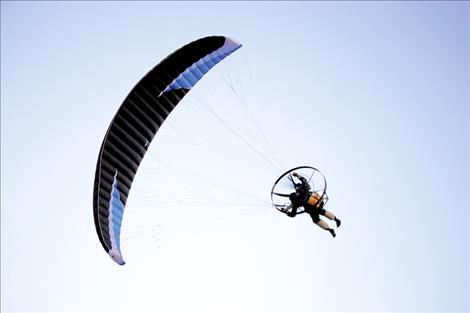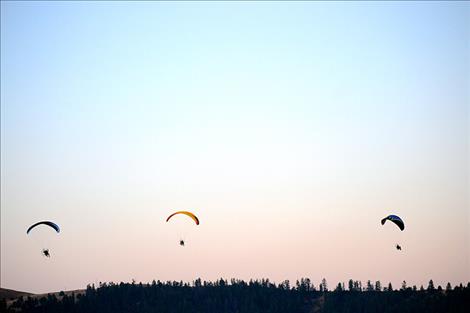 ‹
›
Nine men became airborne while sprinting across a frosty field at Polson Airport on Sunday morning. That's right, running — carrying up to 110 pounds of gear, wearing a backpack similar to a lawnmower engine with blades. As the chutes overhead catch air, the paramotor pilots instantly transition from awkward thumping into graceful flight.
"Basically you have a blender on your back trying to kill you," Bryon Leisek said with a slight chuckle. "But we try to prevent that."
The Icarus Trophy long-distance paramotor race is the first of its kind in the world. It was created by the British group "The Adventurists," who also organize car rallies across Mongolia, motorcycle races on frozen lakes and rickshaw runs across the globe.
"We have a stable of very irresponsible adventures," said Katy Willings, race organizer for The Adventurists.
Their motto? "Fighting to make the world less boring."
So Sunday morning, a menagerie of fearless folks from New Zealand, Australia, Slovakia, Germany and America awoke before Polson's dawn to shake out their chutes and double-check their survival gear in preparation for a clear and cold sunrise liftoff.
This year's 1,000-mile route from the mountains of Montana to the deserts of Nevada provides "a brilliant contrast," Willings said. "It's stunningly beautiful" and doesn't have much restricted airspace.
The event offers two divisions: race or adventure. Racers must pass a grueling interview "to prove their flying prowess," according to theadventurist.com
Four men are currently competing as hardcore racers, flying unsupported in their quest to land first in Mesquite, Nevada. That means no rides to gas stations or comfortable beds at host homes. They carry their sleeping bags, water, food, extra fuel, batteries and navigation systems with them for the entire trek.
"It's a pretty challenging flying proposition," Willings said. "They may progress only by means of flight." When they land, they must carry their gear to refuel, then back track to launch from where they landed. Luckily, they can glide down to any open space.
Last year Dave Wainwright landed right in gas stations; he also won the inaugural Icarus Trophy.
Wainwright chose to race again this year on the new course, and was the first one airborne. He made quick progress Sunday morning, following Highway 93 south of Darby until nasty weather halted his effort.
"The pass was crap rain … and strong turbulence so I turned back and ran with my tail between my legs like a whipped dog," Wainwright wrote on Twitter. He landed safely back in Darby, joining pilot Miroslav Svec.
Others were entered in the "adventure" class. These pilots can take up to two weeks to arrive, dip their feet in lakes along the way and pre-plan to have people bring them pizza and beer.
As a racer in 2015, former Whitefish resident Byron Leisek of Bend, Oregon took second place but opted out of the strict competition this year.
"It was lonely, it really was. I got to the end and no one was there," he said of last year's race. "So I doubled back, and had the best time in my life — hanging out with people from around the world, all with a common connection of flight, sharing stories through broken languages."
This year Leisek chose to enter the adventure class, but still fly unsupported alongside the competitive pilots. In the first hours of Sunday's adventure, Leisek kept pace with the racers through the Bitterroot. Then his GPS tracker showed him in a mountain valley about 8 miles north of Sula. Just before 3 p.m., he tweeted he was forced down by weather.
"At an awesome ranch and they have a helicopter … gonna try convince them to fly me and my gear somewhere."
Other men and their flying machines had rough starts as well.
Scotty Duncan, the second to lift off, was temporarily grounded in Evaro fixing a blown piston. Dean Kelly took a pit stop at St. Ignatius airport and then smashed a prop as he launched, but got back in the air, heading above I-90 toward Butte.
But that's the true adventure. There's radical risk. Nothing is guaranteed. Everything depends on variables. Pilots can fly at 12 mph or up to 33. They can skim the ground or elevate thousands of feet above the terrain. Fuel can last up to three hours, maybe 80 miles, but that depends on weight carried and weather conditions.
Because the pilot hangs from a parachute, flying is relatively safe. The engine can quit and the pilot will easily glide to a safe landing. But thermals and wind gusts can quickly turn dangerous as flying is only safe in up to 10-12 mile per hour winds.
The sport is extremely interactive as pilots must constantly adjust to changing conditions and fly within view of a smooth landing spot.
The boulder field below California's Mt. Shasta looked smoother from the air, Australian Claire Mackay said.
The daring dame broke her arm during last year's race. The landing was going well until she stuck her arm out and hit a boulder, she said. She hasn't raced since, but returned as support crew to help pilots who aided her last year.
"I thought I'd give some karma back," she said.
As of sunrise Monday morning, pilots were again having difficulty launching. Two-stroke engines lose thrust in the thin air of high elevations, and pilots must run into the wind to get lift. If the wind shifts while running, the skies have to wait.
Success came about 8:30 a.m. with Svec, Leisek and Wainwright airborne, the latter fueled by Red Bull and Ibuprofen.
By 10 a.m., all three were south of Salmon, Idaho. Other adventure piltos were near Deer Lodge. Duncan, still stuck in Evaro.
Racers are expected to finish by mid-week. Adventurers have until Oct. 13 to arrive in time for the post-race party.
The pilots' progress can be followed online at: tracking. theadventurists.com
Updates come through Twitter @IcarusTrophy.
Videos are posted on You Tube; search Icarus Trophy or The Adventurists.
A production crew is filming the adventure for an upcoming TV series set to air in the states, Willings said.