Belt buckles, 50-35
Vikings to host state championship game on Saturday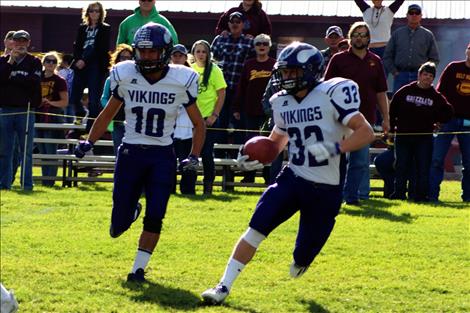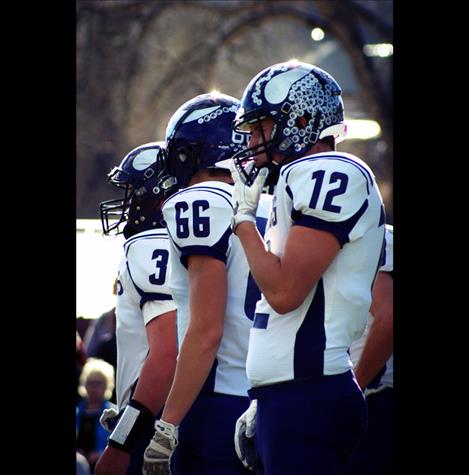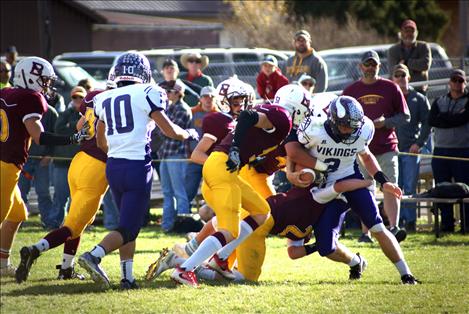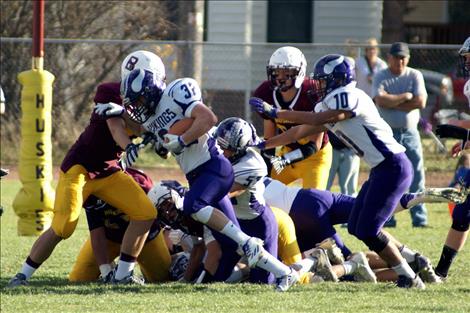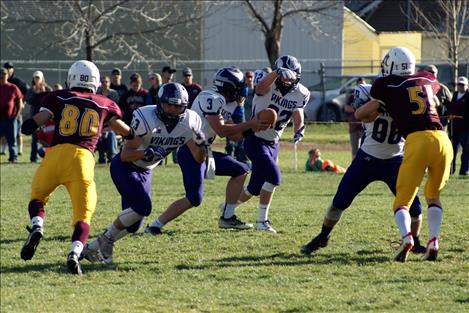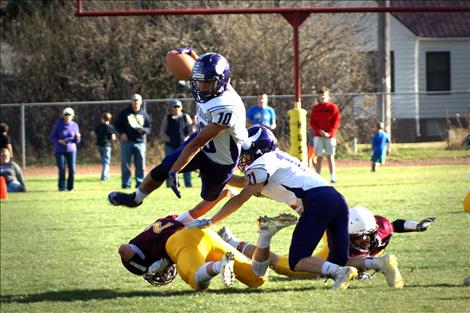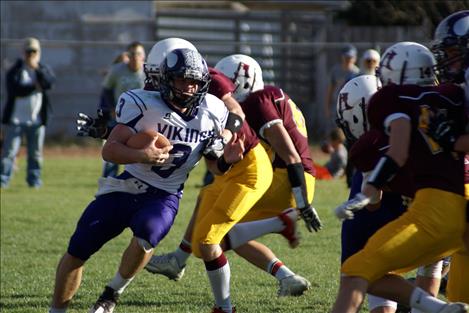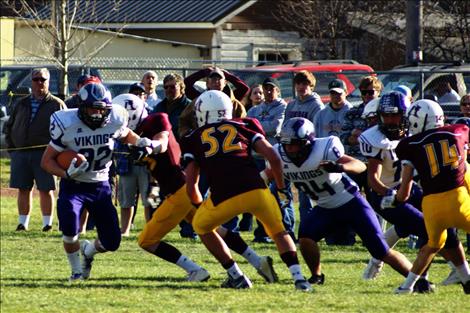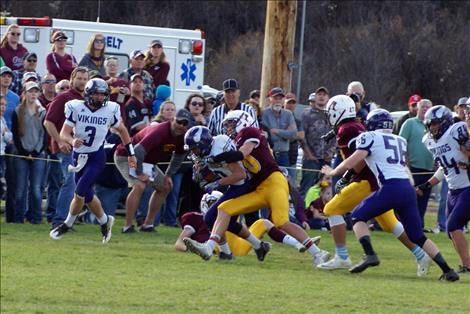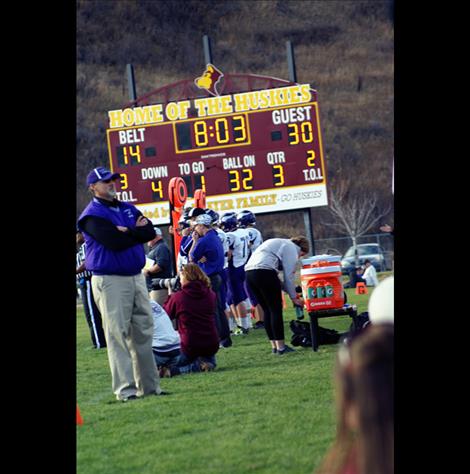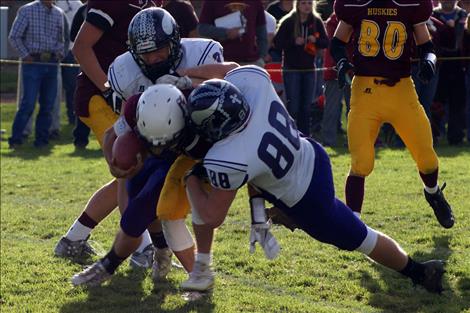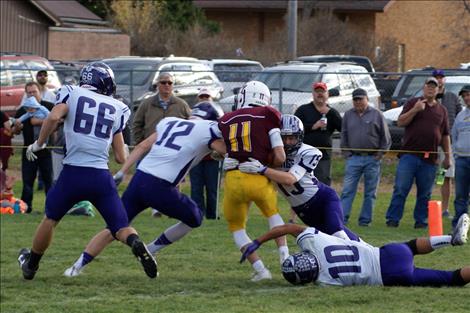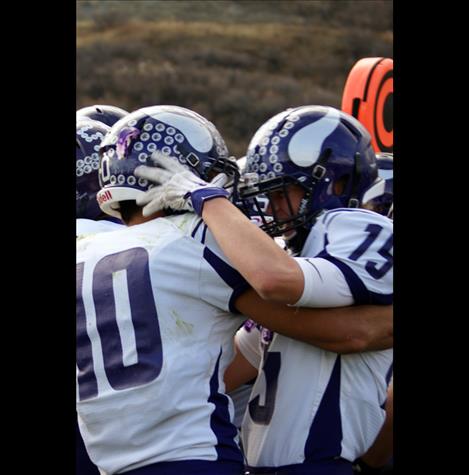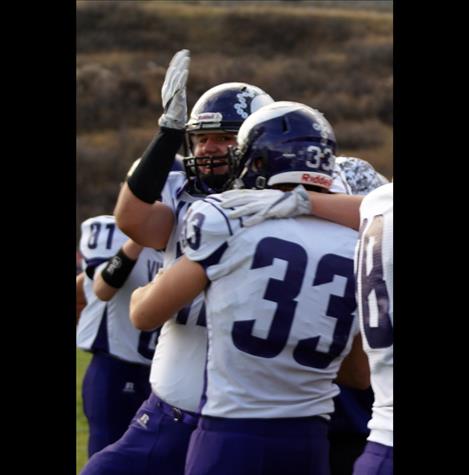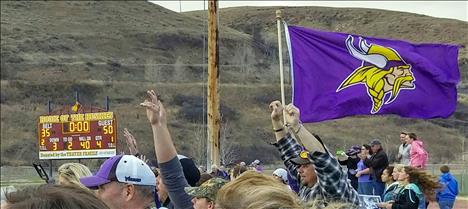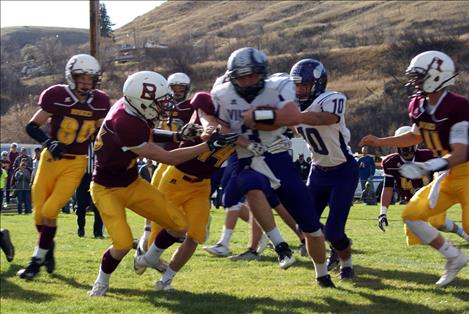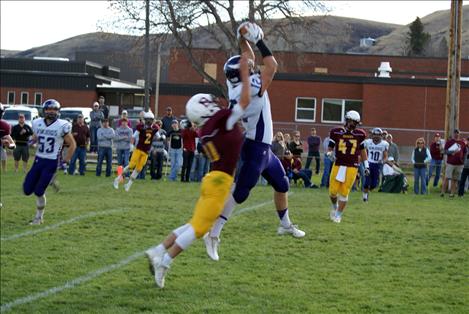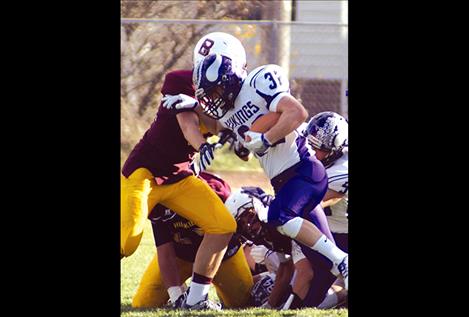 ‹
›
BELT — It's been 40 years in the making. On Saturday, Nov. 19, the Charlo Vikings will host the Montana Class C 8-Man Football Championships.Words can't explain how proud I am of our Charlo Vikings football team," Vikings head coach Mike Krahn said. "We get to play one more game."
As usual, the Vikings' offense got started quickly as sophomore quarterback Landers Smith busted a 48- yard scoring run, giving the Vikings an early first-quarter lead, 8-0.
Later in the quarter, Belt Huskies' quarterback Harry Green connected with Jaren Maki on a slant pass to put the Huskies on the board 8-7.
Vikings' running back Jared Doty finished the first quarter with a rushing touchdown from 10 yards out, giving the Vikings a 16-7 advantage.
With 4:16 left in the second quarter, Huskies' Green once again connected with Maki on a 10-yard pass play for a touchdown, trimming Belt's deficit to 16-14.
Six plays into the Vikings' possession. Smith called his own number and scampers down the right sideline disappearing into a pile of Belt tacklers. Miraculously, Smith emerges out of the pile and outraced everyone 46-yards for the touchdown.
On the ensuing kickoff, the ball glanced off a Belt player and the Vikings alertly scooped it up. Four plays later, Smith found Doty on a 24-yard touchdown strike.
The score stood at 30-14 Vikings, going into halftime.
The Vikings flexed its defensive muscles and dominated the third quarter, holding the Huskies scoreless. Meanwhile the Vikings offense added two more scores: a Smith 7-yard touchdown run and a 27- yard touchdown reception by Zane Hafliger.
Headed into the fourth quarter the Huskies found themselves down 42-14. But a Belt comeback was in the making when Green threw a 3-yard touchdown to Bodner and a 10-yard pass to Maki cutting the Vikings lead to 42-29.
"We really had to buckle down," Charlo Vikings' running back and linebacker Jared Doty said. "I'm just glad we came together as a team and won."
A potential Huskies comeback was squashed by a Smith 54-yard touchdown run, a stingy Vikings' defense and a dwindling clock.
The game ended with the scoreboard reading 50-35, the Vikings' coaching staff receiving the traditional Gatorade shower and a shot at the state championship next Saturday against the Ennis Mustangs.
Landers Smith finished the day with four rushing touchdowns on 16 carries for 246 yards and was 5 of 9 for 68 yards through the air and two touchdowns. On the defensive side of the ball, Smith had 10 solo tackles, an interception and a recovered fumble.
"He is a tough, tough kid," coach Krahn said of Smith. "He is a competitor."
Charlo 50, Belt 35
Charlo 16 14 12 8 - 50
Belt 7 7 0 21 - 35
C - Landers Smith 48 run (run good)
B – Jaren Maki 3 pass from Harry Green (kick good)
C – Jared Doty 10 run (pass good)
B – Maki 10 pass from Green (kick good)
C – Smith 46 run (pass failed) C – Doty 24 pass from Smith (run good)
C – Smith 7 run (pass failed)
C – Zane Hafliger 27 pass from Smith (run failed)
B – Bodner 3 pass from Green (pass good)
B – Maki 10 pass from Green (kick good)
C – Smith 54 run (pass good)
B – Keagan Stroop 3 run (run failed)