Release denied for man facing trespass charges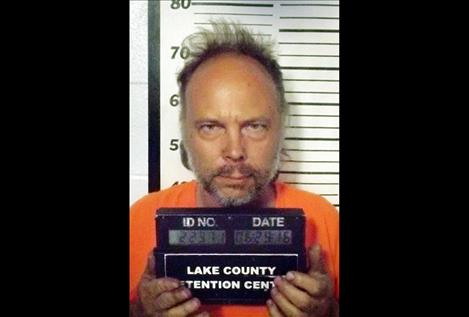 POLSON – Bond was denied on Wednesday for a Big Arm man charged with criminal mischief and two counts of criminal trespass, all felonies.
District Court Judge James Manley declined to release Kevin Brent Funk, 54, on his own recognizance but asked the sheriff's office to escort him to his home in the 73700 block of Highway 93 for a few hours so that Funk could examine his property and get some documents.
As of Friday, Funk had been incarcerated in the Lake County Jail for 142 days.
The charges stem from a property dispute in the Big Arm area near where Funk lives. In court on Wednesday, county attorney Steve Eschenbacher said that the sheriff believes that if Funk were released he would have a homicide on his hands.
In court, Funk spoke at length.
"Land rustling is a good analogy of what's going on," he said.
Funk said he has legal right to the land – which has been appraised at $550,000 – through the Charles Funk Irrevocable Trust.
Funk's defense attorney Benjamin Darrow called the case "a civil matter blown out of control." A check with Lake County Justice Court on Friday revealed that no civil property cases involving Funk had been filed.
Darrow said that the property dispute in question involves an easement that allows Funk to go from his property to Flathead Lake.
"The law enforcement response to this case has been astronomical," Darrow said, adding that there is no evidence of Funk being violent.
According to court documents, neighbors told sheriff 's deputy Brian Hines that they witnessed Funk dump large rocks on the property in question on Feb. 19. They also told sheriff 's Sgt. Mike Carlson that hundreds of feet of grass on the property had been dug up by a tractor on March 13. Carlson traced a mud trail across the road to Funk's driveway, court documents state.
The property in question at 73756 Highway 93 is owned by Jim Moerkerke, according to court documents.
A jury trial has been set for Dec. 19. Last week, Eschenbacher asked Manley to set aside three days for the trial instead of two.
A separate charge of criminal mischief related to a June 27 incident is pending. In that case, Funk allegedly plowed the "entire lot" and made it very difficult, if not impossible, to mow or maintain, according to deputy county attorney Molly Owen. Moerkerke provided time-stamped photos from game cameras that had been set up on the property, Owen said. The photos allegedly show Funk plowing the property with his tractor. It was estimated that repairing Funk's plowing would cost $1,700.
Another case where Funk was charged with intimidation related to May 23 and June 18 incidents with a contractor hired by Moerkerke to work at the disputed property was dismissed by the county attorney's office on Aug. 15.