Restitution dispute postpones sentence for St. Ignatius man
Bolen charged with assault with a weapon, drug dealing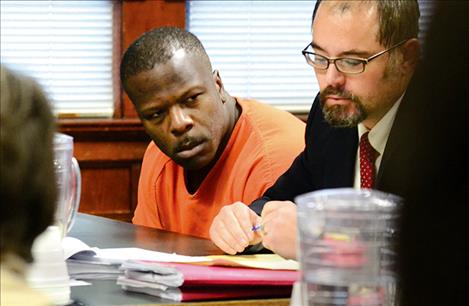 POLSON — The case of a man facing three charges of assault with a weapon, multiple charges of burglary, robbery and theft, possession of dangerous drugs with intent to distribute, and others, has been continued until Dec. 7.
In Lake County District Court on Wednesday, Solomon Preston Bolen, 35, of St. Ignatius, was to be sentenced in accord with a plea agreement, but questions about $74,057 in restitution resulted in Bolen's three cases being postponed.
Defense attorney Britt Cotter objected to his client paying restitution that wasn't linked to the criminal endangerment and drug possession charges that he was willing to plead guilty to, and District Court Judge James A. Manley said he will consider rejecting the plea agreement in order to avoid appeal of the case.
"He certainly has cost the victim that much," Manley said, referring to the restitution claimed by Catherine Lee McConnell, who said that Bolen was a foster child to her and her late husband.
Manley also said that Cotter could withdraw the plea agreement and go to trial. According to court documents and her testimony in court on Wednesday, Nov. 16, McConnell told Lake County Sheriff 's deputy Nate Lundeen that Bolen forced her to sign a bill of sale for her 2002 Chevy Silverado pickup at gunpoint on April 4. Bolen also allegedly forced her to sign the title to the vehicle and have it notarized at a bank. McConnell said Bolen traded the vehicle, which has not been recovered, in Spokane for 10 pounds of marijuana.
According to court documents, 933 grams of marijuana and drug paraphernalia were found at Bolen's girlfriend's St. Ignatius home on July 10.
McConnell said her home was broken into on June 14 and numerous items were taken. In court on Wednesday, she said that Bolen stole a bass guitar, amplifier, Playstation 4, tools, radios, handheld radios and scopes. She added that Bolen took cash from her safe and forced her to sign personal loan checks. She also asked that her insurance company be reimbursed for her medical bills because she was attacked by his pit bull, which she said was later put down because it attacked a law enforcement officer.
"He constantly threatened me and threatened to kill my friends," she told Manley.
The plea deal calls for Bolen to be sentenced to three years in prison for possession of dangerous drugs and a one-year deferred sentence for criminal endangerment with a recommendation that he be admitted into the Nexus program, an alternative for those addicted to methamphetamine and other drugs. He would also get credit for time served, which Cotter said totaled 129 days as of Wednesday.
McConnell was upset about the plea agreement.
"I strongly disagree that three years for holding marijuana is more important than my life … and getting robbed," she said in court. "And a year suspended? What does that mean? That I'm worth less than a joint? It's not right."
"He's getting away with it scot-free," she said later.
According to court documents, two women said that Bolen passed them in a pickup on Nov. 11, 2015 while they were driving on St. Mary's Lake Drive in St. Ignatius. Bolen then stopped his vehicle in front of them and caused them to stop. Bolen then allegedly got out of his vehicle and pointed a rifle at the women, got back in his truck and drove away. Bolen was later stopped by tribal police on Highway 93 on Jan. 26. Officer Thomas Haynes said he smelled marijuana after
Bolen exited his vehicle. After obtaining a search warrant, Haynes said he found 75 grams of marijuana and drug paraphernalia in the vehicle.