Winter weather predictions considered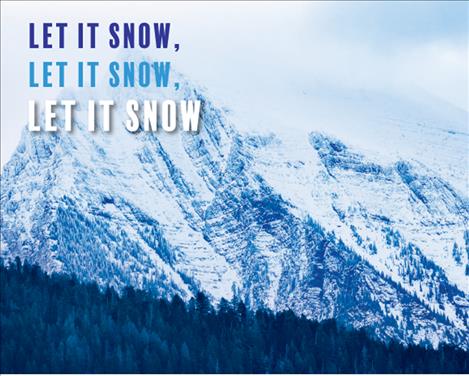 Anyone looking at the occasional snow flurry this time of year might wonder what kind of weather is being predicted this winter, and predictions can be found from the expert to the regular observer.
Weather prediction can seem a bit like fortune telling to those that put their heads out the door and find rain showers when sun was in the short term forecast, but general guidelines can help people have an idea about how to prepare as long as they realize weather doesn't always behave as predicted.
Climate experts usually give predictions for entire regions or states. Kelsey Jencso, director and professor for the Montana Climate Office at the University of Montana, said statewide predictions are general calculations.
The National Weather Service says it's better to be safe than sorry with a little preparation as the winter season develops.
"This climate outlook provides the most likely outcome for the upcoming winter season, but it also provides the public with a good reminder that winter is just up ahead and it's a good time to prepare for typical winter hazards, such as extreme cold and snowstorms," said Mike Halpert, deputy director, NOAA's Climate Prediction Center.
The experts have looked at oceanic and atmospheric temperatures to determine their predictions for this winter's weather. Forecasters at the NOAA Center recently issued the U.S. Outlook for weather this winter based on La Nina's presence. She is expected to create drier conditions in the southern states and wetter, cooler conditions in the north. Precipitation is most likely to be above normal around the northern Rockies with cooler conditions from Montana to Michigan.
To summarize: it should be a cooler, wet winter this year for Montana. Another prediction comes from The Old Farmer's Almanac with similar regional generalizations with a bit of folklore thrown in.
"Our main endeavor is to be useful, but with a pleasant degree of humor," Robert B. Thomas stated when he developed the first almanac in 1792.
In the past two hundred years, The Farmer's Almanac developed a formula for predicting the weather based on calculations using science and technology, they stated.
They predict weather by comparing solar patterns with historical weather conditions. For the Intermountain region, the long-range weather predictions include a forecast with above normal snow in early and mid-December to mid-January with colder temperatures in those months.
Although, temperatures are predicted to be above normal overall, and precipitation is estimated to be a bit below normal. For those that still have a turkey bone on hand from Thanksgiving, The Farmer's Almanac states that people can have a bit of fun with weather prediction folklore. Dry a turkey bone and look at the color. A dark color, maybe blue overall, indicates a bad winter.
People can also go back to the old standby and be prepared for anything.